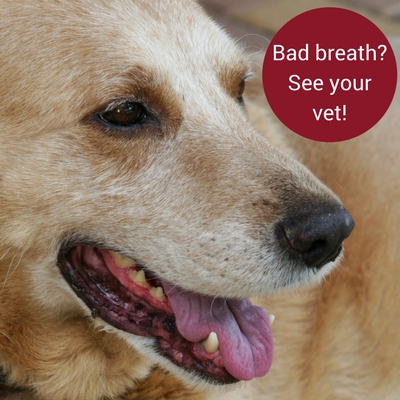 The day you say to yourself "yikes" my dog has bad breath, is the day to pick up the phone and make a vet appointment. The thing is, stinky breath means some sort of tooth or gum issue and possibly even some pain, the extent of which can only be determined by your trusty vet.
Have you always figured bad breath in dogs was normal, so you just accepted it? Well, it turns out it isn't normal, and it's time to do something about it!
Causes
Bad breath, or halitosis, is usually caused by gum or dental disease, and means better care of your dog's teeth is required. However, it could also signal other problems like metabolic disorder, respiratory problems, gut or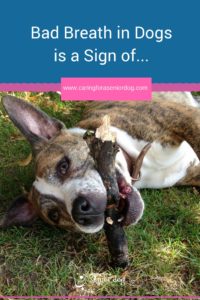 internal organ issues, or your dog is simply eating poop.
Whatever the reason for your dog's bad breath, the only solution is a vet check. 
Symptoms
Symptoms include –
Bad breath

Your dog pawing at his mouth

Struggling to eat dry food or cookies

Drooling

Withdrawn or not himself
Diagnoses
A routine examination of your dog's mouth will quickly show evidence of periodontal disease, but x rays are usually needed to get a more complete picture. If his teeth are fine, and there is no obvious explanation for bad breath, your vet will want other tests to check for possible causes. Those tests can include: blood tests, urine, ultrasound…
Don't worry, your vet will explain it all.
Treatment
Treatment will, of course, depend on the cause. A course of antibiotics may be all that's needed, or sedation for a good cleaning and a through check up. Once he's in your dog's mouth and x rays have been taken, teeth may need
to be pulled. Don't worry, your vet will explain the scenarios to you.
If bad breath is the result of your dog's diet, a change may be recommended, and if tests reveal another reason, your vet will devise an appropriate treatment plan.
Management/Prevention
Just like we keep our teeth and gums healthy with regular brushing and cleaning, the same can be done for our dogs. Luckily there are so many dog dental care products, you're bound to find something that he is at least okay with.  
Brushing your dog's teeth every day is ideal, but isn't always realistic, which it certainly is not with our dogs. Even if you can only manage a couple of times a week, it is better than nothing. Toothbrushes come in a variety of sizes, and some even fit on your finger, while toothpaste comes in many flavours.
If there's no way you can use a toothbrush a dental wipe may work. How about toothpaste on a cotton pad? A liquid antiplaque solution is for adding to your dog's drinking water, powders can be sprinkled onto food or sprays for the mouth. Hard chew toys, bones and dental chews will also help.


Red and dental disease
Red has had some issues with her dental health over the years, ranging from a mild infection to dental surgery. We didn't adopt her until she was 8, and her previous owners didn't take the best care of her. Red is blind which is probably the biggest reason she kicks and screams if you go anywhere near her mouth. A toothbrush is out of the question, so the best I can do is tooth gel on a cotton pad a couple of times a week and Plaque Off added to her food once a day. I can't get near Jack so Plaque Off, dental chews are the only thing I can offer him. 
Get off the internet
Hey, I search the internet for answers all the time, but in this case I have to advise you not to waste time doing that because you don't yet know what's going on. See your vet for the answers you seek.  
Bad breath in dogs – conclusion
Make sure your vet takes a good look in your dog's mouth as part of his regular checkups. Staying on top of oral health is a lot easier, and less expensive, then fixing problems. I am happy knowing how many dental care products there are available, you can probably find something for even the pickiest of pets!!
Does your dog let you brush his teeth? What is your dog's dental care routine? Is he easygoing about it, or does he fight you all the way? Which products have you had the most success with? Sharing helps others so leave a comment below or on my senior dog Facebook page.
I would like to invite you to join my new group Senior Dog Care Club. It is a place for senior dog parents to get together, exchange ideas, tips and advice, share experiences, ask questions and get answers.  I look forward to welcoming you.