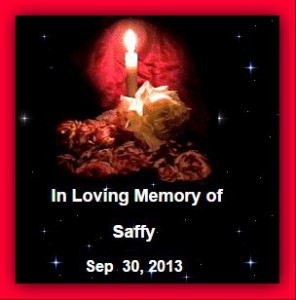 I speak from experience when I say, finding ways to honor the memory of a dog will go a long way to helping you heal from their loss.
Honouring Calypso
The first time I ever had to say goodbye to an animal was my cat Calypso. I was beyond devastated and had no idea how to cope. I knew I had to find a way to feel close to her, but wasn't sure how to make that happen. I had her ashes, I keep all my pets ashes, but that wasn't enough. After seeing her name on a watch band while on vacation (imagine that!!) I decided I would engrave her name on a heart charm I had found a couple of years before. It may sound hard to believe, but once I started wearing that necklace I felt so much better. 
In memory of Saffy
This is a very painful story for me so I'm just going to let you read it here. What I do want to share is the way I chose to honour Saffy. I started The Saffy Pearson Resource Centre as a way to do something good, and keep her name alive. I go do various locations and set up a stand to answer questions people have about caring for dogs and cats. It can't erase how devastated I am to this day because of the circumstances of her death, but I can do something to honour the life we shared.
If you, or someone you know, is having a hard time dealing with the loss of a pet, here are 14 ideas to choose from to honour that bond. Please be sure to seek professional help if you are depressed and can't snap out of it. 


Memorial ideas
Put together a scrapbook, memory book or memory box with your favourite pictures, poems or letters you've written, even an id tag. The contents can include anything you like.
A plaque in a pet cemetery or park where your dog liked to play.
Volunteer at your local shelter, and offer a homeless animal some love and attention. If you can't do that, make a donation in your pet's name.
Keep a tag, collar, blanket or favourite toy.
Personalize a keepsake urn necklace with your pet's name, and add some ashes.
Bury your pet in a pet cemetery (or backyard if you're allowed), and mark it with a gravestone. This gives you a place to visit. Hold a memorial service and invite close family and friends if you like, or keep it small and private.
Garden stones can be ordered with paw prints, names and even inscriptions.
Keep a
photo frame
 in a special place in your home. It's nice to be able to glance at it, and feel like he's still a part of the family.
Engrave your pet's name on a charm, key ring or some other object. Wear it, keep it in your purse, pocket, on your desk…
There are many online memorial sites where you can share your stories, get support, help others work through their grief and light virtual candles.
When you're ready for a new furry friend, rescuing a homeless animal from a shelter, rescue group or animal control facility, is the greatest tribute you can make.
Way to honor the memory of your dog – conclusion
I know all too well how heartbreaking it is to lose a loved one, and how helpless it can make us feel. The image at the top of this post is of a candle I lit in memory of Saffy. I will never get over losing her, it was too shocking and too sudden, but somehow that act did bring me some comfort.
I hope in this selection of pet memorial ideas, you will find the best way to honour your loved one, and that it will bring you peace. 
I would like to invite you to join Senior Dog Care Club, my Facebook group for senior dog parents. There you will find lots of helpful tips and advice, a place to ask questions and share experiences. I look forward to welcoming you.
*There are affiliate links in this post, which means if you purchase anything I make a few pennies…literally. That money helps me help homeless animals through donations and fostering, as well as keeping this blog running.