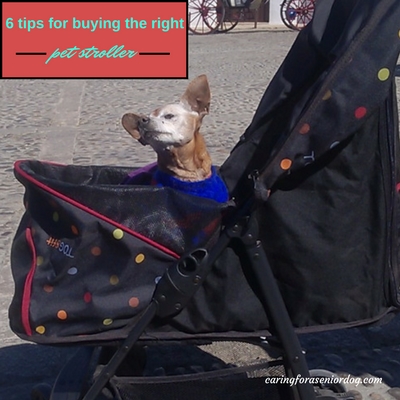 Before you get that credit card out, these 6 tips for buying the right pet stroller will help you choose the best one.
Although I will be mentioning dogs specifically (because I use it for my dogs), a stroller can be used for cats as well, and of course the same tips apply.
[bctt tweet="Looking for a #petstroller but aren't sure which one to buy? These 6 tips will help" username="petcrusader"]
Size matters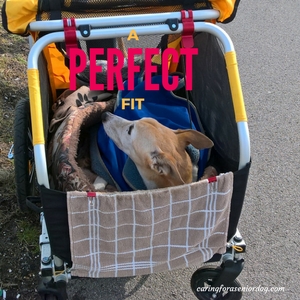 Are you buying the stroller for a dog that is full grown or still growing? Full grown, no problem, you already know his weight. If your dog is still growing, at which stage of his life do you anticipate the need for one?
If it's for immediate, short term use, again no problem. If you anticipate a need a few months down the road or you'd like it for long term use, buy one based on your dog's full grown size.
Don't know? Make a rough guess and err on the big side. One that is too small will be of no use, but one that is bigger can always be adjusted with a blanket or bed.
Know its' purpose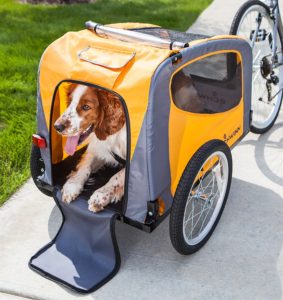 There are so many uses for a pet stroller, knowing what you need it for will help you choose the best match. Quiet walks around the neighbourhood? Taking your pets shopping? Car trips? Festivals and events? More than one pet? Jogging?
For example… if you'll be taking your dog on car trips, you not only want a stroller that folds, you may also find it handy to have one that converts into a car seat. More than one pet at a time? How about an extra wide or double stroller? Love to cycle with the family on the weekend? A stroller that converts into a bike trailer means the four legged family members aren't left behind.  
Terrain you'll be travelling over
Jogging and walking over rough or uneven terrain, will require a different type of stroller than a walk on paved paths and sidewalks. For space and budgetary considerations, wouldn't it be great if one
stroller could serve all your needs? A basic model with small wheels suitable for light strolls won't stand up to jogging on uneven surfaces, but a jogger may be perfect for casual walks.
As you can see in the above picture, our stroller is best on paved surfaces so…hubby to the rescue!!
Quality and Budget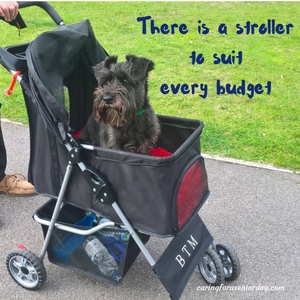 These two tend to go hand in out, so I'm addressing them together to avoid being redundant.
For the occasional walk or trip to the vet, you may very well be fine with an inexpensive stroller, especially if you have a small dog or cat and weight isn't an issue.
If you will be relying on it quite a bit in a variety of situations, you are going to want to look seriously at the quality. It may cost more initially, but you will save money in the long term by not having to buy a second one when the first one breaks, or outlives its' usefulness.
Safety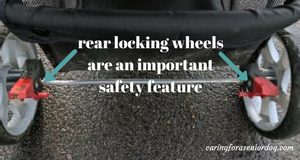 Once you get your stroller, you may be amazed at how many new places you take your dog. Keep in mind, even the calmest dog can get stressed in unfamiliar surroundings, so it's important to do as much as you can to ensure his safety by considering the following…
Harness
Even if your dog never wears a harness, I recommend you put one on him when in the stroller. I also suggest attaching a leash to it and holding on to it, as you would when walking. Most strollers also come with a tether that attaches to the ring on a harness or collar, so use that as well for added safety.
Locking wheels
Another important safety feature are rear locking wheels. If you stop to chat to someone and let go of the stroller, or you've left it while you take him for a walk, a slight slope and it's rolling down the hill. Engage the brakes with your foot, and prevent that scenario from happening.
Buses aren't the smoothest ride, so if you have to take it on public transportation, the brake will keep it from rolling around. I recommend you still keep a hand on it just in case!
Bike trailer
What if you're using a trailer attached to a bike? You may have a rear view mirror on your handlebars, but you can't keep constant watch. Double and triple check the connection to your bike, and make sure they are securely fastened before you set off.
Let me add one other note to this…if your dog has never been in a stroller before, I don't recommend this as his first experience. First get him used to it on quiet streets, then busier, and see that he's comfortable before you have him whizzing around traffic filled roads.
READ THIS ⇒ Pet Stroller Training: Teach Your Dog to Ride in a Stroller
Create a den
If you're at a festival or crowded area, and your pets seem nervous, a very important safety feature is the ability to create a den. The stroller you choose should have a zipper or other type of closing to secure the folding canopy to the body of the stroller. Also check for gaps in the fabric or other possible escape points, in the event your dog panics.
Read reviews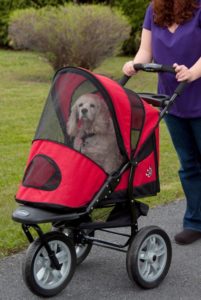 You don't have to rely on someone else's opinion to make your decision, but it can be helpful to read what owners of products have to say. I like to read several to see which themes are common. As with any product, there may be slight discrepancies between the manufacturer's claims and real user experience.
6 tips for buying the right pet stroller – conclusion
As far as I'm concerned, this is one of the greatest products you can buy, and it has been of more help to me than you can imagine. These 6 tips for buying the right pet stroller will have you wheeling your pets around in no time.