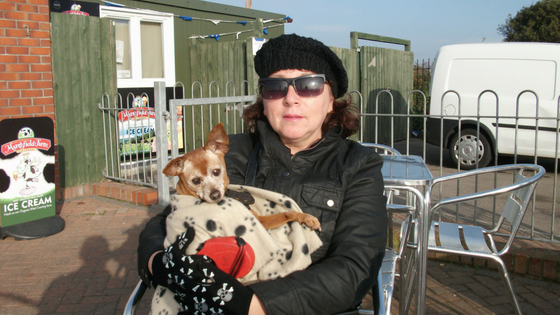 Hello everyone and welcome to my website about caring for a senior dog.
Let me begin by telling you how passionate I am about animals, and helping the people who share their lives with them. One of the ways I do that is through articles like the ones you'll find here.
Although a lot of what I write can be applied to dogs of all ages, my focus is on the care of senior dogs. Here you will find lots of helpful tips, advice and even products that will help make their lives safer, happier and more comfortable.  
The beginning
You may find it interesting to know I didn't grow up with animals, nor did I know anyone who had pets. Do you know that one of my first encounters with a dog was when I was 25? My only encounter with cats were strays. Sounds unbelievable doesn't it? I know it does to me. I sometimes wonder how someone who is so crazy about animals and passionate about their welfare, didn't grow up with them.
The love affair began when my boyfriend at the time came by with a puppy, and it's as though a switch was flicked in my brain, and that was it. It was the beginning of my journey into the world of volunteering and adopting.
My husband and I decided to give Florida a try so we moved there 11 years ago. Although I lasted longer than he did, the one thing I did discover while living there is my passion for senior dogs. I was looking for a shelter to volunteer at, and after circling for about an hour I finally found it. Obviously I wasn't "meant" to give up because it was there I discovered my love of old dogs, and my heart dog Red. I went in looking for volunteer opportunities, and left with a part time job in the cat room. My first day I took my lunch break sitting outside and reading a book. It was the first and last time I ever did that. Every other break was spent with one of the dogs from the "oldies room." That is what they called the cage free room where the senior dogs lived.
After one day I was hooked and I have done my best to be an advocate for them, and help those who adopt and care for them.
What I've done – experience and qualifications
Certified Dog Trainer and Behaviour Consultant
Diploma in Pet Care and Behaviour
Certified Pet Loss Grief Support Coach
Long time shelter volunteer – walked, trained and socialised dogs; helped with behaviour issues; fostered and adopted senior and special needs dogs; socialised cats; adoption adviser; committee member for an annual fundraising event; assisted the marketing department with fundraising ideas
Cared for a feral cat colony in my neighbourhood, spaying, neutering and feeding the cats
Started a pet sitting business in 1999, walking dogs and caring for cats and dogs when their owners were away
Started The Saffy Pearson Resource Centre, a mobile resource offering free advice to people who had cat or dog care or behaviour questions 
What I'm doing now
I turned my love and passion for senior dogs into a way to help them and their parents by creating this website I'm so proud of. It's growing everyday into the one stop resource I want it to be.
I created a Facebook group called Senior Dog Care Club, a kind, caring and compassionate community of people asking for and offering support, advice, tips and yes a shoulder to cry on.
I am re-starting my podcast. Nothing I love more than talking so it's the perfect platform for me!! I'm just working on some administrative stuff, then I will start inviting guests to join me. 
I offer virtual dog training, meaning dog training and behaviour consultancy services are offered through Skype or FB video. I advise on a host of issues including, but not limited to – senior dog care, keeping your senior dog comfortable, behaviour issues such as: on leash aggression, separation anxiety, non stop barking, urine marking, resource guarding… Experience with hundreds of clients over the years has shown me that a lot of the help they're looking for can be offered remotely. Meaning, a trainer does not have to be in their home to offer the one on one support and help they need. Sometimes that is really the only way, but certainly not always. 
I am raising funds for a mass spay/neuter project in Jerusalem. The feral cat situation there is heartbreaking and I'm going to do my best to make a difference. For the moment you call follow my progress on FB page Animal Rescue Israel.
If you have any questions, or I can be of any help I would love to hear from you, so please leave a comment below.
Cheers,
Hindy