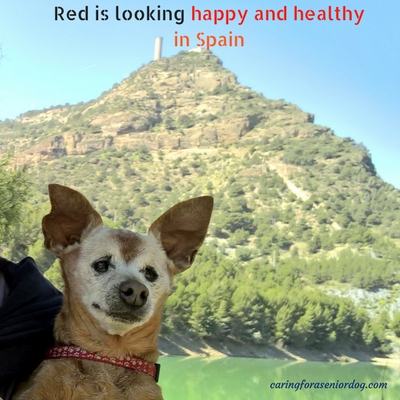 I had never even considered the possibility climate could be affecting Red's health, until recent events.
You may know my senior dog Red has some health issues, and you also may know we recently returned to England after spending four months in Spain.
While in Spain I took her to a holistic vet named Pepe, who is amazing!!
She had twice weekly acupuncture treatments
She was taken off her prescription food and a tailor made home cooked, whole foods diet was created

Three of her medications were replaced with supplements
Prior to going to Spain she would get bouts of diarrhea, eye infections and some breathing problems. Each requiring drugs and more drugs.
Do you know she didn't have one problem the entire time we were away!
We're back and the problems are starting
I would say within a couple of weeks of being back I started noticing a bit of puss in her eyes. After three weeks she started with some breathing issues. The first episode happened a few days ago at 4:30 in the morning, enough to scare the living daylights out of me. Thankfully it's only happened a couple of times, but of course I took her straight to the vet that day.
He recommended a heart scan, and today we had it done. More on that later.
Can the British climate be the culprit?
It's certainly not something that ever crossed my mind…why would it? What I do believe is the regular acupuncture sessions had a really positive impact on her overall wellbeing, and now without them she's "falling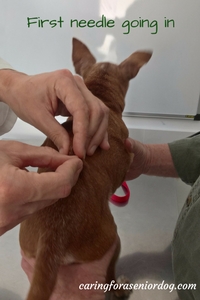 apart." Okay a slight exaggeration but you know what I mean.
When I told my vet the other day that Red did not have one problem while away, he was stunned and that's how the conversation turned to climate.
Being from Canada I noticed immediately it is a damp type of cold here. In Spain we lived in a quiet area, not a lot of traffic, right near the olive groves with much drier air.
My vet told me when he goes home (he's not from England), he has to use an inhaler, but here he doesn't and the same can be true for Red, only in reverse.
Such a shock!
I admit that entire day I walked around muttering how I couldn't believe climate could affect a dog's health. I was fascinated by the concept.
How sad…and frustrating
The whole point of me seeing a holistic vet was to experience a kinder, gentler approach to Red's care, and of course to try and get her off at least some of the many drugs she was taking. I managed to accomplish both, and now that we're back she's already taking one of the medications she didn't need in Spain.
What were the results?
I am back from the heart scan and the good news is, there was no real bad news…at least not any "new" bad news. 
I was hoping to get some pictures of Red having it done, but since he does it in the dark it wasn't possible.
Without getting technical, she has a problem with hardening of the tissue in her lungs due to some sort of allergens. There's something in the environment either generally speaking, or more localised that is causing the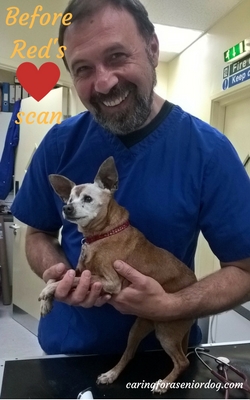 problem. The medication she's back on should help, but back to Spain would be better.
Off to Canada soon
We're probably going to Canada for a few weeks so I'm happy to know her heart and lung issues won't affect her ability to fly. It's not damp there so it will be interesting to see how she gets on. I'm planning on finding a holistic vet and re-starting her acupuncture treatments.
Can climate affect senior dog health – conclusion
Given my recent experience I definitely say yes, and my vet thinks so as well. I wouldn't say it's an issue unique to senior dogs though.
Does any of this sound familiar? I'd be interested to hear if this has happened to your dog, what it was and how you resolved it. Leave a comment below or on my senior dog Facebook page.