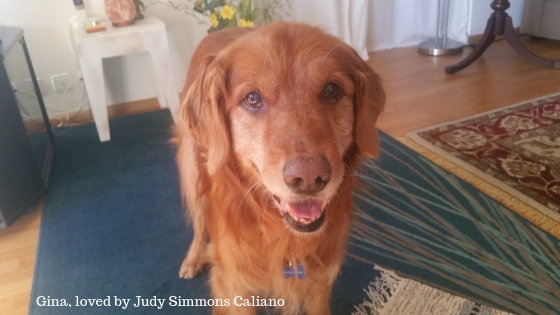 When I was 7 years old, my parents separated. It was a very sad time and I missed my mommy so much when she moved out. After a while, mom and dad decided to share taking care of me so I spend 2 weeks with each of them. Sometimes I'd go on vacation to the mountains or the seaside with mommy. I loved that! Running up and down the mountain trails, swimming in the sea. I was a little scared of the big waves. But I loved doing happy rolls in the wet sand.
But now I get tired and can't walk so far, and I don't like long car rides anymore. Only once in a while we go to the forest for a walk or river so I can dip my paws. But I get scared of hills and my legs hurt so I have to take lots of breaks. I really just like being home the most. We just celebrated my 15th birthday, I got a hamburger and turkey slices, yum! And mommy took silly pictures.
Mom and Dad used to argue all the time, and I didn't want to take sides. Now that I'm old they worry about me, sometimes I can't sleep at night and have to go pee, sometimes I don't feel like eating. They cook up rice and chicken, and share the recipes I like. Daddy got worried cause I wasn't eating, so mommy brought new food to Daddy's place. Together they cooked up my meal, I was so happy to see them together. I heard daddy on the phone inviting mommy for lunch today!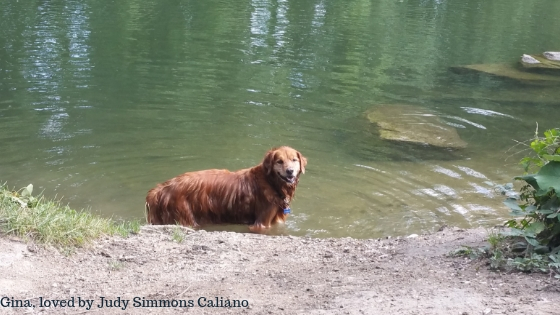 You know, I think they are getting along better because they want the best for me. I wish we could live as a family again, but you know, I got used to spending special time with each of them. It's getting harder for me to go back and forth, but I know they both love me so much neither wants to give me up.
Now I take lots of medication and feel tired a lot, have trouble getting up and don't feel like eating so much. Mommy cries and tells me about this rainbow bridge that I'll go to someday. She says I won't hurt anymore in my legs and I can pee whenever I want. But she and daddy can't come just yet, I'll have to wait for them. I love them so much I would wait forever. But I will really miss them and mommy tells me how much they will miss me.
Judy Simmons Caliano is Gina's mom.♥