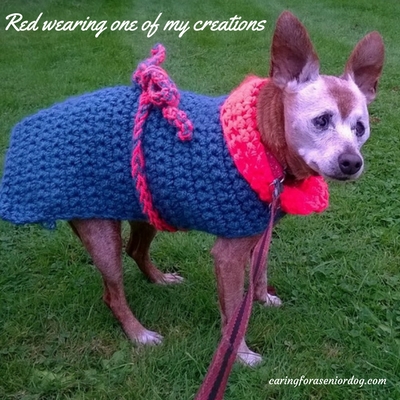 You may be wondering why I'm writing about how to crochet a dog coat on my senior dog website.
After all this is not the type of post you've ever seen here before, but I had what I call a "ha ha" moment this morning.
For various reasons I've been crocheting Red some coats recently, mainly because when we moved away for a few months I forgot to pack most of hers. Sounds crazy considering how much of my life is focused on her, but the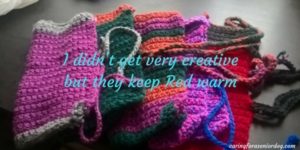 inexplicable happened.
Anyway, where we're living you can't just walk into a pet supply store and buy a coat (because there aren't any pet supply stores) and Amazon isn't liking my foreign credit card. That probably is not your situation but coats can be quite costly, so I thought I would share a ridiculously easy way to make your own.
My dog is cold…most of the time
No matter what age your dog is, it's likely freezing (or really cold) where you're living, and sometimes the fur they're born with might not be protection enough. In the case of older dogs they're feeling the cold even more (I know Red is, especially because she's from Florida and loves warm weather), so she needs to be properly outfitted.
She wears a sweater most of the year indoors, and in the winter a coat outdoors. Yes I admit another appeal of crocheting my own is because I don't want her to be seen in the same one every day.
It's so easy it's ridiculous
I enjoy crocheting but I'd hardly say I'm good at it, so for that reason I looked for a super easy coat to make and found this amazing video. Believe me it's so simple I crochet a coat for Red in an evening if I'm watching tv.

If your dog doesn't need one how about donating to places that do?
Typing something like "dog coat appeal" into your search engine will produce a list of local and foreign shelters that are in need of dog coats. You can either spend a lot of money buying new ones to donate, or spend a few dollars on some wool and donate your handmade masterpieces.
How to crochet a dog coat – conclusion
A bit of a diversion from my usual posts, but I think as relevant as any other. Older dogs will feel the cold more than younger ones, so I hope you'll watch the video on how to crochet a dog coat and create a one of a kind coat for your furry companion.
I must admit I didn't get very creative with mine, but I'd love to see pictures of your work. Why not send them in and I'd be happy to post them on my Facebook page.