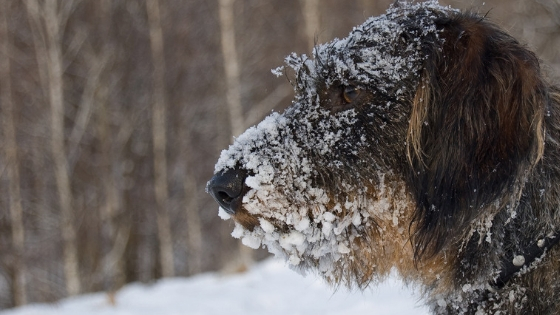 Snow, ice on the sidewalks, wind and freezing temperatures make the outdoors seem like a "no go" area for our old dogs a few months of the year.
The flip side of that is the importance of providing our dogs with some sort of physical activity every day, otherwise they can become overweight, stressed and at risk of developing a number of behaviour issues. 
So how do we make a walk in the great outdoors bearable?
**There are affiliate links in this post, which means if you purchase anything I make a few pennies…literally. That money helps me help homeless animals through donations and fostering, as well as keeping this blog running. **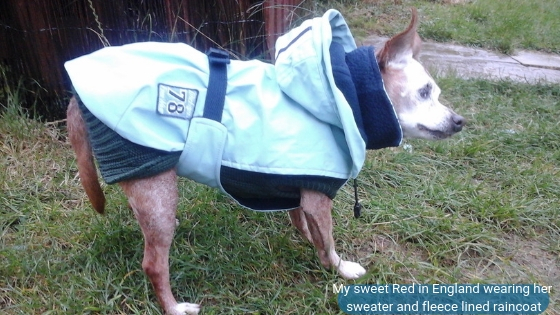 My experience with old dogs and old man winter
All my old dogs came from a shelter I used to volunteer at in Florida, so you could say they did better in warmer weather. Since we spent several months a year in England, and now live here pretty much full time, they had to adapt to cooler temperatures. While there are some days when it gets very cold, it's nothing compared to other places, namely Canada where I'm from. We don't get snow in our area so a sweater and coat are enough to keep my pups warm.
Having said all that, nothing prepared my sweet girl Red for a week spent in Toronto in January!!
I wish I had taken pictures, but back then I didn't know I was going to have a senior dog blog, and how helpful it would have been to document our lives more carefully.
That was really hard on my poor little mite. She was only a small 9lb thing with skinny little legs, so she found it challenging, okay more than that she found it impossible to walk. Add to that salty streets and sidewalks, the best I could hope for was getting her outside to pee and poop.
Her stubborn refusal to wear booties didn't help, but thankfully she did finally agree to paw wax.
You may be asking why I even took her there in January. I had to go because a family member had died, and I didn't have anyone to care for her at such short notice.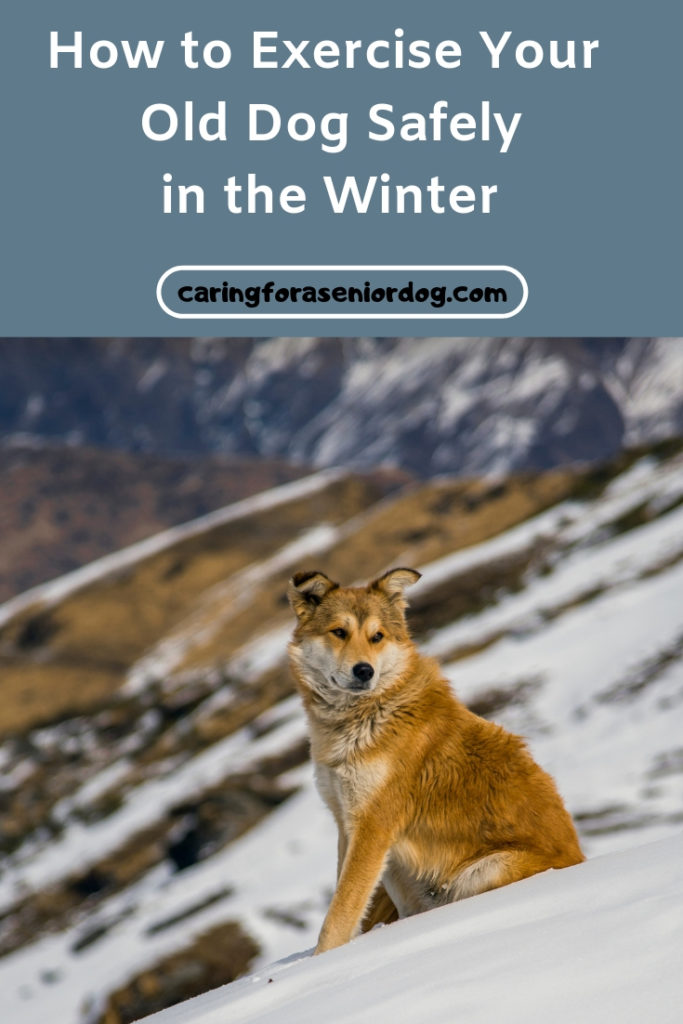 Warmth is key
Older dogs tend to feel the cold more than in their younger days, so keeping them warm and toasty is key. You definitely have to invest in a nice thick warm coat, and if that isn't enough make sure they wear a sweater as well.
I know most coats don't cover a dog's underside, and our poor pups end up wet and cold. A few years ago I found an amazing warm raincoat on Amazon, that actually had a piece that covered that whole area. Boy was I excited. I know a sweater will cover it for warmth, but this piece was waterproof!!
For extra warmth why not look into adding a pair of doggie pants to keep your pup's legs warm, or a onesie to cover arms and legs.
You know those little hand warmers you put in your gloves? Maybe you can find a way to add it to the inside of your dog's coat. Be careful it's not near his skin where he could get burned.
Having more than one of each of the above means you'll always have something dry to put on your dog. Sorry for stating the obvious!
The warmer your dog is the greater the chance he or she will be willing to venture out more often…even if it's just 5 minutes at a time.
Paw protection
After warmth, paw protection is the next thing to think about. Your dog may dislike or be uncomfortable walking on very cold or wet ground, and we all know how painful salt can be on their paws.
One option are booties and if your dog is cool (sorry, no pun intended) wearing them that will make a huge difference. They will keep him warm and protected and again, increase the chances he'll want to go for a walk. Not all booties are created equal, so before you buy make sure you can return them or try them on in the store. Just because your dog isn't happy with one pair doesn't mean he won't agree to another. Be sure the ones you choose have good traction.
If your dog refuses to have any part in that, try a tub of paw wax, it does help.


Be aware of what lies beneath
Snow and slush are easy to see, but what about black ice? How about hard snow under the soft powder? Holes? Sharp objects or other hazards? Okay I know a winter walk doesn't have to sound like a stroll through a war zone, but we all know how challenging walking in snow and ice can be. Even more so for our old dogs who may not be as sure footed as they once were.
If your dog is going to walk or run off leash think about what lies beneath.
It's hard work!
Do you ever notice the exertion needed to walk through snow? Imagine how that can feel to our dogs, particularly if they have heart or lung issues, or are less than steady on their feet in the best of times. If your dog does have these types of issues, please consult with your vet about the safety of walking him in cold and snowy conditions.
Even if your dog usually walks or runs off leash, if you're out before the snow has been plowed, you may want to think about sticking to slower, on leash walks.
Get them dry as soon as you're home
The first thing you're going to want to do when you walk in the house is take off your dog's wet clothes, and dry him off. Be sure to wipe his paws if he wasn't wearing booties, you don't want him licking off the wax or salt.
When putting on a new sweater you may want to leave it in front of the radiator or fire for a moment or two to warm it up a bit.
Don't forget to offer him a nice drink of room temperature water.
Sometimes it's just too darn cold
Despite our best efforts, and the wardrobe we've invested in, sometimes it's just too cold for them to walk. Hopefully they're still able to pee and poop outside, or you've set up pee pads for that.
So how do we stop our dogs from going bonkers from boredom? Here are few ideas.
Exercising a dog indoors

Do you have a treadmill? It's a great way to get him moving and burn off some energy. Start off at a super slow speed and see how he does. 
Invest in a puzzle toy or make your own. Mental stimulation is a great way to help burn off energy.
How about loading him into the car for a lap or two around a big box pet supply store or Home Depot if they allow? He'll get some exercise, sniff around and maybe even make a friend or two. Stock up on supplies while you're there and it sounds like a win for everyone.
If your dog is still in great shape and has no trouble with stairs, stand at the top,   throw him a favourite toy and have him bring it to you. After a few sessions he'll be ready for a break. If you have too many stairs stand or sit halfway.
Grab a hula hoop and have him walk through it. The height you hold it off the ground will depend on his mobility.  
Hide some favourite treats and have him find them.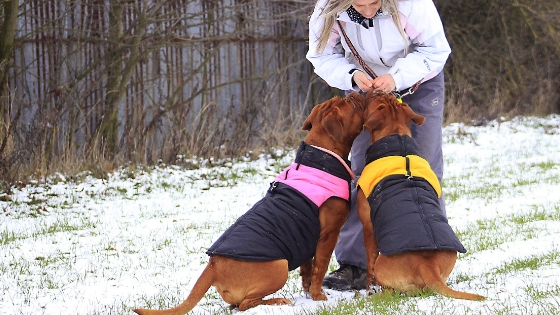 How do you exercise your old dog safely in the winter?
How do you make sure your dog gets enough exercise in the winter? Sharing helps others so please leave a comment below, or on my Facebook page.