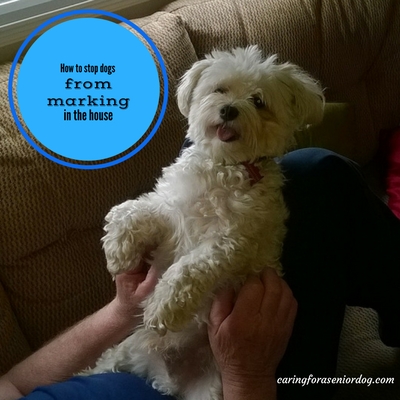 If your dog likes to lift his leg indoors, then how to stop dogs from marking in the house is a must read. 
Urine marking has nothing to do with housetraining, nor is your dog seeking revenge on you for something you have done.
There is a difference between urine marking, and not going out enough so he had to pee on your floor. If you see a puddle, your dog needed to pee. If that's the case, you may want to re-visit your dog walking schedule, or make sure he is not drinking too much water, as that could signal a medical issue.
Urine marking is done in small amounts, usually to an upright surface – although horizontal surfaces work well too!
It's always good to rule out medical reasons, by having your dog checked by a vet.
[bctt tweet="If your dog urine marks in the house, you really need to read this article." username="petcrusader"]
Why dogs urine mark in the house
It is usually a sign of anxiety or stress, a reaction to: a new baby, an unfamiliar face, a new pet, new things in the house, moving house, being adopted – all things that can be tough on any dog, particularly older dogs who may be used to a routine that has now been disrupted
In a senior dog it could be a sign of illness, or medical problem

He may see a dog outside, and feel the need to mark his territory

He suffers from separation anxiety

Lacks confidence

Reaction to unfixed animals in the house

Staking his claim to items, or territory he thinks belong to him

Easing anxiety by laying out his boundaries
Do all dogs do it
No, they don't. It seems fixing a dog when they're fairly young, makes it less likely they'll mark. Unfixed males are bigger culprits than fixed ones, and small breeds more than larger ones. Females have also been known to mark, but it's far less common.
What not to do
Do not yell or hit your dog, it is never an answer to any issue. If you come home and find he's been busy, just clean it up. There's nothing to say after the fact.
How to stop it
Check up time. The first thing you should always do when you notice a change in your dog's behaviour, is to take him to the vet for a check up. You want to rule out medical issues before anything.
Neuter your dog. Although it's not a guarantee, it's a great start, and should be done anyway! Here's my opportunity to lecture about the importance of spaying and neutering, in order to prevent unwanted litters. Don't say the litters are wanted! Before you start to allow your animals to breed for profit, walk into any animal shelter and see them overflowing with abandoned animals.
Keep objects out of reach. If he likes to mark visitors' belongings, or new items you've just bought, keep them out of reach.
Catch him in the act. You have a great chance of your dog learning that it's not okay, if you catch him in the act. My new dog started marking when we first brought him home (something I've never experienced before). After catching him a few times and saying "no" like I meant it (and I most certainly did!), he stopped. I admit he did it one more time recently, but since then it's all good.  He was recently rescued from being abandoned in an empty house, fur overgrown and matted, barking incessantly when left alone. He obviously has confidence and abandonment issues, so with me showing him who is in control (not him, that's for sure!), routine and consistency he's getting better, and seems to be over marking.
Change your route. Why not take him to explore different areas on your walks, giving him lots of opportunity to mark plenty of new objects.
Introduce the newcomer. If your dog is letting you know he's anxious or stressed about the new face in the house, introduce them and let them get to know each other. Treats or toys are great ice breakers. If your dog has his own spot, keep the newbie out of there until they're on good terms. Keep them separated if you have to when no one is around, just until they're getting along.
Watch for signs and make some noise. Look for signs he's about to lift his leg, he could be showing a bit too much interest in an item or area, or sniffing in one spot then say "no" or whatever word you choose. A noisemaker made out of coins or pebbles in a can, is a great distraction tool. It will startle him, and interrupt what he's doing.
Praise. When your dog pees/marks outside, praise him, a lot, and give him treats or toys (whatever motivates him). You want him to learn rewards are high for doing the "right" thing.
What's your dog's marking behaviour.  Does he pee on his bed, or your other dog's bed if left alone too long? Pick the bed up off the floor next time you go out, and see if that makes a difference.
Clean. Any area your dog peed in, must be thoroughly cleaned, and odours eliminated. Masking them isn't enough, because your dog can still smell them. Use a good enzymatic cleaner to get the job done.
Separation anxiety. Dogs that suffer from separation anxiety may pee from anxiety, or lack of confidence. See my article on treating separation anxiety for tips that may help.
Be the one in charge. You need to set boundaries, train him, create structure and routine. This goes a long way to reducing anxiety.
Confinement. Some dogs may never be trusted, and since it's impossible to watch him 24 hours a day, your best bet may be to limit his free run access of the house. Confining him to smaller areas with baby gates and barricades when no one is around, is a good solution.
If he marks in my house, will he mark in every house?
It is entirely possible, especially if they also have pets. Either leave him at home so you can relax and have fun or, if you really want to bring him, keep him on a leash so you can monitor him.
How to stop dogs from  marking in the house – conclusion
If you have a dog that urine marks, believe me I know how you feel! I do hope you found the information on how to stop dogs from marking in the house helpful, and you will see an end, or at least a significant decrease in this behaviour.