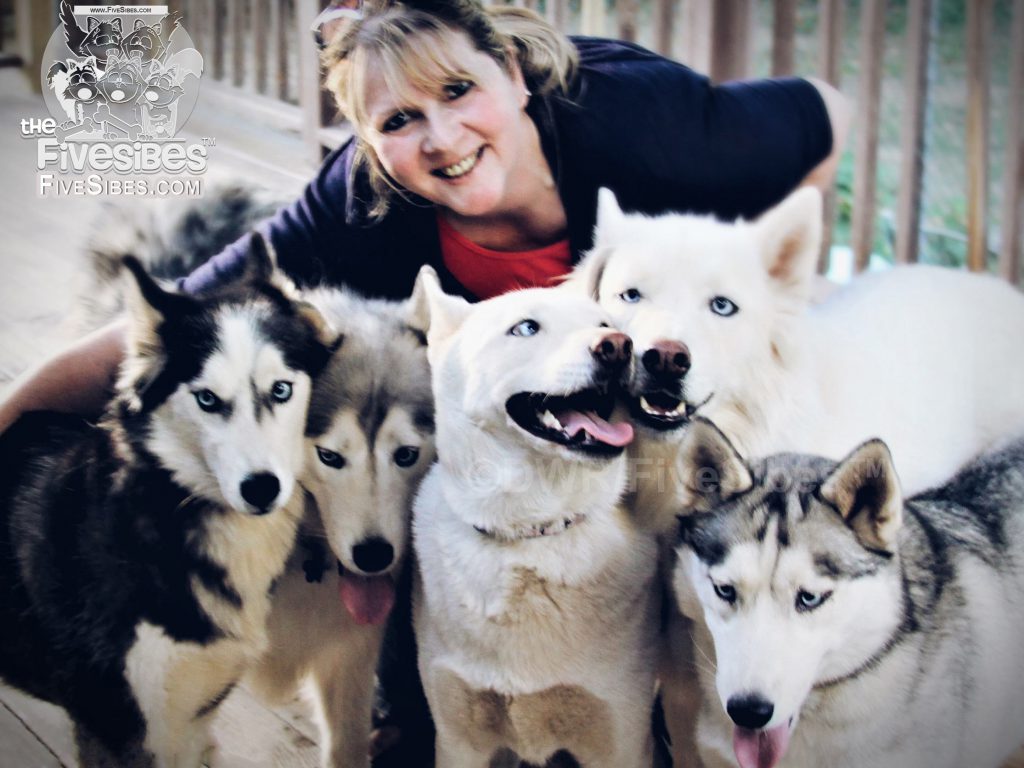 One minute your sweet senior dog seems fine, taking a lovely snooze in a ray of sunshine or laying nearby chewing on a toy, and the next minute s/he is convulsing on the floor, having a seizure. After the initial fright and fear starts to ebb, and you soothe and care for your dog, your mind begins to race: Is my dog okay? What caused the seizure? Will s/he have another? Does my dog now have Canine Epilepsy?
What Dogs Can Have Seizures or Get Canine Epilepsy?
While certain breeds are more apt to have Canine Epilepsy, seizures can happen to any dog, any breed, across the globe and for many reasons, including no known reason, as well as advancing age. As any hu-parent of a dog that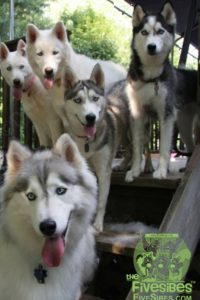 has had a seizure or has Canine Epilepsy can tell you, it is one of the most frightening experiences to go through with your dog. I have gone through this multiple times with two of my five dogs, both Siberian Huskies—my boy, Gibson at age three, and our girl, Harley, had her first at the golden age of 12. My journey with Gibson was a long one as he had sudden frightening grand mal and cluster seizures shortly after he turned three in 2009. After a myriad of tests, he was diagnosed with idiopathic (no known cause) Canine Epilepsy and placed on a regimen of anti-seizure medications that in combination with dietary changes, natural supplements, and holistic care, did manage his seizures and kept him seizure free for seven years! We did have scares along the way with a severe bout of ataxia, side effects from the medications, and adjustments to the doses of medications, but looking back, it is amazing that we were able to control them, and for so long.
Seizures and the Senior Dog
With Harley, it is a completely different story. When she had her first seizure in February of 2017 at age 12, I was momentarily in shock to see the old familiar villain coming back to visit yet another one of my dogs. And although Harley may think she is much younger, with her now in her golden years, I knew we were not dealing with Canine Epilepsy, as that typically shows itself in a dog's early years. So a whole new set of fears and uncertainty set in. After running tests, her bloodwork showed that in just a little under a year, her thyroid levels changed (something that is not all that uncommon with seniors) and she was diagnosed with hypothyroidism, which can trigger a seizure. She went on medication and has periodic bloodtests to be sure her dosage is maintaining an appropriate level. After a year of no seizure activity, at 13, she just had her second seizure. With her thyroid levels holding fine, what could have caused this one? I don't have to tell you the fears that shot through my mind. With a senior dog experiencing a sudden onset of seizures, the fear of a brain tumor or cancer is major concern. After reviewing her case with my vet, and knowing her history, we determined that it would be safe to wait to see what unfolds before deciding on the next step and this seizure could have been due to low blood sugar or sudden stress.
Some Causes of Seizures in Senior Dogs (in no particular order):
While seizures in dogs of all ages can be idiopathic, be genetic, or triggered by illness, injury, food ingredients, toxicity, fireworks, flashing lights (TV, etc.), fireworks, stress, and even weather, the following is a list of some possible seizure triggers for senior dogs in particular:
Brain Tumors

Cancer

Cushing's Disease

Stroke

Stress

Overheating

Thyroid Imbalance

Liver Disease

Kidney Disease

Diabetes

Electrolyte Imbalance

Hypoglycemia

Toxicity (from certain foods and plants; flea, tick & heartworm preventatives; vaccines; or environmental issues)

Weather and Atmospheric Changes

Lunar Phases, Solar Flares, and Eclipses

Medicinal Side Effect

Injury
While one seizure over the course of a year or two may not be a reason to sound the alarm bell, it is imperative that you have your dog go in immediately for a vet check to see if a cause can be determined. With age, the same as humans, the body undergoes various changes. As with our Harley, within just one year, her bloodtests went from perfect to her suddenly having hypothyroidism. Dogs with seizures can also have hypoglycemia – low blood sugar – something I am very familiar with as not only did Gibson have periods of low blood sugar (which can both trigger a seizure and occur post-seizure), but I, too, have been hypoglycemic for most of my life. So what to do? I give periodic low-fat treats with protein. Also, if your dog is fed once or twice a day, splitting the meals to create mini meals given two, three, or four times throughout the day can help keep hypoglycemia at bay. Always discuss any new routines, foods, or changes with your vet before implementation.
Helpful Hints
Have a Plan in Place. Should your dog have a seizure, have a plan in place on how to transport him/her to the vet or emergency hospital. Have emergency phone numbers (including a friend or family member to help) posted near your landline phone and programmed in your cell phone. Give your vet or emergency hospital a call before you leave to give them a heads-up that you are en route with a seizing dog so they can be prepared for your arrival.
Journal the Seizure Activity. Keep a journal—written or digital*—of when the seizure happens, what it was like, how long it was, what your dog was doing/eating prior to the seizures, the weather, and if possible, videotape the seizure and bring it along with your dog to show your vet. *See below resources list for an excellent digital app by Royal Veterinary College (RVC).
Create an Epi First Aid Kit. Already have a First Aid Kit for your dog? Update it to include items in case your dog has a seizure. See link below for my #Paws4Purple Epi First Aid Kit FREE informational bookmark available through The Anita Kaufmann Foundation for items to add to your kit.
Join a Canine Epilepsy/Seizure Dogs Support Group. The information and support provided by reputable organizational groups is priceless.
Living with an Epi-dog (dog with Epilepsy) or a dog who has seizures, is an hour-by-hour, day-by-day, week-by-week, month-by-month continuous watch, while hoping the seizures do not return. If your dog is diagnosed with Epilepsy and is put on anti-epileptic drugs (AEDs), the dosing schedule must be consistent. Family schedules are planned around the Epi-dog's needs. Baby monitors and video cams with feeds connected to smart phones can be installed to keep a vigilant eye on your dog, both while at home and away. And yes, there is cost involved for vet visits, tests, medication, and possible food changes. Yet, no matter how much we do to prevent them, there is no guarantee that our dogs will not have another seizure. That is the frustrating and unsettling nature of the beast known as the "seizure monster." But the love and amazing bond we develop with our dogs, whether it comes as a result from the extra care they require for their special needs, or just the natural human-canine bond, it is a journey well worth taking as these dogs prove over and over again that they do not let seizures stop them from living a full and happy life, the same as a dog without seizures.

Recommended Resources
About the Author: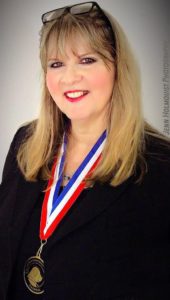 Dorothy Wills-Raftery, also known as the "FiveSibesMom," is an award-winning author and photojournalist, Siberian Husky aficionado, and Canine Epilepsy advocate. Her canine books are EPIc Dog Tales: Heartfelt Stories About Amazing Dogs Living & Loving Life With Canine Epilepsy; the FiveSibes™ Tales children's books What's Wrong With Gibson? Learning About K-9 Epilepsy and Getting Healthy With Harley: Learning About Health & Fitness; and Buddy, the Christmas Husky~Based On A True Holiday Miracle (ArcticHouse Publishing). Featured in The American Dog Magazine, Dorothy is the creator, writer, and photographer of the internationally recognized FiveSibes™ blog. She is a regular contributor to American Pet Magazine, 4Knines.com blog, and Hudson Valley Paw Print Magazine. Her canine-related articles and photography has appeared in Ruff Drafts, The Sled Dogger, and Kings River Life Magazine. Dorothy is the writer and host of the award-nominated The Sibe Vibe show, which airs on Dog Works Radio and iTunes. Dorothy is the recipient of the 2017 NYC Big Book Award, and was named a 2017 Finalist in the "Advocate" category for the Women in the Pet Industry's Woman of the Year Award. Dorothy is a nine-time Dog Writers of America Association (DWAA) "Excellence" nominee, and she is the two-time recipient of the DWAA's prestigious Maxwell Medallion for work on her FiveSibes blog —once in 2017 for her FiveSibes poster for Red Nose Day to Help End Child Poverty, and in 2016 for her blog article on rescue dogs in. Named "Best Author" in 2015 & 2016 by Hudson Valley Magazine, all four of her books were named "Best in Print" by American Pet Magazine. An official International Purple Day® for Epilepsy Ambassador since 2012 and a volunteer case manager for The Wally Foundation-Canine Epilepsy, Dorothy is the creator of the FiveSibes #LiveGibStrong K-9 Epilepsy Awareness campaign inspired by her own Epi-dog, Siberian Husky, Gibson. She is the author of #Paws4Purple, a partnered Canine Epilepsy awareness and educational program with The Anita Kaufmann Foundation launched on March 26, 2018 (www.PurpleDayEveryDay.org/Paws-4-Purple). You can follow Dorothy and her FiveSibes on their website at www.FiveSibes.com, on Facebook at FiveSibes: Siberian Husky K9 News & Reviews, and Twitter (@FiveSibesMom).