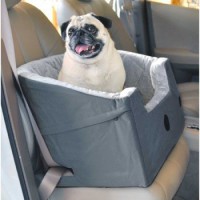 Product: K&H Manufacturing Bucket Booster Pet Seat
Best place to buy: Amazon.com
Specifications: 600 denier fabric exterior; available in small and large; Small– 14.5″L x 16.5″W x 19.5″H – sleeping surface dimensions- 13″L x 12.5″W comes with 2 adjustable security leashes; weighs 6lbs; Large– 14.5″L x 22″W x 19.5″H – sleeping surface dimensions- 13″L x 18″W comes with 2 adjustable security leashes; weighs 7 lbs; available in tan or gray; 1 year warranty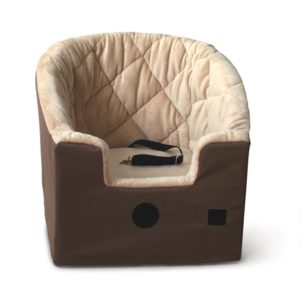 My rating: 10/10
Features
Lightweight solid foam core

Quilted soft fleece inside with a 3" removable foam cushion

600 denier fabric exterior

Removable, washable cover

Seatbelt is threaded through 3 loops hidden under removable seat pad, keeping the seat securely in place

Includes two adjustable security leashes (10"-18")

Contoured style for perfect fit in front or back seat

Easy to install and uninstall

One year limited warranty
Product Overview
The Bucket Booster Pet Seat is designed with two things in mind – safe travels with your pet, and allowing them the chance to look outside. The quilted fleece interior is nice and comfy, so I should say it was designed with three things in mind!!
The seats are elevated approximately 5.5" from your vehicle's seat, giving your pet a better view out the window.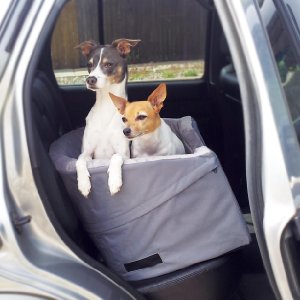 The Booster Pet Seat comes in two colours (grey and tan) and two sizes (small and large).
It's a snap, literally, to put in and take out of your car, and both size seats have 2 leashes should you wish to put 2 dogs together in one booster seat.
Let's talk safety first. Your car's seatbelt is threaded through 3 loops under the removable seat pad, keeping the seat firmly in place. Use a harness for your dog and attach the adjustable security leash to the ring at the bottom of the harness. Never attach it to your dog's collar as it could cause a strangling hazard in cases of sudden braking, or accident.
Having your pets securely fastened in their seats will keep them safe in case of an accident (they won't get thrown around the car), it prevents them from roaming around the car freely and potentially causing an accident, and when you stop for gas or a break, they can't run out when you open the door.
There are no guidelines as to the size dogs they would accommodate, but you may find this helpful based on my experience, and others… Remember, one person may have been happy with a 20lb dog in a small one, while others think it's not suitable for any dog over 5 lb. It's a personal decision about how much space you want your dog to have, or how much space you think he needs.
Small: dogs anywhere from 3lb-20lbs have used the small and seemed happy enough. Obviously if you have 2 smaller dogs they should fit together in one if you prefer.
Large: 20-30lb dogs or 2 smaller dogs have fit perfectly comfortably.
Pros
Security leash keeps your dog securely in the booster seat to prevent, and in the event, of an accident

Booster seat is firmly attached by the car's seat belt

The extra 5.5" inches of "boost" allows your pet to look out the window

Removable cover for easy washing

Super easy to install

Comfortable
Cons
Conclusion
If you've been looking for a way to keep your dog (or your cat!) safe in the car, look no further than the K&H Manufacturing Bucket Booster Pet Seat. Built with safety and comfort in mind, it's great to know there's a product that makes it easy to include your four legged family members in your outings.
Where to Buy