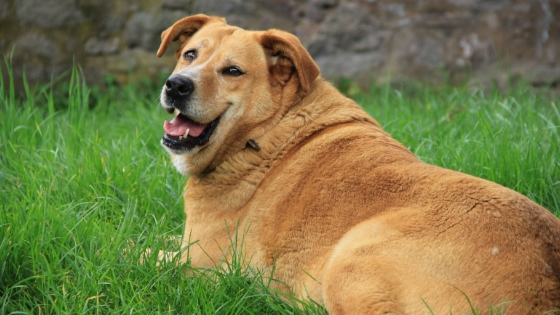 It is absolutely heart wrenching when I see really fat dogs. Their backs look like a table you could put dinner plates on, they can barely move and they're panting so much they look like they're gasping to breathe. Don't their guardians see the state they're in? There were times I couldn't help myself and stopped to chat, casually working their dog's weight into the conversation. Diplomacy is something I have to really work on but I think I did a pretty good job!! 
What continues to shock me is how blase they are. I casually recount my tale of rescuing an obese dog, my sweet girl Red, the steps I took to help her lose weight and how easy it was. I even give them the name of my vet. I'd bet money on none of them even remembering our conversation after they walked away, but I hope I'm wrong. 
*There is an affiliate link in this post. By buying through the link I may receive a commission for the sale. This has no effect on the price for you.*
 Sobering statistics
In a 2017 survey by The Association for Pet Obesity Prevention (APOP), results show that 56% of all dogs in the U.S. and 60% of cats are overweight or obese. That means there are 50.2 million dogs above a healthy weight in the U.S. How scary is it that these numbers increase every year!!
The PDSA (People's Dispensary for Sick Animals) in the UK has come out with its 2018 Animal Welfare Report and it's worth a read that's for sure. Here are a few of the stats that are very unsettling –  
Of the 1.4 million dogs in the UK, 16% are walked less than once a day and 89,000 are never walked at all
Vets and vet nurses estimated that 46% of the dogs they see in their practice each week are overweight or obese
55% of "owners" have no idea their dogs are overweight or obese
32% of veterinary professionals only discuss weight if their patient is overweight or obese, yet 98% feel there should be more emphasis on obesity prevention
I lived with a fat dog…but not for long!!
When my husband and I adopted the love of my life Red, she hadn't been well cared for in her previous home. She was around 8 years old, blind with eyes bulging out of her head and so obese her stomach literally touched the ground. A dog that shouldn't weigh more than 10lbs weighed a whopping 18!! I wish I had a picture to show you, but they must be packed away in storage. 
The poor thing couldn't take more than a couple of steps without panting and having to sit. Being so small (she was a Chihuahua/Min Pin) with skinny little legs, all that extra weight had to have been so uncomfortable for her.
I took her to the vet for advice and together with our regular walks, which at the beginning were nothing more than a few steps, the weight dropped off quite quickly.  As the weight came off she was able to walk longer, and you could see how much better she was feeling. She started off eating Hills Prescription Diet r/d then switched to w/d for maintenance. She didn't stay on it long term it was just to help her get to her ideal weight. 
Why dogs are fat 
Most of the time dogs are fat because they eat too much and exercise too little, and it's as simple as that!  Okay it's true that other issues could be responsible for weight gain such as hypothyroidism (underactive thyroid) and Cushing's but that isn't often the reason.
How to tell if your dog needs to lose a few pounds

 
Not that long ago knowing a dog's ideal weight was pretty easy to figure out. We knew roughly the weight of dogs such as Labradors, Chihuahuas and Shi Tzus for example. Nowadays with the poodle doodles as my husband calls them, the Shipoos and the rest of the combos, the old charts aren't as helpful as they once were.
The best advice I can give you is to make an appointment with your vet and let him or her tell you the magic number.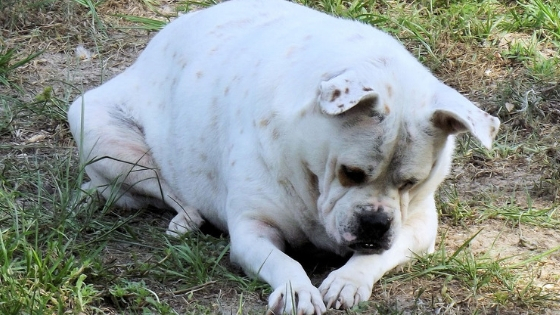 Why your dog should be at a healthy weight
Keeping your dog at a healthy weight decreases the chances of him suffering from arthritis and other health challenges, he's able to exercise and play and have an overall better quality of life.
Are you killing your dog with kindness? 
You may not realise how dangerous little or no exercise and too much food can be, but it's a serious problem. I know no one is doing anything to hurt their dog intentionally, and I also know the extra food is a way of showing love and even assuaging guilt. I had a couple of dog walking clients who were fat, and their parents were such wonderfully kind people they really did love their pups. They felt bad leaving them alone for so many hours so left food to compensate. 
You could see –  
Shorter life expectancy

Poor quality of life

Strain/damage to joints and bones

Arthritis and worsening of existing arthritis 

Difficulty coping in the heat

Trouble breathing and making respiratory disorders worse

Poor condition of coat and skin

Greater risk during surgery

Diabetes or insulin resistance

Elevated blood pressure

Spinal disc problems

Liver, kidney and heart diseases
Added complications during surgery
Senior dogs are already at higher risk during surgery, and being overweight can add significantly to that risk. All the extra fat makes it harder to get at what the vet is operating on, meaning your dog will be in surgery longer than he should be. 
Also a fatty liver cannot break down anesthetic as efficiently as a healthy one, so your dog will take longer to come out of the anesthesia.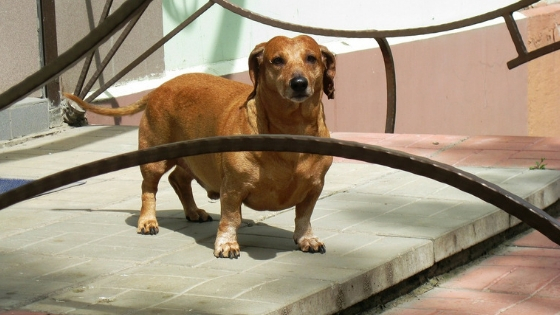 Is it safe for old dogs to lose weight?
A better question would be, is it safe for them not to! 
My dog needs to lose weight…what's the first step? 
The first step is booking an appointment with your vet, and while you wait for that day here are a few things you can start doing right now. 
No more feeding table scraps
No more unhealthy treats
If you do need/want to give him a treat, try something healthier like a piece of raw carrot or raw apple (no seeds). Check out one ingredient dehydrated treats or make your own, there are tons of recipes on Pinterest  
Exercise – the type and intensity will depend on the health and condition of your dog
If you have other pets don't let him near their food, and separate him at meal time if you must. If you leave food out all day for the others you may need to start feeding on a schedule. Can the dog get to your cat's food? If yes put it out of reach.
The Plan
At the vet your dog will be weighed, then a goal weight will be set. After that, you will discuss a diet and exercise regime. I believe most practices offer a free weight loss clinic where you meet regularly with a nurse to discuss progress. 
Please follow the recommended plan, and make sure everyone in your household or involved in your dog's care does so as well. You don't want someone sneaking him extra food or treats when you're not looking. 
Diet
Your vet may recommend switching over to a different brand/type of food, that will help your dog feel fuller without having to decrease the amount, or simply suggest reducing the amount of what he's currently eating.
If you will be switching brands please do so gradually. Add the new food in small amounts, gradually increase the ratio of new to old until he's switched over. It should take about a week or so until he's only eating the new food.
Some vets may recommend a raw or home cooked diet.
Treats
Unfortunately many people misunderstand that a "treat" is just that – something to reward good behaviour, a little "something" after a walk or for a successful training session. It is not a meal!!
Vegetables like raw carrot to munch on, cooked sweet potatoes, squash or raw apple can also be used as treats. Ask your vet if there are any fruits or vegetables not suitable for your dog.
There are thousands of recipes online to make your own healthy dog treats. You'll know exactly what ingredients go in them, giving you better control over what your dog is eating. 
Exercise
We know exercise is another piece to the whole weight loss plan, but depending on the condition of your dog, the type, length, and frequency of exercise will differ. Your vet will advise which form is safest.
Your dog may not be able to take an hour long walk in one go, but he probably could do 3 or 4 15 minute walks throughout the day. If you live in a particularly hot climate, or when walking during the summer months, stick to earlier and later in the day.
Swimming is great exercise since it is low impact and won't stress joints. Take him to the beach or a lake, and when the weather is colder find out if there is a doggie pool in your area. 
Check this out!!
I came across an article about a product called PitPat, which is basically like a Fitbit for dogs! It monitors activity and calories burned, and even provides a tailored exercise goal based on your dog's age, weight and breed. The PitPat is small enough and lightweight enough to attach to your dog's collar, and connects to a free app via Bluetooth. Sounds like something worth checking out, but please consult with your vet before following any exercise advice. 
How to help fat dogs get slim – conclusion
I hope you have found this article helpful, and you see how easy it is to get your dog to a healthy weight.
What was the cause of your dog being overweight? Did you adopt him like that? Was it due to medication or illness or does he know who to wrap around his paw to get what he wants!! What steps did you take, or are you currently taking to get him down to his ideal weight? Sharing helps others so please leave your comments below.