The Pet Gear No-Zip Jogger Pet Stroller is the perfect stroller if you love to combine an exercise session with an outing with your dog…or cat!
The stroller I currently use is perfect for walking on pavement, and even rolling over tiny pebbles. However there are times we like to walk over rougher terrain, or I want to significantly quicken the pace, while ensuring my dog isn't jostling around too much. While looking at jogger strollers, one in particular caught my eye – Pet Gear No-Zip Jogger Pet Stroller.
I liked it so much that I decided to share my research findings with you.
Get more information and buy now on Amazon.com >>>
Zipperless Entry
NO-ZIP is the most innovative feature in pet strollers today. Instead of zippers there is an easy locking latch, which makes it easier to open and close. No snagging, no fumbling and no chance of a zipper breaking, causing the stroller to potentially become un-usable.
Air Ride Tires
The wheels on a stroller are a key factor in the type of terrain you will be able to use your stroller on. If you want to jog with your pet, or walk through rough terrain, sand or grass, then Air Ride tires are recommended. A smoother ride means extra comfort for your pet, and makes pushing the stroller effortless. You can also lock the front wheel in place, which helps with stability.  
Features and Specifications
Perfect for jogging, all terrain walking or a gentle stroll

Easy Locking No-Zip entry

Elevated paw rest with panoramic view window – a better view for your pet

Folds and opens in seconds

12″ quick release air tires

Compact portable air pump

Front wheel fixed and swivels

Parent tray for keys, water, etc.

Large storage basket

Takes up very little storage space

Fits in the back seat or trunk

Interior safety tether

Interior dimensions – 30″L x 13″W x 22″H

Suitable for pets up to 75 lbs

Available in three colours: Forest Green, Midnight River and Rugged Red storage
Get further details and buy now on Amazon.com >>>
Customer Reviews and Scores
Pet Gear No-Zip Jogger Pet Stroller is an extremely versatile pet stroller. Not only do the air tires make it perfect for a nice stroll on a paved path, but you can easily use it for jogging or walking over rough terrain, and your dog will still enjoy a smooth ride.
Zipperless entry means easy to open and close, no snagging on the fabric, or breaking, leaving your stroller unusable.
The tray with cup holder puts drinks, treats, keys, phone etc… all close at hand. The spacious storage basket underneath has plenty of room for extras – snacks, sweater, sun hat, leash….
Easy to fold and easy to open, it's no problem bringing it on the bus or train if needed. Takes up very little space in the back or trunk of the car, so you can all enjoy a family day out, and that includes the dog!  
I found 223 customer reviews at the time of writing, and they had awarded the Pet Gear No-Zip Jogger Pet Stroller 4.5 stars out of a possible 5 on average.
The customer reviews on Amazon are positive overall, but there were a few niggling points raised. One customer said, "I noticed there was already some wear and tear on the fabric on the underside of the bottom basket. It looked like a packaging problem and one of the wheel assemblies had rubbed a hole in the fabric."
However, it doesn't seem to be a widespread problem. Other customers said, "Stop Searching for Another Stroller!" and, "The Limo of Pet Stroller" and, "Perfect for healing after surgery" and finally, "Incredible quality sanity-preserving device well worth the price"
That makes it very easy for me to recommend the Pet Gear No-Zip Jogger Pet Stroller as well.
Conclusion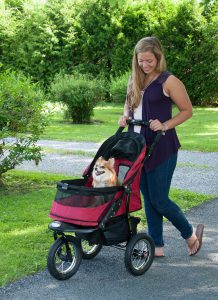 In summary, the Pet Gear No-Zip Jogger Pet Stroller can handle a jog over rough terrain as easily as a gentle stroll on your local park's paved walkways. Whatever your situation (elderly dog, puppy tuckered out, pet recovering from illness or surgery…), he no longer needs to be left behind. Most real buyers of this product are extremely pleased with their purchase and would recommend this stroller to others.