It's scary dealing with any health issue or problem, especially as our pets get older.
However, seizures in senior dogs can take frightening to a whole new level – at least it was for me!
Nothing freaked me out more than hearing my dog have a seizure.
That's right, I said "hearing" because the first time it happened, I only heard it. That was enough to stop my heart.
If you are currently faced with this difficult situation, I hope that I can use my experience to help.
Let's dive into the world of seizures in older dogs and what you can do to give your best friend the best possible quality of life.
Last Updated: Nov 28, 2023
Disclosure: Some of the links in this article are affiliate links (Amazon Associate or other programs we participate in). As an affiliate, I earn a small commission from qualifying purchases.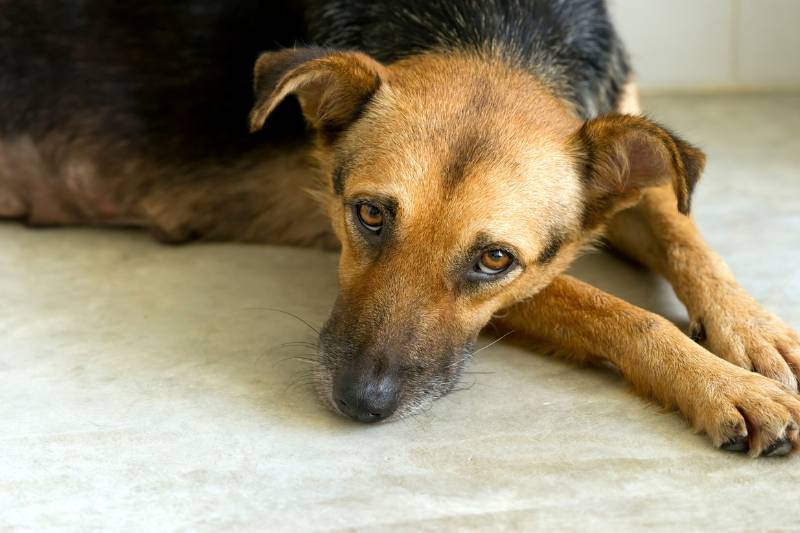 What is a Seizure?
Before digging into any details, let's take a moment to start at the beginning – what are seizures in senior dogs, and why do they happen?
A seizure occurs when your dog experiences a sudden surge of abnormal electrical activity in the brain.
Overloaded by this activity, the brain essentially "malfunctions," meaning they lose control over their actions and their body.
For some, this could cause violent convulsions. Others will be confused or appear to be biting at flies around them that aren't actually there.
It's important to note that any type of seizure, regardless of how serious it appears, warrants an immediate call to the veterinarian.
What is the Difference Between Seizures and Epilepsy?
If you have been searching for more information about canine seizures, you may have found that a lot of information refers specifically to epilepsy in older dogs.
So, what is the difference?
Epilepsy is a medical condition in which a dog experiences repeated or chronic unprovoked seizures.
The cause of epilepsy is still largely unknown. However, there appears to be a genetic link with some breeds showing a higher diagnosis rate.
Some breeds that are considered to be at higher risk for epilepsy include:
Beagle
Bernese Mountain Dog
Border Collie
Boxer
Cocker Spaniel
Collie
Dachshund
English Springer Spaniel
German Shepherd Dog
Golden Retriever
Irish Setter
Irish Wolfhound
Keeshond
Labrador Retriever
Pembroke Welsh Corgi
Poodle
St. Bernard
Shetland Sheepdog
Siberian Husky
Wire-Haired Fox Terrier
Of course, any dog, regardless of their breed, could develop epilepsy.
If your dog shows signs of having experienced a seizure, contact your veterinarian. They will help you determine the cause, whether it is epilepsy or something else.
Is it Possible for My Dog to Have One Seizure and Never Have One Again?
There is a possibility that your dog could have a single seizure, depending on the cause.
For example, if your dog ingested something poisonous, like caffeine, leading to a seizure, they may recover and never have a seizure again after the toxin is out of their body.
However, many dogs will require ongoing management.
Most experts will tell you that if your dog does have recurring or chronic seizures, they will likely become more frequent or severe in the future.
Working closely with your veterinarian when addressing seizures in senior dogs is essential.
The earlier you start to treat or manage the underlying cause, the better.
Common Causes of Seizures in Older Dogs
We have established now that understanding the cause of your senior dog having seizures is vital in giving them the best chance at a long, happy life.
This can be challenging, given your vet has so many possibilities to consider.
While they can test for some potential causes, others aren't as easy to identify or diagnose.
Some of the more common causes of seizures in dogs of all ages include:
Parasites
Low blood sugar levels
Trauma
Poor circulation
Calcium deficiency
Genetics
Brain tumors
Rabies
Heatstroke
Exposure to toxins
Blood or organ issues
Under-active thyroid (hypothyroidism)
Some breeds may be predisposed to them (as discussed already)
Seizures in elderly dogs specifically are most often associated with:
Brain tumors
Liver disease
Insulin overdose in diabetic dogs
Cushing's Disease (not the disease itself but some of the issues associated with it)
Unfortunately, it is not uncommon for older dogs to develop seizures that are idiopathic, meaning there is no known reason for them.
Signs Your Dog May Be Having a Seizure
Look out for these warning signs if your dog is acting strange or out of sorts:
Uncontrolled twitching
Wobbling or wavering back and forth in one spot
Loss of bladder and/or bowel control
Trembling
Falling over
Leaping in the air
Pacing
Drooling
Disorientation
Vomiting
Paralysis
Temporary loss of sight
Inability to understand commands
Seizures won't look the same in every dog and can even be slightly different from episode to episode with the same dog.
They can also differ in severity.
It could range from a slight twitch that lasts a second to full-on uncontrollable shaking that lasts minutes.
What to Do and What NOT to Do if Your Old Dog is Having Seizures
Don't panic! Easy to say, hard to do.
When my dog had her first seizure, I was clueless. Boy, did I panic!
Luckily, when I called the emergency hospital, they were able to provide me with some guidance on how to handle the situation best.
Here are a few important things to consider:
Keep yourself safe! As already mentioned, your dog has lost control of their body. Even the kindest, most gentle dogs could bite without warning at that moment.
Contrary to popular belief, your dog will not swallow their tongue. Pulling at their tongue will only put you at risk of being bit and potentially cause them pain.
Pay attention to your surroundings. Pull your dog away carefully using a hind leg if you are near stairs, furniture, or other obstacles.
Try to limit outside stimuli. Turn down the volume on (or turn off) your television, radio, or any other source of sound. Turn off lights and consider covering your dog with a blanket to help reduce light.
Speak to your dog calmly. Hearing you could help to comfort your dog as they are coming out of the seizure.
If it continues for more than 5 minutes, contact your veterinarian or nearby emergency clinic immediately. Provide them with as much information as possible, including an estimate of how long the seizure has lasted and any history of seizures.
To bring your dog to the vet, avoid lifting them by the middle of their body. Instead, use a blanket or large towel to create a hammock. This is safer for both you and your dog.
The 3 Stages of a Canine Seizure
To better understand what your dog is experiencing, familiarize yourself with the 3 stages of a seizure and the symptoms you can expect.
This will help you recognize what is happening and how to respond best.
Pre-Ictal: The Seizure is Coming
The pre-ictal phase, sometimes called the aura, is the period before the seizure when your dog starts acting strangely.
Many possible signs that indicate a seizure will be coming, including:
Restlessness
Whining
Fear
Aggression
Clinginess
Barking
Crying
Howling
Losing their balance
Pacing
Drooling
This stage can last anywhere from a few seconds to a few hours.
Ictal: Your Dog is Having the Seizure
The Ictal stage is when your dog actively experiences a seizure.
As stated above, the symptoms can vary depending on the severity and by dog.
The behaviors exhibited during a seizure can be anything from growling and twitching to violent spasms and convulsions.
Urination, defecation, and drooling often occur during this state.
A "normal" seizure lasts about 5 minutes but can last longer. If your dog's seizure lasts longer than that, it's called a "prolonged seizure" (duh, right?).
If you are dealing with cluster seizures in older dogs, they will have multiple seizures witn a short period of time.
They will experience consciousness in between that can last from a few seconds up to a few hours.
Post-Ictal: Your Dog is Coming Out of the Seizure
This is the recovery stage when your dog will feel the seizure's effects of the seizure.
During this stage, they may be:
Disoriented
Weak
Sleepy
Experiencing temporary blindness
The amount of time they feel the effects of the seizure, including recovery, will depend on how severe the seizure was.
Are Seizures Painful or Dangerous for a Dog?
When your senior dog has a seizure, it's "painful" to witness. However, they are not painful for your dog.
Having said that, it's also not a pleasant experience.
Your dog may feel confused, disoriented, or even panicked as they start to come out of the seizure and regain consciousness.
During the seizure, pay careful attention to any potential hazards like furniture or other objects.
You also want to ensure that your dog is not lying somewhere where they may fall and hurt themselves.
They likely will not experience any severe side effects from a single seizure. However, problems can arise if they experience a prolonged seizure or cluster seizures.
Potential Side Effects of Seizures in Senior Dogs
When your dog experiences a seizure, it results from abnormal activity in the brain.
Of course, anything impacting the brain has the potential to be serious.
Brain damage resulting from seizure activity is often cumulative over time. This means that the risk of side effects increases with each subsequent seizure.
If your dog's seizure lasts for a long time, like 30 minutes or more, it could cause permanent brain damage.
This could mean a noticeable change in your dog's memory or behavior.
Some of the side effects that can occur, especially after repeated or prolonged seizures, include:
Heart problems or a heart attack
Organ failure
Difficulty breathing
Dangerously high body temperature
Coma
These side effects are incredibly rare, but they highlight the importance of seeing a veterinarian as soon as possible.
What to Expect at Your Vet Appointment
You may be feeling overwhelmed, especially if this is your first time caring for a dog that has a seizure.
We're stressed and afraid of what our vet may tell us about our sick dog. Combine that with knowing the vet only has a limited time to spend with us, and we could forget crucial questions.
Making notes ahead of your appointment will ensure you don't miss anything.
As soon after the seizure as you can (assuming it wasn't severe enough to rush to the emergency clinic), write down as much information as you can.
Your notes should include:
Time and date of the seizure (so your vet can track frequency)
What you witnessed in detail
What you heard if you were out of the room and didn't see it happen
What your dog was doing right before the seizure
How long it lasted
How did they act after it was over?
How long did it take them to act like their usual self?
Have you noticed any unusual behavior in the hours or days leading to the seizure?
Have there been any changes to your dog's environment recently? Their schedule? Diet?
Are you giving your dog any new supplements or medications your vet may not know about?
Once you have discussed what happened, your vet will examine your dog.
This exam may include taking their temperature, as well as blood and urine samples. They may also order a CT scan or MRI if your dog's medical history warrants it.
Some tests will produce results in just a few minutes, making waiting a good idea.
Other tests will take longer, requiring a follow-up appointment.
As seizures are often the result of underlying medical conditions, your vet will assess what tests are needed to rule out the potential causes.
Alternatively, they may adopt a "wait and see approach" if they feel no immediate cause for concern.
Remember to speak up if they choose the latter and you are uncomfortable with that.
Treating Seizures in Elderly Dogs
Your vet may prescribe medication to manage your dog's seizures depending on the frequency and severity of episodes.
Medication is more commonly used in situations where dogs are experiencing more than one seizure each month, cluster seizures, or grand mal seizures.
Here are some of the medications your veterinarian may prescribe:
Alternative treatment options are also gaining popularity as we continue to study and better understand their benefits.
Consider having a conversation with your vet if you are considering alternative treatment either in conjunction with or in place of traditional medication.
If your vet is unwilling to discuss alternative treatments, you may want to search for a holistic vet in your area.
However, communication is critical if you are dealing with multiple veterinarians!
Everybody involved in your dog's care must be aware of what is happening because failure to keep everyone updated could harm your dog.
Don't suddenly stop giving medication to your dog.
If you are having issues with the medication or side effects from its use, speak with your vet. They will advise you of your options and how to make changes safely.
CBD Oil
A study out of Colorado State University found that 89% of dogs given CBD experienced reduced seizure frequency.
CBD oil also offers additional benefits to help senior dogs, including easing pain and inflammation, reducing anxiety, and stimulating their appetite.
Belladonna 200C
You may have heard of Belladonna, the toxic plant. But did you know it could also help manage seizures in dogs?
I recommend reading this abstract, titled: "Clinical management of idiopathic epilepsy in dogs with homeopathic Belladonna 200C: a case series."
It is very interesting and encouraging for those seeking alternative options.
Acupuncture
There is some good evidence that acupuncture can help dogs with seizures.
Like CBD oil, acupuncture can also help with other common problems experienced by senior dogs with its anti-inflammatory and pain-relieving effects.
How to Manage Seizures and Give Your Dog the Best Quality of Life
Give your dog as much love as you have always given them, but avoid driving them crazy by smothering them out of worry.
Be observant so you notice any changes that happen. With experience, you will learn to recognize the signs of trouble earlier and earlier.
If you notice your dog is about to have a seizure, turn off the lights, turn the TV and radio off, and remove any sharp objects or anything in the area they could get hurt on.
Keep a seizure diary for you and your vet, including the following information:
Date
How long it lasted
Severity
Anything obvious that may have brought it on
Your dog's behavior post-ictal (after the seizure was over)
How to Prevent Seizures in Dogs
While there is no guaranteed prevention, there are steps you can take to reduce the possible triggers of your dog's seizures.
Where possible, reduce stress and changes in your dog's environment.
Something as simple as redecorating your living room and moving the furniture could cause stress, especially if your senior dog suffers from vision loss.
Prioritize feeding your dog a healthy diet.
If you're unsure whether your dog's diet is balanced and meeting their needs, you may want to contact a veterinary nutritionist.
There are also prescription foods available that are specifically formulated to reduce seizure activity.
Final Thoughts – Seizures in Senior Dogs
Witnessing your dog have a seizure can be scary, especially if you know nothing about the condition, leaving you feeling helpless and unsure of what you can do.
I know this article is long and intense, so take your time. Read it through and save it as a reference.
If I could give you one piece of advice based on my experience, it would be not to spend your time waiting for the next seizure to happen.
Live your life. Enjoy every moment with your best friend.
The next time, which hopefully won't be for a long time, you will be better prepared.
Has your vet determined the cause of your dog's seizures? Did they prescribe medications? Sharing helps others, so I invite you to share your journey with canine epilepsy in the comments below.