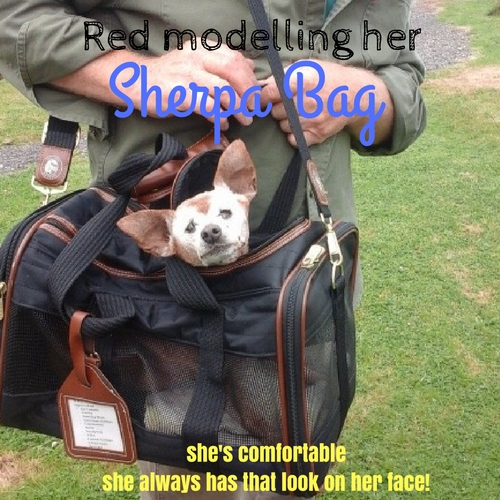 Product: Sherpa Original Deluxe Pet Carrier
Specifications: Small – bag weighs 3.4 lbs and is suitable for pets up to 8lbs (15"L x 8.5"H x 10"W) Medium – bag weighs 4 lbs and is suitable for pets up to 16lbs (18"L x 11"H x 10.5"W) Large – bag weights 4.7lbs and is suitable for pets up to 22lbs (19"L x 11.8"H x 11.5"W)
My rating: 10/10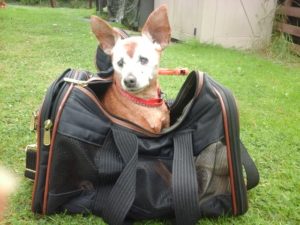 Features
Sturdy yet flexible, keeps its' shape, doesn't collapse in the middle when your pet is in it due to its' patented soft frame design and fiberglass support rods

Wooden stability board wrapped in waterproof lining

Locking zipper to prevent accidental escape

Mesh panels for ventilation

Two padded carry straps that snap together

No slip adjustable shoulder strap

Top and side entry

Two side storage pockets for leash, toys, treats, pet documents…

Strap for car seat belt

Spot cleanable

Removable machine washable faux lambskin comfort liner

Available in: black, grey, plum and multi-coloured

Airline approved
My experience owning a Sherpa Deluxe Pet Carrier
Let me start by saying how much I love this carrier, and highly recommend it!
I bought the Sherpa bag a few years ago because I was going to be doing some short haul flights with my dog Red, and needed a great quality, airline approved bag that would fit under the seat.
I've used it around 8 times for flying, and it's been great. It fit nicely under the seat in front of me without squashing Red. She was comfortable, had enough space to lie done and never made a sound. As a matter of fact, when waiting to get off the plane I would open up the zipper to pet her, and people around me were shocked I had a dog in my bag, they had no idea!
Now I use it for safety when I take her in the car. 
I love that there are two different ways to put your dog or cat into the carrier. If your pet is a bit fidgety and it's too challenging putting him/her in from the top, zip open the side flap and walk them in. The side entry is also a very handy feature while on the plane. With the bag under the seat, it can be difficult to easily access the top zipper. With side entry it's no problem to unzip the panel part way and slip your hand in to give your dog a drink or a snack, without having to pull the bag out from under the seat.
The less fuss you make with your pets' carrier the better. First of all it's less stressful for them, but also you don't want to be seen as a bother when flying with animals, because if passengers start to complain, the airline can easily decide to ban animals from travelling.
The handles and strap are super comfortable, so it's easy to carry, and the double entry makes it easier to take your pet out and put him back in when going through baggage screening.
Although I bought it for air travel, I have also used it when taking Red in the car with me. Allowing your dog to have free reign to run is an accident waiting to happen, so the Sherpa bag is an excellent, and safe way to restrain him/her. I leave the top partially unzipped so Red can stick her head out, and it allows me to pet her without trying to open the bag while driving.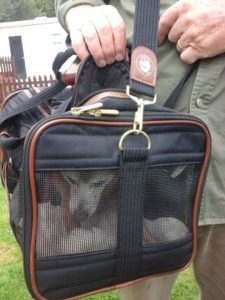 Product Overview
Pros
Very lightweight

Lots of mesh panels for breathability

Top and side entry makes it easy to put your pet in and take him out

Good quality, durable

2 large storage pockets on the side for storing a leash, toys, treats, water, documents…
Small and Medium Original Deluxe are Guaranteed On Board®, meaning they meet an airline's specific rules and regulations and will be allowed on board
The Large Original Deluxe is approved for use on most major domestic airlines meaning it: provides adequate ventilation; leak-proof; safely encloses the pet; conforms to underseat dimensions
Drawbacks
I've used this bag many times, and don't have one negative thing to say!
A few pieces of information you may find helpful
Even though this bag is airline approved, please check with your carrier about their size and other requirements for traveling with your pet, before purchasing.
***How to measure your pet***
Length – use tape measure from nape of neck to base of tail (not the tip)
Height – measure from the floor to top of shoulder
Conclusion
The Sherpa Original Deluxe Pet Carrier is an excellent carrier no matter what your mode of travel is.
I highly recommend it based on my experiences, and how easily and comfortably my dog Red traveled.
Where to Buy
CLICK on the bag above, for fast delivery of your Sherpa Pet Carrier.