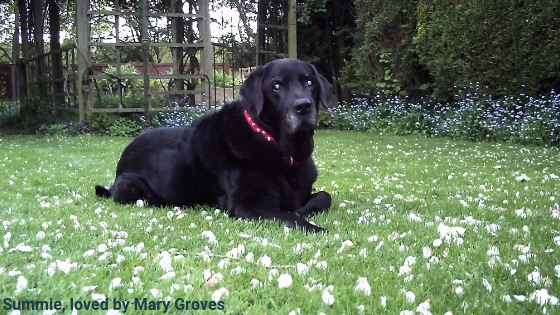 By the time he was seven years old Summie, a black Labrador Retriever, was totally blind. This was due to progressive retinal atrophy, a condition whereby the cells in the retina die. There is no operation for this condition or medication that can help. I had noticed Summie had difficulty seeing at night a year or so earlier, and bumped into walls in the garden and didn't seem to be able to jump into the car when it was dark. Instead of jumping in through the open car door, he jumped at the car and missed the opening. I took him to the vets who then referred him to the Animal Health Trust in Suffolk, England. It was here they made the diagnosis of the retinal atrophy and said he would be blind within a year. And he was.
However, Summie was not a dog to let this get him down. Dogs, unlike humans, don't dwell on their problems! He continued to participate in and enjoy life full on. If ever there was a model for embracing life and adapting to its difficulties, he was that model. He was a very social dog. A blind dog is at a disadvantage when meeting other dogs as he/she cannot read the other dog's body language and may not respond accordingly with their own body language. But this didn't hold him back, he still remained confident and friendly.
Summie was active in fundraising for charities for rescue animals and for cancer care for humans. Over the years he raised thousands of pounds sitting outside supermarkets with me with a collection tin. He was so popular. He joined fundraising dog walks with big groups of other dogs, he was always happy to join in.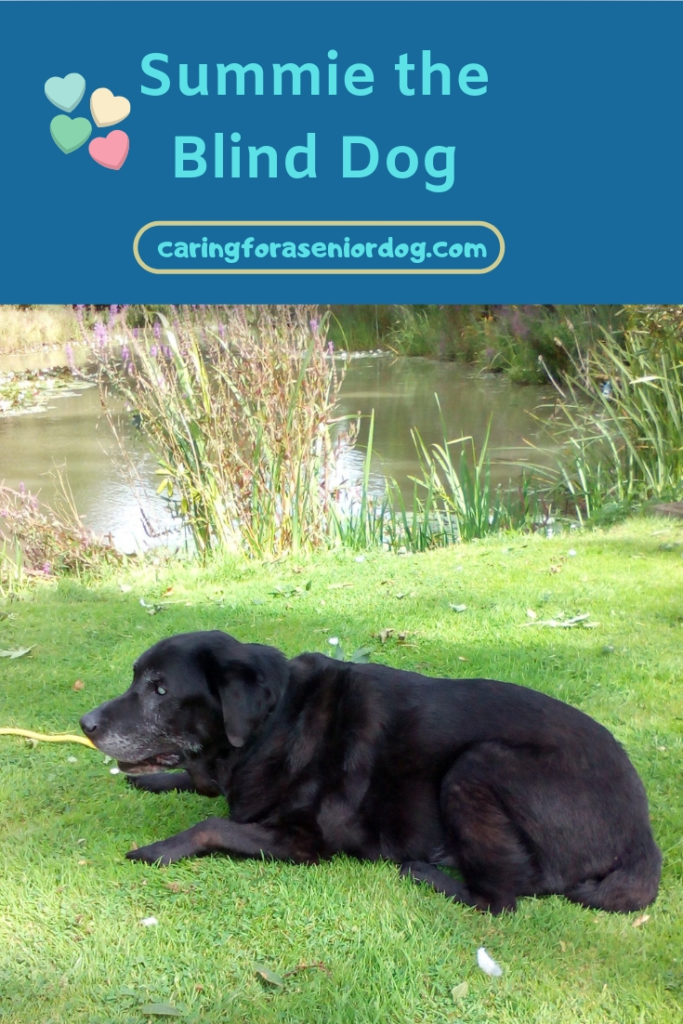 I took Summie on "Barking Mad " holidays. These were group activity holidays for dog owners and their dogs. The main activities were group walks, flyball, agility and obedience. He loved these holidays, although obviously some of the activities had to be adapted so he could do sniffing games instead. He got so excited and was really happy on holiday.
As he grew older, he took up swimming and hydrotherapy for his arthritis. People used to say "you take him swimming, but isn't he frightened as he can't see"! The answer was no, he loves it.
Summie was always part of a multidog household. If a new dog joined us, he certainly didn't feel threatened because he couldn't see, and no one ever bullied him. I think he just had an aura about him.
Summie was fourteen and a half when he slipped over to the next world. He was a wonderful dog and was an example of how to not let problems get in your way. He led a full life. 
Mary Groves, Summie's mom♥