Surprise My Pet Review: Makes Life a Little Easier!
Product: Surprise My Pet
Price: $19.00/box – $23.00/box – $25.00/box
Best place to buy: surprisemypet.com
Product specifications: box full of goodies for your dog
Paw for paw guarantee: If your pup does not like a toy or treat in their box, a replacement item is sent, free, in the next month's box
My rating: [wp-review id="513″]
Surprise My Pet, Product Overview
Surprise My Pet started 7 months ago, and is a company that supplies a monthly box of goodies for your dog. Each box is a theme, containing 4-6 items – toys, bones, all natural treats, accessories and a costume. They look for products that aren't typically found in any retail outlet, which makes it extra special.
No treats or chews are made in China, and each one is inspected to ensure they are healthy and safe, before being shipped.
There are 3 plans to choose from:

Month-to-Month: $25/month
Pre-paid 3 months: $23/month ($69 total)
Pre-paid yearly: $19/month ($228 total)
It's easy to get started you just 1) choose your dog's size 2) how many months you want to sign up for and 3) give some details about your pet (birth date, gender, weight…) and you (name, address, billing information…) and you're signed up!
Boxes can also be given as a gift.
The company donates partial profits to Animal Rescue Foundation, New Beginnings Animal Shelter, or Friends of Animals – each month a different charity benefits.
To learn more about them, why not watch this short video.
Features
Wonderful for your own dog, or as a gift, Surprise My Pet monthly boxes contain fun things your dog will love. Each box is based around a theme with a costume to match. Of course that's in addition to the toys, treats and other fun doggie stuff you'll find in each box.
What's in the box?
Each box contains between 4-6 handpicked products (toys, treats, grooming and hygiene products… and a costume!), different each month, and suited to the size of your dog. The company assured me they rarely pack just 4, but they do list that in cases where a particularly expensive item is included.
A typical box contains 2 toys, 2 treats, 1 or 2 chews and a free dog costume. Each box is themed, so for example, the October box is Halloween!
Obviously toys and treats for a 50lb dog, will differ to those of a 5 lb dog.
Sourcing of edible items in box
All treats are sourced in the U.S. and Canada
All chews are sourced from the U.S, Canada, South America, Australia and New Zealand.
Quality of treats and chews
They try and find products with as few ingredients as they can, with minimal processing.
That means no:
glycerin (whenever possible)
wheat
gluten
soy
corn
fillers (whenever possible)
natural and organic (whenever possible)
No treats or chews are made in China, and are inspected to ensure they are healthy and safe for your dog(s) before they are shipped.
Sourcing of toys, grooming and hygiene products
These are sourced from around the world, but have to go through their dog testers before approval for shipping.
Quality
All their items are guaranteed safe and high quality, and doggie tested before approved.
Accommodating special diets
If your dog has to avoid certain ingredients, just send them an email and they will make sure they are not included in your monthly box.
They do not have special allergy friendly boxes, but do their best to supply natural and organic treats, made with as few ingredients as possible.
Accommodating dissatisfied 4 legged customers
If your dog doesn't like a toy or treat, or something is damaged, a replacement is sent, free of charge, in your next month's box. Just send them an email to let them know there is a problem.
Fan favourites
The boxes are surprises each month, but sometimes there's something a dog really loves, so the company is working on having the option to request a particular item.
Makes a great gift!
Someone you know just got a new dog – how wonderful to receive new stuff every month!
Perhaps someone you know is having some financial issues – what a nice way to help relieve a bit of the burden
You're heading into a super busy time – what could be better than having supplies arrive at your door
Any of the plans can be gifted.
The Surprise My Pet guarantee
The Paw for Paw Guarantee was created to ensure complete customer satisfaction – both four legged and two!
It means if your dog doesn't like a toy or treat in their box, a replacement item will be sent in your next month's box. That's one extra surprise that month! There is no charge, no questions, no hassle.
Orders are shipped around the 24th of each month, but may change by a few days month to month. They ship using USPS Ground, which takes 2-8 days, at a cost of $5.00 a box.
Billing
Month to month subscriptions are billed as soon as you sign up, and then on the 3rd of each month
3 month and 12 month plans require payment in full, up front, and renew  automatically.
Any purchases made after the 24th of a month, will be shipped the following month and will not be charged until at least a week after that.
Cancellation policy
It is possible to cancel in the middle of a subscription, there is no cancellation fee, and you will, of course, still receive the rest of the boxes you paid for. Cancelling just means your subscription will not renew.
Remember to cancel before the 3rd of your renewal month, which can be done by logging into your account.
Charitable donations
Each month, partial profits are donated to Animal Rescue Foundation, New Beginnings Animal Shelter, or Friends of Animals. The company does not disclose what that amount is.
Testimonials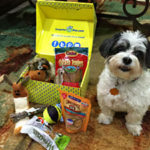 "My pup was so excited to get her surprise box and I was shocked how good the quality of the whole package was."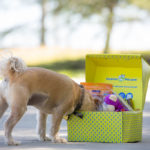 "I've never seen my baby so excited to get new toys and treats. It must be the box!"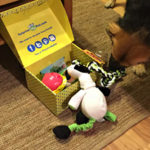 "Here is a picture of my furry girl, she loved your surprise box and I couldn't get her to leave the box alone for hours!"
Drawbacks
I don't really see any, except that they're not available outside the U.S.
I was going to say, you never know what you're going to get, but that's why they call it a surprise!
Subscriptions renew automatically – but then again that's common, you just have to make a note in your diary before it renews, in case you want to cancel before the cycle starts again.
Boxes seem costly, but better quality treats and toys do cost more than those you'd find in a big box store, so that's to be expected.
An added cost of $5.00 per box for delivery does push the monthly price up. Many times we can find free shipping deals online, but when shopping by this method, we do expect to have to factor in shipping.
I

love Surprise My Pet
I hope you enjoyed this review, and it helped you decide to sign up for a monthly surprise.
I recommend Surprise My Pet, and think they do a wonderful job of delivering on their promise.
Depending on where you live, and I have that problem, it can be difficult to get "better" products, and have to order online anyway. Instead of getting something from one site, then from another, I'd rather have everything come in one box, in one order.
The fact that it's already paid for up front, takes the hassle out of constantly inputting credit card details every time you have to order something.
A box of super high quality treats, chews and toys, and a cute costume, delivered to your door each month. What's not to love!
Supporting charities that help homeless animals makes it even better!
Let me know how your dog is enjoying a regular supply of fun treats and surprises from Surprise My Pet!