What is wrong with my dog – not an uncommon question is it, especially if you share your life with a senior dog?
I decided to write this article after a bit of a scare last week. I'm forever banging on about the importance of noticing and acting upon behaviour changes in our older dogs. Naturally we should be diligent when it comes to pets of all ages, but since seniors can deteriorate so quickly, I never adopt a "wait and see" attitude.
In the same vein I talk a lot about knowing your dog, what's "normal" and what isn't. If you don't have much of a relationship with him, not only is that incredibly sad, you're also not likely to recognise when something is off. I hope you not only realise how detrimental that can be to his health, but how much you're missing out on.
If you don't know Red…
In case this is your first time visiting us, I'll give you a bit of background about Red. She was rescued from an animal control facility by a shelter I volunteered at in Florida. They were about to kill her when Tri County offered her a home. I fell in love immediately and we've been sharing our lives for the past 8 years. She was obese and blind when we welcomed her, and approximately 8 years old. She is now around 16 and I love her more than anything.
What is wrong with my dog?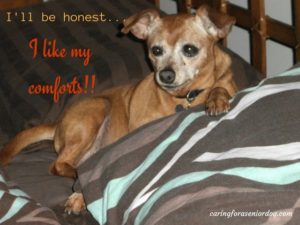 Over the past 2 or 3 years Red has had some issues that have scared me at times. She was having kidney problems, then a mild case of dementia. I will say that because I watch her like a hawk, I'm the one who diagnosed dementia, not my vet. Of course he did confirm it afterwards!!
I know immediately when something isn't "right" and I act on it immediately as well.
From the minute Red woke up the other day, I thought there was something a bit "off." I couldn't put my finger on it – it was like symptoms she exhibits if her dementia acts up, but I knew it wasn't that. She was so restless all day, her head was tilted like it was a case of vestibular disease, but I didn't think it was that either.
By 5:30pm I knew I wasn't going to be comfortable waiting for her 6:30 appointment the next evening, so I called my amazing vet. Before I go on you may be wondering why I waited so long to make the call.
Fair question.
The reason is simple – It didn't appear to be an emergency otherwise I would have called him from the road. She hadn't gotten worse over the course of the day, and being that we're in Spain, my vet is open until 8:00pm. Not to mention he is available 24/7 all I have to do is call.

Anyway we drove the 50 minutes to Malaga, and while I waited to be seen I took Red out to pee, and luckily thought to film her walking. I do my best to explain my concerns, but nothing can replace actually "seeing" it and Pepe (my vet) found it of great value.  
I thought she might have had a minor stroke, and he agreed it could have been a mini stroke or inflammation on the brain, but was definitely brain related. An MRI was out of the question because of the need to sedate, so some simple tests were done. He conducted sensitivity checks using a Q-tip (I had never seen that before), checked her reflexes and was happy with her responses.
He gave her a shot of I don't know what, something holistic but I really should ask!! It was to reduce the inflammation in her brain, if that was in fact the problem. If it wasn't, the shot would have no effect. I'm happy to report the next morning she was back to normal, which means it was some sort of inflammation, cause unknown.
An important lesson to learn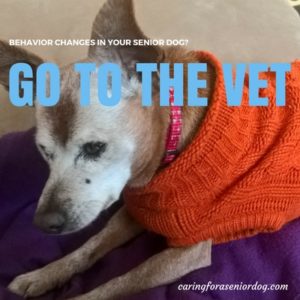 If you haven't taken much notice of your dog lately (I hope that's not true), or you assume the changes you've been seeing are a normal part of aging, please re-think that belief. While there are obviously physical and behavioural changes that come about as a result of the natural aging process, there are also many changes that are due to illness or a health issue of some sort.
It would also be incorrect to assume that at this stage (whatever that is for your dog), not much can be done. The longer you wait to have your dog checked, the more advanced the problem, but advanced still does not mean hopeless. You should also consider the possibility your dog is in pain, and that is not acceptable. Another reason to get down to the vet sooner rather than later.
At the first sign of a problem, or even something as subtle as what I noticed with Red, take your dog to the vet and don't let your fear of being seen as "overreacting" stop you.
Even if your dog appears fine, it's a good idea to schedule twice yearly check-ups, more often in some cases. Standard urine and blood tests may pick up something slight, and the sooner a problem is caught, the quicker it is dealt with.
What is wrong with my dog – conclusion
I don't know what would have happened to Red had I waited until her appointment the next day, or ignored my gut. Of course that would never happen so I have no worries.
Can you say the same?
If you've ever asked yourself the question "what is wrong with my dog" what steps did you take to get an answer? Sharing helps others so please leave your thoughts in the comment section below or on my Facebook page.