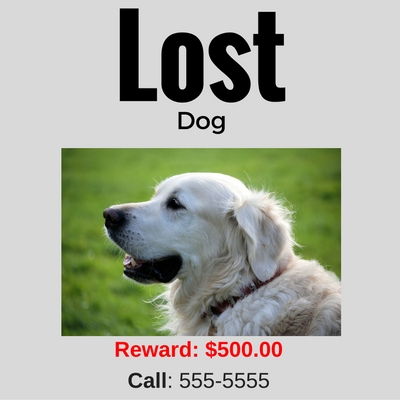 It's a terrifying moment when you realise your dog is missing. You've searched the entire house, including his or her favourite hiding places and nothing. That sick feeling means you know she's gone.
Your pet is missing, what do you do?
Let's back up for a moment, and talk about steps we can take to prevent getting to this point.
Prevention
Be careful when opening doors. You looked around and didn't see anyone, you thought it was safe. Next thing you know, she's running out the door. Always look around and make sure the animals are not there. Never linger with the door open. You may not even notice her darting out.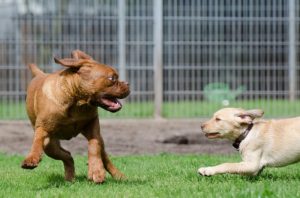 From the beginning, teach your children not to leave doors open. Drill the message into their heads, until they get it. That goes for their friends as well.
If you have a yard your dog plays in, make sure the fencing is secure – no loose boards, spaces underneath or flimsy gate locks.
Make sure your dog is part of the family. Take her for walks, the dog park, and let her interact with other dogs as well. They aren't meant for the solitary life, and leaving your dog alone in the yard for hours on end is not fair, and will increase the likelihood of her escaping.
Okay, so you do all of this stuff, and your pet still goes missing. Here's what you do
Make flyers: Find a recent picture and make as many flyers as you can. Don't forget to include all your contact numbers. No need to post your name or address. Offering a reward may help motivate people.
Hand them out to passersby, give them to people you know to hand out, post them on poles, in shop windows, community bulletin boards, libraries, dog parks, gas stations, local businesses, and anywhere else you can think of.
Don't just stick to a few blocks around your house. Dogs can cover long distances in a short period of time.
Scour the neighbourhood: Have as many people as you can knocking on doors. Ask people to check backyards and garages. If they don't know you, or your pet, hand them a flyer.
Spread the word: Call local animal shelters, animal control facilities and veterinary offices. They'll want to know the area, a full description of the animal and contact details. Keep the list handy and have someone call often.
Don't take chances and rely on anyone to call you back. Things get busy, wires get crossed and mistakes sometimes happen. You wouldn't want the unthinkable to happen to your pet
Post on lost pet databases: Lost My Doggie is one such database, and is like an amber alert for dogs. This company offers a free service which includes: lost pet flyer generator for you to create your own professional flyer – fax and email posters to local shelters and vets – post in their database – automatic matching to lost or found postings – email alerts when new matching pets are added. .
Use social networking to spread the word: In addition to posting your lost dog alert on all your social media accounts, there are many pet finder sites on Twitter and Facebook, specifically set up to help spread the word about a lost pet. You might want to follow and friend them in advance, or at least know who they are, just in case.
Make it easy for someone to return your pet to you
Even if you do everything, the unthinkable may happen. Accidents happen, and you can't prevent them all. So why not make it as easy as possible for someone to return your dog to you.
Always microchip your dog, and keep the information current. If you move, or change/add a phone number, contact the microchip company and update your records.

Have a well fitting collar with id tags, or a collar with the name and number stitched right on the collar. Remember to update that information as well.
Be prepared in case of emergency
Much like you have, or should have, an emergency evacuation plan for your family, why not have an emergency pet recovery plan.
Sit down as a family, and decide what steps you would take should your dog go missing. That should include having a list with addresses and phone numbers of local vets, shelters, rescue groups, animal control facilities and police humane units.
Are there friends, neighbours or other family members you can go to for help? Add them to the list, and keep it in an easily accessible place, and be sure everyone knows where that is. 
What to do if your dog goes missing – conclusion
Having an emergency plan in place, means you can spring into action immediately, and increase the chances of bringing your dog back home, where he belongs.
Have you ever had a pet go missing? How did you handle it, and what tips would you like to share that helped you? Leave your comments below.