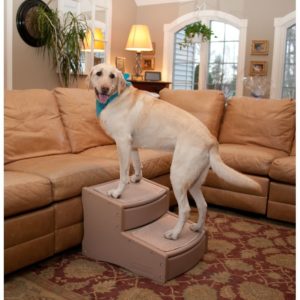 By the end of this article, probably even before, you are going to know why you really need pet stairs.
Sharing my life with a senior dog means I'm always on the lookout for products that will make her life, and mine, easier. Mobility aids, which include pet stairs, are incredible products that have a big impact on the quality of life of pets and their parents, which is why they feature so prominently on my site. My focus is, naturally, on how they help senior dogs, but I feel it's important to call attention to how much they help dogs of all ages. BONUS TIME – they benefit the pet parents as well!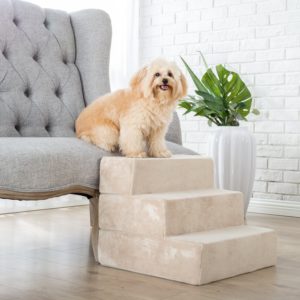 Are they really necessary?
A luxury? An unnecessary expense? I suppose those who aren't familiar with pet stairs, or pets, may say that. I say not true, they absolutely are a necessity and I'm sure you'll soon feel the same way.
What are pet stairs?
As the name suggests, they are stairs specifically for pet use. When jumping has become a problem, or an impossible feat, pet stairs are the answer. But that's not the only time!
Here are the benefits of pet stairs
For your dog
Freedom – your dog no longer has to rely on you to get on and off whatever piece of furniture he has his eye on

Your dog is too small to get onto the couch, chair or their bed (oops I meant your bed!) under his own steam

Your bed may be too high for even the most agile dog to jump on and off of

Your senior dog isn't able to jump like he used to

Arthritis or other joint problems have grounded them, but they still want the comfort of your furniture

Reduces wear and tear on joints in dogs of all ages

Your dog can get in and out of the car unaided

He has the freedom to go where he wants without waiting for you to help him

Some pet stairs are made specifically for use on boats

For you
What, you didn't realise how much this product can help you as well! Let me backtrack for a moment. Obviously anything that helps your pet helps you, but let's talk specifics here.
If you have mobility issues it can be difficult to keep bending down to pick up your dog, now you won't have to

You may have a medium or larger breed dog that is too heavy to lift without help, and help isn't always around

You're settled in your favourite chair and your dog starts barking at you because he wants to get on the couch for the 8th time. Get some stairs so you don't have to move  
Your dog is a bit chubby (I'm sure he's on a weight loss program right?) and he's too darn heavy to pick up

It can be a matter of safety for an elderly pet parent who tries to pick up their dog


Why you really need pet stairs – conclusion
I strongly believe any product that makes our pets' lives easier, makes our lives easier as well. I consider that a necessity, which is why I'm writing more about them. I have experienced, first hand, how much mobility aids have improved the lives of my animals, and pet stairs are no exception.
I hope you have found this an interesting read, and you now see how beneficial pet stairs can be…for everyone.
Have you used pet stairs? What would you say has been the biggest difference/improvement in your lives? Sharing helps others so please leave a comment below or on my Facebook page. If you'd like to submit a picture of your dog using his pet stairs, I'd be happy to publish it on my FB page.