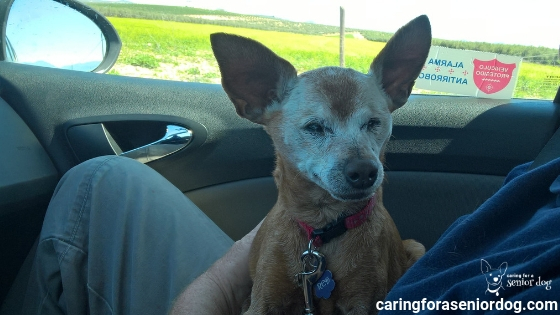 If you have found yourself on this page, then I can't tell you how excited I am!! That means you're ready to either foster or adopt an old dog.
Whichever one, I'm absolutely thrilled for you. You can find all the help and advice you need bu browsing this blog, following our Facebook page, and joining the Facebook group Senior Dog Care Club (run by the founder of this blog).
But first let's help you find that special pup!!
Here is a list of shelters and rescues I have found who have old dogs looking for homes.
I have no experience with any of them, I am simply providing this resource to make things easier for you. Many I have reached out to in order to let them know they are on my list, but that's the extent of our interaction.
Whenever I hear of someplace new I add it here. If there is one you're familiar with that isn't on this list, please let me know by emailing me at Jessica(at)pettalkmedia(dot)com as I would like this to be as complete as possible. 
When you do get your new pup, be sure and drop me a line and let me know about your experience, how things are going and don't forget to show him or her off with some pics on our Facebook page!!
UNITED STATES
Alaska
Loving Companions Animal Rescue  FB
Arizona
Arizona Senior Dog Task Force  FB
California
Angels In Training Senior Dog Sanctuary FB
Elder Paws Senior Dog Foundation  FB
Grand Paws Senior Sanctuary FB
Lily's Legacy Senior Dog Sanctuary FB
Lionel's Legacy Senior Dog Rescue FB
Muttville Senior Dog Rescue FB
Silver Linings Senior Dog Rescue FB
Dreams Disabled R Elderly Animal Mountain Sanctuary FB
Colorado
Cayleb's Kindred Senior Dog Rescue   FB
Izzy's Place Senior Dog Rescue FB
Delaware
Florida
The Roland Senior Dog Rescue And Sanctuary   FB
Georgia
The Flawed Dog: a senior and special needs rescue  FB
Illinois
Young at Heart Senior Pet Adoptions  FB
Indiana
Joey's Home Senior Dog Rescue, Inc.  FB
Louisiana
Villalobos Seniors  FB
Maryland
House With a Heart Senior Pet Sanctuary FB
Senior Dog Sanctuary of Maryland   FB
Sugar Faces – Senior Dog Rescue   FB
Minnesota
Rosegate Retirement Home for Dogs and Cats  FB
Missouri
Saint Louis Senior Dog Project    FB
Shep's Place Senior Dog Sanctuary  FB
New Jersey
Marty's Place Senior Dog Sanctuary 
Penny Lane Dog Adoption & Senior Sanctuary FB
New Mexico
Ohio
Grateful Hearts Senior Dog Rescue FB
The Sanctuary For Senior Dogs FB
Oregon
My Way Home Dog Rescue   FB
Senior Dog Rescue of Oregon FB
Pennsylvania
Mureille's Place – A Senior Dog Sanctuary  FB
Rhode Island
Tennessee
Old Friends Senior Dog Sanctuary FB 
Texas
APA (Austin Pets Alive) Senior Class Dogs   FB
Virginia
Washington
Senior Dog Lodge   FB
No specific state
CANADA
Alberta
British Columbia
Senior Animals In Need Today Society (SAINTS)  FB
Manitoba
Before the Bridge Senior K9 Rescue 
No specific province
EUROPE 
Germany
United Kingdom
Oldies Club (countrywide)
AUSTRALIA 
Holly's Rescue for Senior Dogs  FB
Home At Last Senior Dog Rescue inc.  FB
WORLDWIDE
Old Dogs Needing Adoption, Fosters, Sponsors  – This is a FB page where rescues list all the old dogs needing foster or forever homes. Many of the dogs are in countries like Romania, Spain and the UK but please have a look because you never know.