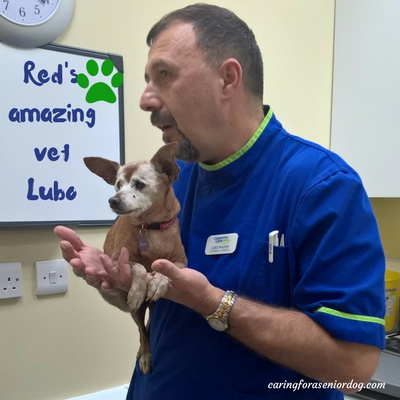 I am very fussy when it comes to who I choose to help me care for my pets, so here are my top tips for how to find a veterinarian.
I'm going to divide this post into two parts. In the first I will list various criteria to help you determine/narrow down what type of vet and veterinary practice you'd like. The second will look at how to find it, so by the end of this post you will have all the information you need to find a great vet.
My experiences
Having wanderlust means, among other things, leaving favourite vets and going through the pain of finding another. Sometimes it also means bad, even horrific experiences along the way.
The things that are important to me are:
Continuity of care (seeing the same vet unless of course they're away)
A kind and compassionate bedside manner
Someone I feel comfortable talking with and who listens
Someone I trust and have confidence in
Excellent at what he/she does
Friendly and helpful staff
Over the years I've had many conversations with people in waiting rooms. I'm often surprised by how many pet parents are fine seeing "whoever" and don't think much about whether they like the vet or not. No judgement, merely an observation.
Part I
Does size matter?
Practices come in all shapes and sizes, from one vet in a small room (like in the local village where we are in Spain) to animal hospitals open 24/7 with the most technologically advanced equipment known to man, and everything in between.
You can find the most incredible vet in a small private practice, and be made to feel like the worst pet parent ever at a state of the art hospital (both scenarios I've experienced by the way!!).
Think about what kind of tests can be performed at the office, and which, if any, would have to be performed elsewhere. Also think about the cost of basic tests like blood and urine at the various facilities. Are you paying for
the expensive medical equipment in every bill?
Will an independently owned veterinary practice have more flexibility to meet your needs, over a practice that is part of a chain with policies and procedures to follow?   
Invisibility factor
I don't have an inferiority complex that requires everyone to remember me,  or I'll feel bad about myself. I do, however, like when I walk into a practice and the people at reception begin to recognise me, and greet me in a genuine manner.
I used to go to an animal hospital in Florida, and before I would get the door open 3 young girls with fake smiles plastered on their faces would be yelling hello. That happened each and every time I went which was fairly often since I bought food there, and one of my cats was going for chemo. There's friendly and there's phony "customer service." You can tell the difference.
Level of experience
Does the vet you choose have to have been practicing for a minimum of years for you to feel he's qualified enough, are you happy to see a new graduate or a vet is a vet?    
Bedside manner
Bedside manner is very important for me, whether it's my own doctor, dentist, hairdresser or pets' vet. I have to like the person treating my animals and need to have rapport. At times I have been forced to see other vets in a practice, and while I was always grateful they were available to help, if I couldn't stand them I would not feel entirely comfortable they did right by us. I'm not saying they didn't, it's how I felt.  
Distance
How far are you willing/able to travel, and be realistic when making your decision. Factor in your workload, car pool, extra-curricular activities, weather (snowstorms for instance), traffic and anything else you can think of.
Social or anti-social hours
Going hand in hand with distance are office hours. Does the practice offer early morning or evening appointments? What about Saturdays and Sundays? Are they only open the hours you're at work?
Do they share your view on "heroic measures"
What is your view about heroic measures? For example…if your dog had cancer, would you put him through treatment or leave him be as long as he is comfortable and pain free? How long would you allow treatment to last? What indicators would you use to decide when enough was enough?  
I am more comfortable with a vet that shares my view, because I know he will always put my dog or cat's comfort and best interests first.
Using my Florida hospital experience again (what can I say, I had a few bad experiences with different vets there) – we saw an oncologist after a cat of mine had been diagnosed with cancer. Because the tumour was sitting on his carotid artery surgery was not an option, but chemo was so we tried it. He responded well, never seemed to feel ill
so we carried on. After a few months the treatment stopped working, and we agreed to try another drug. Quite quickly we saw it took less and less time for the tumour to start growing again. The oncologist pushed hard for us to try a third drug, but we said no. We treated him but we weren't going to torture him. The attitude we got was disgusting. We are excellent pet parents, yet listening to how she spoke to us you'd think we asked her to kill our perfectly healthy pet. We made the best decision for our cat and that's what caring for another life means.
Alternative or traditional
Are you okay with traditional veterinary medicine and the prescribing of drugs and prescription diets, do you prefer a purely holistic approach or a mixture of both? I've noticed more and more practices are offering alternative treatments such as acupuncture, reiki, homeopathic remedies and the like, as well as a greater emphasis on natural nutrition as a way to keep pets healthy.  
Not everyone likes to be second guessed
I don't liken the asking of questions to second guessing. I've always been a big asker of questions, I like to understand the who, what, where, when and why of a situation. I am conscious of taking up too much time so I do watch the clock, but answers are important to me and my vet has to be willing to listen to my concerns. I also appreciate them being open minded to other approaches when I ask.   
Continuity of care
As I mentioned briefly at the beginning of this article, I've spoken to many people in waiting rooms over the years, and the majority make appointments with "whoever" is assigned them.  
I want continuity of care, especially if I'm dealing with a pet with ongoing medical issues. Vets will have different opinions on treatment, and not having one protocol to follow is absolutely not in the best interest of my animals.
If this sounds important to you, find out how often they are in the office, do they travel a lot, split their time between other practices…  
Boarding facilities
If you prefer to board your pet at the vet when you're away, then a practice that offers that service will be important.  
Here are some things you need to know about before you drop your pet off.
Are they in cages or runs?
Ask to see the facilities beforehand, and if they won't let you they're hiding something and just walk away
Are staff there 24/7 or are animals left alone overnight?
How often do they walk the dogs?
Does anyone come and play with the cats?
Can you bring your own food, toys, beds, blankets…
Be very clear on the cost – is it a per day fee? 24 hours? A charge if you're late in picking up? Extra for administering medication?
An alternative is finding a reliable pet sitter who will stay in your home or host your animal(s) in theirs.  
Attitude towards seniors
Last on my list of criteria, but for me one of the most important factors, is the attitude of the vet and the culture of the practice as a whole, towards seniors. You may be surprised to see this as an issue, vets are supposed to care for all animals no matter the age.
Sadly that is not an attitude every vet shares when it comes to seniors. Take a look at how society views the elderly (animal or human), so why are we surprised by some in the medical profession with that very same view.
I will share another experience I had, related to this.
My senior dog Red, the love of my life, went through a patch where she wasn't doing very well. I have an excellent vet who has been amazing in caring for her. He was away for a couple of weeks, so naturally that's when Red wasn't feeling well and needed to see him!! 
Readers of my posts know my dog Red is older, and yes she's on various medications, but she's hardly ready to leave. Yet the vet I saw kept talking about how old she was, how much medication she was on and I should consider euthanasia. I lost track of the number of times she alluded to it, and outright said it during that one appointment. It was positively disgusting.
I am not in denial, nor would I ever dream of letting Red suffer so she could stay with me.
When my vet returned I told him what had happened, and needless to say he was shocked. Shocked not only by her attitude and treatment of us, but by how wrong she was about Red and her condition.  
Her attitude towards seniors was pretty clear, and someone else might have actually believed her and put a beloved pet down for no reason. FYI, that happened about a year ago and Red is still going strong.
PART II
How to find a vet
You've read the tips and narrowed down the type of practice and vet you'd most like to find.
Now we have to figure out how to find it.
Internet search
How did we manage when we didn't have a search engine?
The first thing I do is a search for vets in my area. How far afield I look will depend on where I'm living, whether or not I have a car, traffic, weather… If I'm living in a crazy congested city where rush hour seems constant, I'm going to prefer someone closer to home (as long as I like and trust them of course!!)
I ask a ton of people
I ask people around me if they have a vet, know of a vet, do they like them… To be clear, I take recommendations with a grain of salt. I do add the vets to my list to check out, but I don't put a lot of stock in their praise because I have had some bad experiences, near misses and even a couple of deaths.
Walk in
When I first moved to England I didn't know a soul and only had cats, so it's not like I was out dog walking and was meeting people as a source of info. One day I went to a chain pet supply store to buy food and found a veterinary office there. I had a pre-conceived negative opinion from the start, for no reason other than I couldn't believe a reputable vet would operate out of a store.
Nevertheless I approached the women at the front desk and started asking them about the practice. They were so lovely and helpful, I left with a positive feeling. I spoke to them a couple of more times over the course of a few weeks, and each time they were as friendly and helpful as the time before.  
When I was finally ready to give one of the vets a try, each one recommended the same one and we stayed with him for years until we finally moved away. I'd never known such outward compassion before, and he went far beyond what you would hope to expect.
A glance through their websites
I know anyone can produce a beautiful looking website, and write anything they want on it but I can't help but form a bit of an opinion based on that. I like to read about the staff, qualifications and anything else I can learn. I don't give it a huge amount of weight but I still take it into consideration.
Compiling the list
I got lucky in England (walking in and finding my amazing vet), but usually I end up making a list of possibles. Depending on where you live there may be two names or twenty.
Narrowing it down
We all have our ways of arriving at decisions, so you can narrow down your list by:
Checking out their websites

Seeing what services they offer

Number of staff and qualifications

Prices

Even a general vibe
Why not call the practice, introduce yourself, explain you're looking for a new vet, then guage the reaction or welcome you receive. A cold reception doesn't mean the vet isn't amazing, but it can be offputting and you wonder why rudeness is tolerated.
Ask if it is possible to schedule a short visit to see the practice, and meet the vet and staff. Some vets offer a tour of their facilities and that's a good sign since they are transparent and have nothing to hide.
Take note of waiting area and exam room cleanliness, and pay attention to how the staff at the front desk speak to clients both in person, and on the phone. While you're waiting chat with others in the waiting area and see what they think.
A bit of trial and error
Sometimes you get lucky and hit the jackpot on the first try (as I did), and other times you have to go through 9 vets before you find one who shows compassion and not greed (as I did).
How to find a veterinarian – conclusion
The most important thing is to find a vet you are comfortable with, trust and can communicate with. After all, your fur babies rely on you to take the best care of them you possibly can.
I do hope you find the tips on how to find a veterinarian helpful, and share them with others you know who are looking for the same.
Do you have a great vet? Was he or she easy to find or do you feel you've seen everyone in the city? What makes him or her so great in your eyes? Have you had issues with negative attitudes towards a senior pet? Please share your experiences in the comment section below or on my Facebook page. It helps others!
How to Find a Veterinarian: My Top Tips