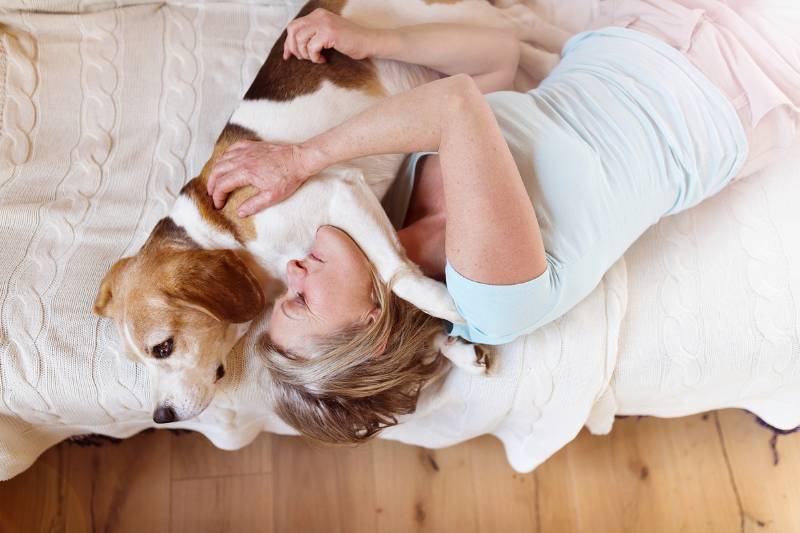 One of the most challenging decisions we will face in our senior dog's life is when to say that heart-wrenching goodbye.
The question of when to euthanize a dog can be an emotional one.
Sometimes, the answer is very clear-cut. If you've seen changes in your dog's behavior or received test results back and there's nothing to be done, the only kind thing to do is let them go.
As devastating as it is, allowing our dogs to suffer is never an option.
But what about those times when the answer isn't as obvious? When is it time to let your dog go?
To help you navigate this difficult time, we will discuss how to assess your dog's quality of life and how to make this difficult decision.
Last Updated: Oct 31, 2023
Disclosure: Some of the links in this article are affiliate links (Amazon Associate or other programs we participate in). As an affiliate, I earn a small commission from qualifying purchases.
Factors to Consider When Deciding When to Put a Dog Down
It would be easier to identify the right time to put a dog down if it were black and white. Unfortunately, the decision isn't that easy.
There are several things that could influence your decision-making process.
Here are 4 common factors that will help you decide when you should put your dog down:
Eating and Drinking
How is your dog's appetite? Are they still eating, "begging," and looking for treats, or have they recently lost interest in foods they once enjoyed?
There are many reasons why a dog may be a picky eater, or there may be changes to their eating habits.
However, if you have tried encouraging your senior dog to eat and found that the only solution is to force-feed them, it may be time for a serious conversation with your veterinarian.
Pain and Mobility
Is your dog able to stand up, walk, and navigate their space? Can they do so without experiencing significant levels of pain?
While arthritis is common in older dogs, you want to ensure you can manage their pain appropriately.
Our senior girl is currently on a pain management regimen that includes taking Metacam daily. She has regular follow-up appointments with our vet to ensure it is still effective and offers her the best quality of life.
Some dog parents have luck with the use of CBD products for pain relief.
Health-Related Complications
Does your dog have significant health problems or complications?
If your dog is living with a terminal illness, you will need to regularly see your veterinarian to assess how they are coping and if it is advancing.
Hospice care may provide the supportive care they need to keep them feeling comfortable. However, there may come a time when you recognize that it isn't enough.
Finances
The reality is many of our decisions are based on money, and that's just the way life is. For some, that includes deciding when to put a dog to sleep.
Veterinary care is expensive, and not everyone has insurance or a plan that covers as much as needed.
Is the financial burden of continued treatment a factor in your decision?
Quality of Life and Knowing When to Euthanize Your Dog
One helpful tool when it comes to deciding when to put a dog down is a Quality-of-Life Assessment.
These are charts, checklists, or quizzes that ask a series of questions relating to your dog's comfort and overall well-being, making it easier for you to make an objective decision.
Several versions are available online, including "How Do I Know When it's Time?" – a chart from the Ohio State University's Honoring the Bond Program.
I recommend completing a chart like this and bringing it to your veterinary appointment.
Are You Involving Your Vet in Your Decision Making?
The people living with an animal are the best ones to identify and recognize any changes in them, but that doesn't mean your vet's opinion shouldn't factor in.
Ultimately, the decision will be yours. But professional advice, particularly from someone who knows your animal and who you trust, may prove invaluable.
Make an appointment to have a chat with them. Let them know that you are looking for guidance on how to know when it's time to euthanize your dog.
Ask them about your dog's current health status, what to expect, the treatment options, and success rates. This will help you decide if proceeding with treatment is the best decision for you and your dog.
Ultimately, it is your decision to make. Your vet cannot tell you what you should do.
However, having that conversation may comfort you and help you make an informed decision that you can live with.
Remember: It Isn't About You Avoiding Pain
Do you know the time has come but are avoiding it because you don't want to face the pain of losing your best friend?
Are you subjecting your pet to life-extending or even painful treatments because you don't want to say goodbye?
Are you in denial about the seriousness of your pet's condition?
When it's happening to someone else, it's easy to look at a scenario objectively and know the animal is suffering.
Unfortunately, when it's happening to us, we're so close and love that animal so much that we can't or won't see the truth.
This is a common struggle faced by many pet parents when faced with the reality of letting go of a pet. But we owe it to our dogs to put our own emotions aside.
Loving your pet means knowing when to end their suffering, even if it means the beginning of yours.
Did I Put My Dog to Sleep Too Soon
If you have recently made this difficult decision and struggled through deciding when it is time to let your dog go, you may now be struggling with the grief that follows.
This often causes us to second-guess our decision.
The most important factor to consider is your dog. You want to ensure that they aren't suffering from any unnecessary pain or suffering.
For this reason, my veterinarian advised me that it would be better to do it a day too early than a day too late.
This advice has stayed with me as I face this decision with each of the pets that come into my life.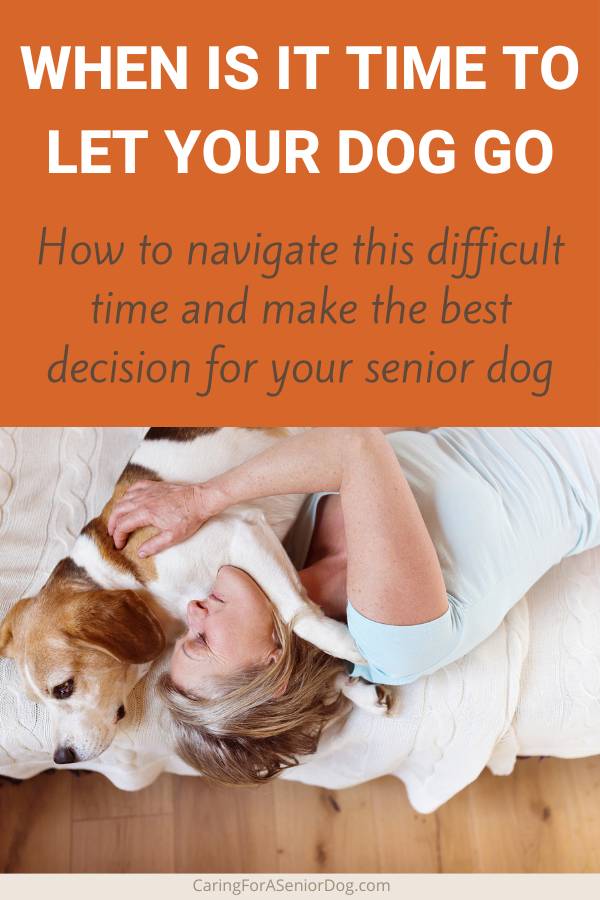 Final Thoughts: Dog Euthanasia, When is it Time to Let Your Dog Go?
When all is said and done, you want to do the best for your dog, and the best is ensuring they are not suffering.
If you do decide that letting go is the kindest thing, be comfortable knowing you considered your options and chose the one that honored them and their peace.
Our pets have been great companions and shown us the true meaning of unconditional love and loyalty.
At the end of their lives, they rely on us to comfort them, care for them, and do what is best for them.
So, when should you put your dog down? There is no easy answer. But when you think about their quality of life and your responsibility to make sure they do not suffer, you will make the "right" choice for them.
I hope this article provides some guidance and direction on how to know when to euthanize your dog. This is a difficult decision for any pet parent. Be patient with yourself. Take care of yourself during and after this emotional time.