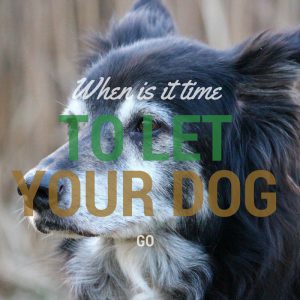 Sometimes the answer to that question is very clear cut. You've seen how your dog has been behaving, you've gotten the test results back and there's nothing else to be done. The only kind thing to do is to let him go, and as devastating as it is, allowing our dogs to suffer is never an option.
But what about those times when the answer isn't as obvious, when it comes down to quality of life. How do you decide then?
Decision times for me
With all my animals, except one, the decision was obvious. They weren't doing well, test results came back and it would not have been fair to keep them with me just because I couldn't bear to let them go. The one time that was strictly a quality of life issue was the toughest of them all.
Deciding when it was time to let Josephine was horrendous, and not a situation I would ever like to f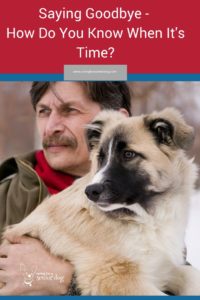 ind myself in again. Although she suffered from a potentially life threatening illness it was being managed, so that was not a reason to say goodbye. There wasn't "one thing" but rather a combination of several issues that made it a quality of life decision. 
For a long time after I let her go I beat myself up about what I had done – should I have done it sooner, should I have waited. Intellectually I knew I did the right thing for her, but that didn't stop me suffering from guilt for quite a long time afterwards. I rely on my vet a lot, and no less when it comes to a life or death decision, something I didn't have with my vet at the time. He was certainly nice enough but I didn't have the support, and without it I was less sure of my decision.  
It isn't about you avoiding the pain
Do you know the time has come but are avoiding it because you don't want to face the pain? Are you subjecting your pet to life extending, or even painful treatments because you don't want to say goodbye? Are you in denial about the seriousness of your pet's condition?
When it's happening to someone else it's easy to look at a scenario objectively, and know the animal is suffering. Unfortunately when it's happening to us, we're so close and love that animal so much we can't or won't see the truth.
Loving your pet means knowing when to end their suffering, even if it means beginning yours.
Finances
The reality is many of our decisions are based on money, and that's just the way life is. Veterinary care is expensive, and not everyone has insurance or a plan that covers as much as needed. Is the financial burden of continued treatment a factor in your decision? 
Are you involving your vet in your decision making?
The people living with the animal are the best ones to judge the changes in them. That doesn't mean your vet's opinion shouldn't factor in. Ultimately the decision will be yours, but some professional advice, particularly from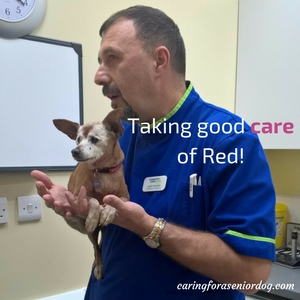 someone who knows your animal and who you trust, may prove invaluable.
Make an appointment to have a chat with him or her. Ask him what to expect, the treatment options, success rates etc… Ultimately it is your decision to make, and your vet cannot tell you what you should do, but having that talk may comfort you and help you make a decision you can live with. 
Your dog's comfort level
Does she seem comfortable? Is it easy or becoming more difficult for her to get up? Is she still interested in playing? What other changes you're noticing? Are there medications that can offer some relief?
Eating and drinking
How is her appetite? Still eating, "begging" and looking for treats, or losing interest?
Try and think ahead
This may be impossible to do, but it's another tool that may help you decide. If you could "project" yourself into the future and look back, what would you like to have seen? How would you like to remember how you cared for your dog?
So, when is it time to let your dog go?

 
When all is said and done, you want to do the best for your dog, and the best is ensuring she is not suffering. If you do decide letting go is the kindest thing, be comfortable knowing you considered your options and chose the one that honoured her and gave her peace. Our pets have been great companions, and shown us the true meaning of unconditional love and loyalty. At the end of their lives, they rely on us to comfort them, care for them, and do what is best for them.
So when is it time to let your dog go? When you think about their quality of life, and your responsibility to make sure they do not suffer, that's when you'll know.
I would like to invite you to join Senior Dog Care Club, a new Facebook group for senior dog parents. There you will find lots of helpful tips and advice, a place to ask questions and share experiences. I look forward to welcoming you.