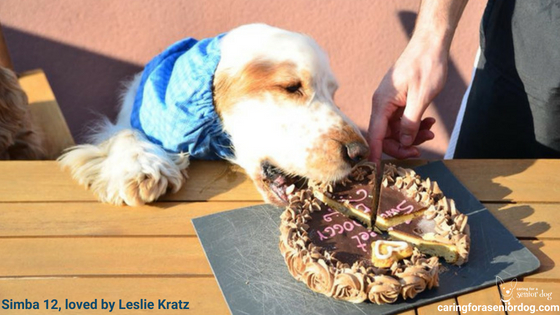 I know from experience what it's like when your old dog won't eat, and you're willing to do and try anything!
Disclosure: Some of the links in this article are affiliate links (Amazon Associate or other programs we participate in). As an affiliate, I earn a small commission from qualifying purchases. For more details, please see our disclosure page.

How Long Can a Dog Go Without Eating?
Your dog can go a few days without eating, but in an old dog that may already have health issues, the sooner he's back to eating the better.
I would not wait more than 24 hours before calling the vet, and that is from my experience.
A very big concern is whether or not your dog has stopped drinking as well. Dehydration can set in very quickly in an old dog, particularly if he isn't well, and he could die.
I'm sorry to be so blunt, but it's important you realize how serious it can be, so if your dog is not drinking call your vet right now.
Why is My Old Dog Not Eating His Food Anymore?
Before you start to panic, take a moment to look around and think about some possible reasons your old dog may start refusing to eat it's food.
Below are some reasons to consider.
Environmental Causes for an Old Dog Not Eating
There are 11 main environmental causes that could influence whether your old dog is eating or not.
Have there been any changes in his environment, for example have you moved?
Any new people living in the house?
Has your dog been stressed lately – thunderstorms, fireworks, construction…
Not liking his new food, or it's upsetting his stomach
Changes in recent behavior
Grieving the loss of an animal companion
Change in schedule
A new bowl (that's right, that can be an issue for some)
Bored with the same dry kibble day after day and year after year
Food is too hot/too cold
Eating in a different room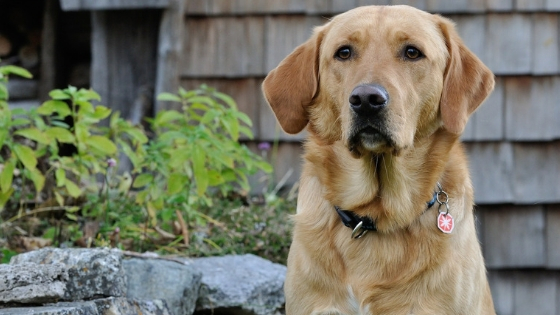 Medical Reasons an Old Dog May Stop Eating
I lump "medical reasons" into one possible cause – #12 – that your old dog won't eat but, in reality, there may be meany medical reasons for your dog's lack of appetite.
These include:
Liver issues>
Kidney issues
Cancer
Dulling of senses as a natural part of the aging process
Mobility issues that make it difficult to reach the bowl
Infection
Anxiety
Reaction to a medication or vaccination
Nausea (from eating too much, something off the street or some of the conditions listed above)
Taking Your Dog to the Veterinarian Because They Aren't Eating
If you're sure nothing in your environment can be the cause of your dog's lack of interest in food, your next step must be to call the vet and make an appointment as soon as possible to rule out any of the medical causes listed above.
If it's been more than a day since your dog last ate, I would give the person answering the phone those details, and see if they can find you an appointment that day or the next.
We're so worried about our dog the vet appointment can be nerve wracking, so I encourage you to make a list of your concerns in advance and bring it with you.
It not only ensures you don't forget to mention something, your appointment will be more productive and it will help your vet with a diagnosis.
Helpful information to provide your veterinarian
Below are some questions your veterinarian may ask you during your visit.
Make a note of the answers to them before your vet visit so you don't have to take up valuable time during your dog's appointment trying to remember.
How long has it been since your dog has eaten?
How many times a day does he eat?
Is your dog eating something or nothing at all?
Is it just food that's an issue or is he drinking more or less as well?
Is there a certain time of day he will eat?
Have you changed his food?
Has he been throwing up? Having diarrhea?
Is it just his dog food he won't eat or he's lost interest in everything?
Will he still eat treats?
Are there any other behaviors you're concerned about?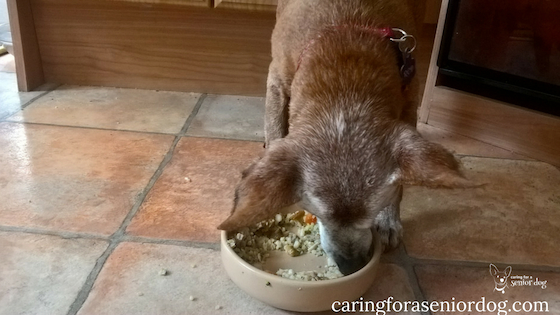 What to expect during your appointment
Your vet will ask you what's been going on, and this is where the list will come in handy.
Once you have finished your chat he will examine your dog and may even take his temperature. In your situation, and I have been there many times, I would expect blood and urine tests to be done as well.
Some tests can be done in house and produce results in just a few minutes. Samples typically have to be sent away for further analysis, but at least you can get an idea of what's going on, and treatment can begin immediately.
Your vet may recommend an appetite stimulant to encourage your dog to eat. He may also give him an injection for pain or nausea if he feels these are issues.
Be sure to ask if there are any foods your dog should avoid.
Please do not let your vet dismiss your concerns with a diagnosis of "your dog is old" because that is a cop out not a diagnosis.
If he doesn't feel the need for testing I would find another vet, because in my experience if you're concerned, there is a reason to be concerned.
Diagnosis and what comes next
Only once all the test results are in and there is a diagnosis can you have a conversation with your vet about treatment options.
I also think it's a good idea to do a bit of research on your own and see what else is out there, particularly if you're interested in adding some natural treatments.
If you have found other possibilities that interest you, speak to your vet before giving anything to your dog.
Appetite stimulants are often prescribed to help get your dog eating again.
Learn more about them in this article Should You Give Your Old Dog an Appetite Stimulant
My Experience with an Old Dog Who Refuses to Eat
My senior dog Red
Red, the love of my life, sadly got her wings on May 18 2018. She was around 8 when we adopted her, so we think she was around 17 when we said goodbye.
Eating was never been a problem for her when she was younger. As a matter of fact, she was obese when we brought her home.
I always likened her to a vacuum cleaner, inhaling anything in her path.
However, something changed later in life.It was a struggle getting her to eat the last few months of her life.
Her kidney issues and chronic pancreatitis caused her to feel nauseous at times. Her dementia made her confused and I believe the years of medications affected her stomach.
There were so many foods I had to avoid, we would get down to fewer and fewer options to try. As we approached what turned out to be the end of her life, I fed her anything just to get her to eat.
Foods my senior dog would eat
Like I said, we had to try a lot of different foods with Red to see what food she would accept.
Although, at this point I was really just trying to get her to eat anything, I tried to stick with healthy "people food".
Below is my list of Red friendly food. If you haven't tried these yet, you may want to.
Small amounts of boiled chicken breast
Boiled broccoli
Boiled squash
Whole grain rice
Quinoa
Raw or cooked carrot
Raw apple
Cooked green beans
Cod
Skyr
Low fat cottage cheese
Helpful tip: Pour the water from the chicken into ice cube trays, freeze and defrost individually to pour over your dog's food.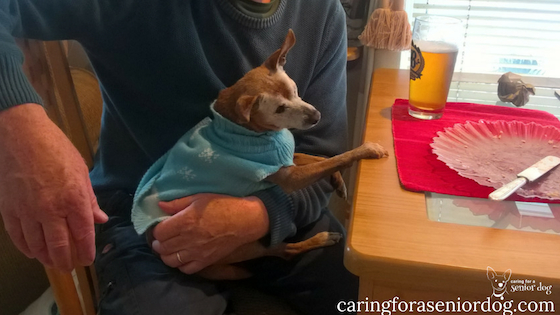 Tricks I tried to get my old dog to eat
Besides trying different foods, I tried a few tricks – what might be considered environmental changes – to entice Red to eat.
I elevated her water bowl (I put it on an upside down casserole dish, and since I don't like cooking it was put to much better use this way!)
I held her food bowl up to her mouth, which helped when her dementia got worse. When that didn't work I hand fed her.
Since the flavor and smell is enhanced when a food is warmed, which can make a food seem more appealing to a dog, I tried microwaving it first.
She ate a wet kidney prescription food, which I cut it into pieces and baked. She loved it so much I used them for treats and as part of her meal.
The last couple of weeks of her life my tricks no longer worked.
A blood test revealed extremely high urea levels which meant her kidneys had failed. That was when I knew it was time to say goodbye.
Creativity is Key to Getting and Old Dog to Eat
Getting your senior dog to eat is a combination of finding the right conditions (environmental factors), finding the right foods, and getting help from your veterinarian if needed.
You just read some of what worked for my dog Red. Give them a try because they might help get your old dog eating again too.
Here are some other ideas you can try:
Vary the foods you try so he doesn't know what to expect.
Put all or part of his meal in a Kong or other treat dispensing toy to provide often exciting mental stimulation
If he eats dry food add some water and microwave it to make a gravy
Add at least one extra meal to his day to increase the chance/amount he'll eat
Are there certain times of day he's more interested? Change meal times to match
Exercise stimulates appetite so maybe go for a walk, a swim or something similar before meal time
Put dog food on a human plate – yes it has been known to help
Put the food directly on the floor
Feed your dog in the park or backyard – a change of scenery may help
CBD oil for dogs may help stimulate your dog's appetite, depending on the cause of your dog's anorexia
If you usually put medication in his food, try giving it separately and see if that makes a difference.
It may be changing the taste of the food, and while it didn't bother your dog in the past, if they're finicky now, that could be all it takes.
Your dog's pills can go in something like cream cheese, spray cheese, or meat and be fed separately from meals.
Other foods to try
Some of these foods I have tried with Red, most are what have worked for many of our Facebook followers.
They were added to their dog's existing diet, or given on their own if that was the only way they would eat.
Please check with your vet to make sure the ones you're considering are safe for your dog.
Baby food
Bone broth – very nutritious and super easy to make
Grated cheese on top
Tiny pieces of pizza crust added to dog food
Scrambled eggs (no oil) with or without cheese
Cooked oatmeal
Diced ham and rice warmed in microwave
Peanut butter
Dr Becker's Bites Appetite Flakes
Roll of dog food (like a salami roll) you can slice up the daily amount and feed it throughout the day
Tuna packed in water
Meat scraps
Pumpkin or sweet potatoes mixed in with food
Sardines
Mackerel
Cottage cheese
Rotisserie chicken
Chicken soup
Steak
Tinned cat food
Homemade chicken and rice
Baked potato with butter
Low salt ready made broth
Blend dry food until it's almost dust and mix with canned food
Freeze dried meal toppers
Puree cooked vegetables and put a couple of tablespoons on food daily
Unflavoured yogurt
Cooked broccoli
Add mashed up sweet potatoes, pumpkin and broccoli
Boiled chicken tenderloins cut up, add noodles, water or bone broth, add a bit of dry dog food, cooked peas and carrots, mix well serve warm and moist. You could try lean ground beef.
Organic ground turkey mixed with turmeric golden paste, cooked vegetables (broccoli, cauliflower and carrots) and blend.
Ground turkey burgers
Canned pumpkin
Obviously there are so many more options, but I think this is a good start.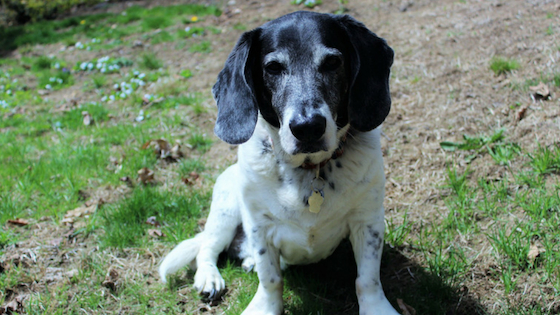 Don't Lose Hope if Your Dog is Not Eating
If your senior dog stops eating, it can be a real challenge to find out why and get them eating again.
My hope is that you have found this advice helpful, and some of the options listed will have your dog eating better.
There are so many emotions when it comes to trying to get an old dog to eat, stress, anxiety, fear, worry…yes I have felt them all.
Don't lose hope though. The chances are, using of the tips, tricks, and techniques above, you will be able to get your dog eating again.
Have you figured out the reason for your dog's lack of interest in eating? What foods or tricks did you try that worked? Sharing helps others so please leave your comment below.