Have you recently noticed a change in your dog's appetite? I know from experience just how stressful it can be when your old dog won't eat.
We often feel helpless or overwhelmed, trying to do anything possible to encourage them to eat something, anything…
You're not alone!
The first step to helping your dog feel better is identifying the reason for their change in appetite.
Last Updated: Sept 2, 2023
In this post, I will look at the many explanations your old dog stopped eating, ranging from boredom and lifestyle changes to potential medical reasons.
We'll also discuss possible solutions to help your dog regain their appetite.
Disclosure: Some of the links in this article are affiliate links (Amazon Associate or other programs we participate in). As an affiliate, I earn a small commission from qualifying purchases.
How Long Can a Dog Go Without Eating?
Your dog can go a few days without eating, but the sooner he's back to eating, the better, in an old dog that may already have health issues.
From my experience, I would not wait more than 24 hours before calling the vet.
A significant concern is whether your dog has also stopped drinking. Dehydration can set in very quickly in an old dog, particularly if they aren't well.
In the most severe cases, dehydration can be fatal.
I'm sorry to be so blunt, but it's essential you realize how serious it can be. If your dog is not drinking call your vet right now.
Why is My Old Dog Not Eating His Food Anymore?
Before you start to panic, take a moment to look around and think about possible reasons your old dog refuses to eat its food.
Below are some reasons to consider.
Environmental Causes for an Old Dog Not Eating
There are 12 key environmental causes that could explain why your old dog won't eat.
Have there been any changes in their environment? For example, have you moved?
Are there any new people living in the house?
Has your dog been stressed lately (possibly due to thunderstorms, fireworks, or construction)?
Have you recently changed your dog's food? There a possibility that they are not liking their new food, or it's upsetting their stomach.
Have you noticed any changes in recent behavior?
Is your dog possibly grieving the loss of an animal companion?
Have there been any changes in your dog's daily schedule? Have there been changes to your schedule that could be impacting your dog?
Was your dog's meal served in a new bowl (that's right, that can be an issue for some)?
Is it possible that your dog is bored with the same dry kibble day after day and year after year?
Is your dog's food is too hot/too cold?
Have you started feeding your dog in a different room or location?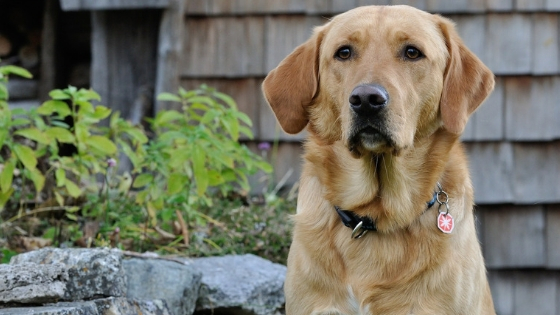 12. Medical Reasons an Old Dog May Stop Eating
I lump "medical reasons" into one possible cause – #12.
But this is the one explanation for why your senior dog won't eat that needs to be explored even deeper.
There may be many medical reasons for your dog's lack of appetite, including:
Taking Your Dog to the Veterinarian Because They Aren't Eating
If you're sure nothing in your environment can be the cause of your dog's lack of interest in food, the next step is to call your veterinarian.
Make an appointment as soon as possible to rule out any of the medical causes listed above.
If it has been more than a day since your dog last ate, I would give the person answering the phone those details, and see if they can find you an appointment that day or the next.
In a situation like this, we are often so worried about our dogs that the vet appointment can be nerve-wracking.
I encourage you to make a list of your concerns in advance and bring it with you.
It ensures you don't forget to mention something, making your appointment more productive. Plus, it will help your vet with a diagnosis by providing more information for them to consider.
Helpful Information to Provide Your Veterinarian
Below are some questions your veterinarian may ask you during your visit.
Make a note of the answers before your appointment so you don't have to take up valuable time trying to remember.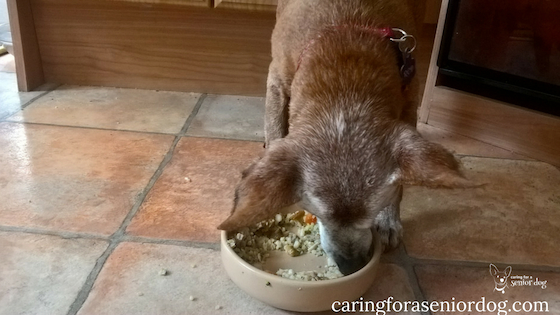 What to Expect During Your Appointment
Your vet will ask you what's been happening with your dog. This is where the list will come in handy.
Once you have finished your chat, he will examine your dog and may even take his temperature.
In your situation, and I have been there many times, I would also expect blood and urine tests to be done.
Some tests can be done in-house and produce results in just a few minutes. Samples typically have to be sent away for further analysis, but at least you can get an idea of what's going on, and treatment can begin immediately.
Your vet may recommend an appetite stimulant to encourage your dog to eat. They may also give your dog an injection for pain or nausea if they feels these are issues.
Be sure to ask if there are any foods your dog should avoid.
Please do not let your vet dismiss your concerns with a diagnosis of "your dog is old." Old age is not a disease. It is an umbrella term that covers many conditions, each needing to be considered.
I would seek a second opinion if your current veterinarian doesn't feel the need for testing. In my experience, if you're concerned, there is a reason to be concerned.
Diagnosis and What Comes Next
Only once all the test results are in, and there is a diagnosis, can you discuss treatment options with your vet.
I also think it's a good idea to research and see what else is out there, particularly if you're interested in incorporating some natural or alternative options in your dog's treatment plan.
If you have found other possibilities that interest you, speak to your vet before giving anything to your dog.
Another option would be to connect with a natural or holistic veterinarian to oversee your dog's ongoing care and treatment.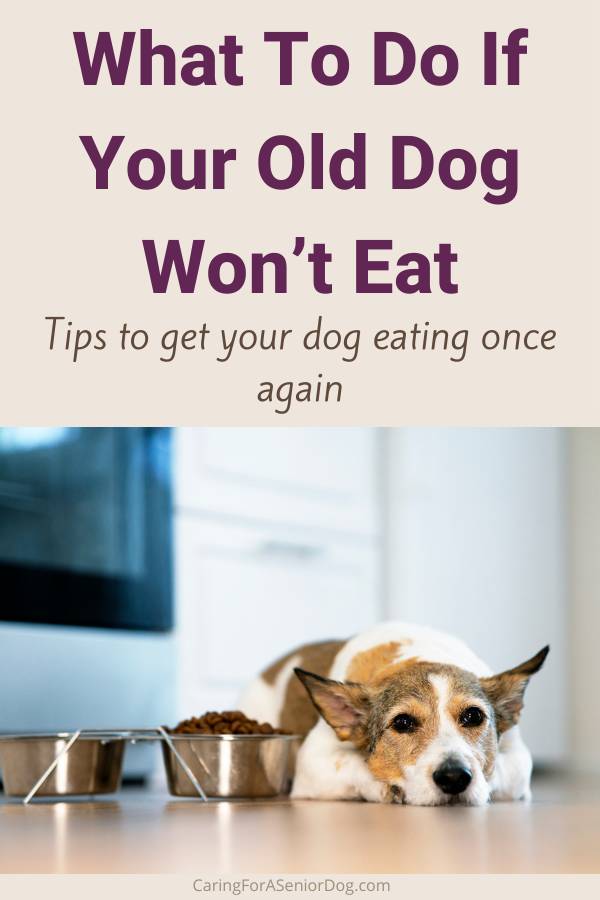 Creativity is Key to Getting an Old Dog to Eat
When a senior dog is suddenly not eating, there are two things we need to focus on – finding the cause (with the help of our veterinarian) and getting our dog to eat again.
Unfortunately, we can't sit our dogs down an explain to them why they need to eat.
Instead, we need to find creative ways to stimulate their appetite.
Getting your senior dog to eat is a combination of finding the right conditions (environmental factors), finding the right foods, and getting help from your veterinarian if needed.
Here are some ideas you can try:
If you usually put medication in their food, try giving it separately and see if that makes a difference.
It may be changing the taste of the food, and while it didn't bother your dog in the past, if they're finicky now, that could be all it takes.
Their pills can go in something like cream cheese, spray cheese, or a pill pocket treat and be fed separately from meals.
Other Foods to Try
One way you can try to reignite your dog's appetite or convince them to at least try eating something.
These foods can be added to your dog's existing diet, either mixed in or used as a meal topper or given on their own if necessary.
Please check with your vet to make sure the ones you consider are safe for your dog.
There are many more options, but this is a good start.
Helpful Tip: Pour the water from the chicken into ice cube trays, freeze, and defrost individually to pour over your dog's food.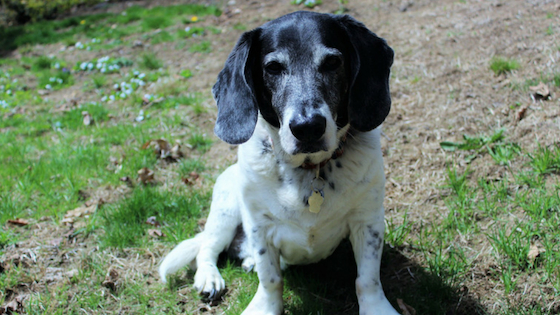 Final Thoughts: Don't Lose Hope if Your Dog is Not Eating
If your elderly dog is not eating, finding out why and get them eating again can be a real challenge.
I hope you have found this advice helpful, and some of the options listed will have your dog eating better.
There are so many emotions when trying to get an old dog to eat: stress, anxiety, fear, worry… Yes, I have felt them all.
Don't lose hope though. The chances are, using the tips, tricks, and techniques above, you will get your dog eating again.
Have you figured out the reason your old dog won't eat? What foods or tricks did you try that worked? Sharing helps others, so please leave your comment below.