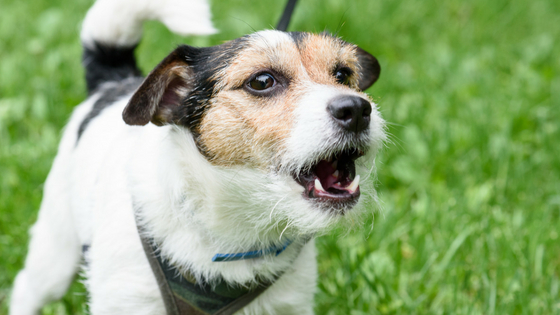 In this post we're going to be taking a look at aggression in older dogs, what causes it and most importantly, what we can do about it.
You must have been so shocked to find your once docile and sweet as can be pup acting like a character out of some horror flick. Okay I may be exaggerating slightly, but I think you get the picture.
Sudden aggression in an older dog can occur for a number of reasons, but let's first look at what form it can take.
Disclosure: Some of the links in this article are affiliate links (Amazon Associate or other programs we participate in). As an affiliate, I earn a small commission from qualifying purchases. For more details, please see our disclosure page.
What Can Senior Dog Aggression Look Like?
Snapping, snarling, nipping or biting you, other family members, strangers, dogs both outside and others you share your life with.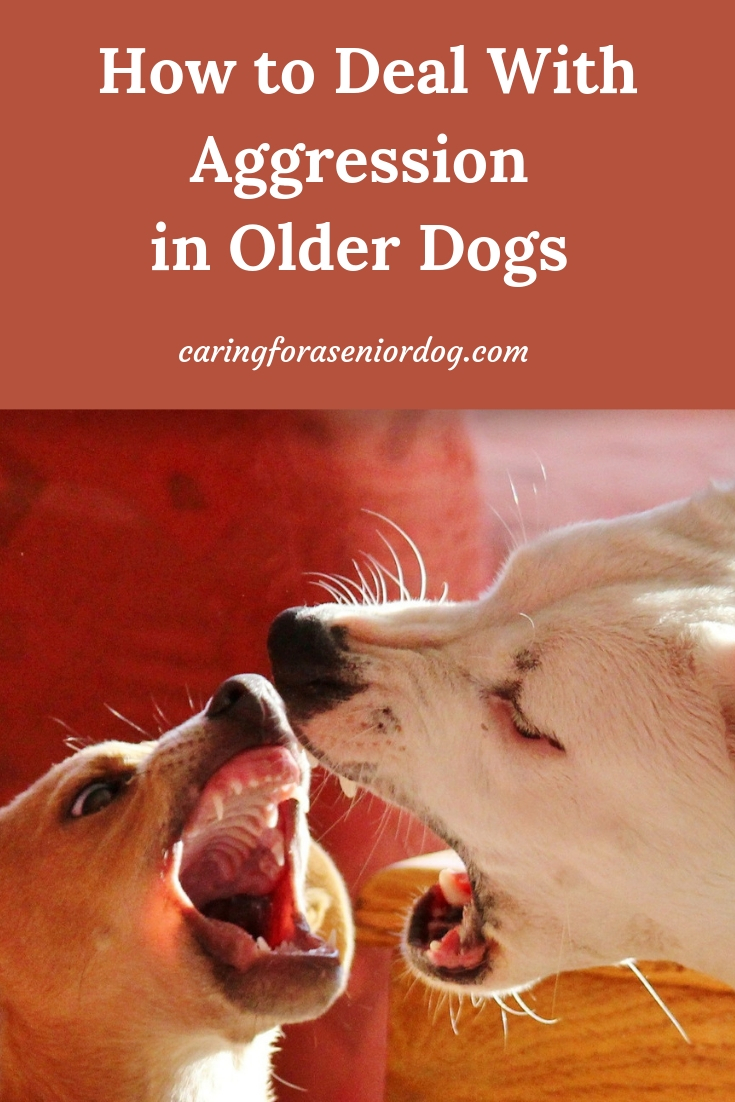 Causes of Aggression in Older Dogs
There are several factors to consider if your older dog has started to become aggressive.
Pain or discomfort
Older dogs often develop aches and pains, just like humans. It's perfectly normal, once the pain reaches a level of obvious discomfort, for a dog to lash out.
This pain could be caused by arthritis, hip dysplasia, dental disease or recovery from surgery, to name just a few examples.
Some signs your dog may be in pain
Dogs are pretty good at hiding pain but it doesn't mean they're perfect at it.
Whining or whimpering
Clinginess
Lack of interest in things he used to enjoy
Reluctant to go for walks/unable to walk
Lethargy
Difficulty sleeping or resting
Licking one spot on his body
Difficulty getting up and lying down
Whether you've noticed any of these, or it just seems like "something isn't right", get your dog checked out by your vet ASAP.
Too many changes are attributed to the natural aging process – when in reality many medical conditions brought on by old age are treatable or manageable – and many dogs suffer as a result.
Once your vet is able to diagnose the source of the pain, a treatment plan can be put together.
Depending on your vet, your dog may be prescribed pain medication, natural supplements, acupuncture and hydrotherapy to name a few options.
Anxiety
Dogs may experience an increase in anxiety as they age which could be generalized or in a specific situation such as when left alone.
It can sometimes translate into aggression towards their humans, other pets in the family, strangers…anyone really.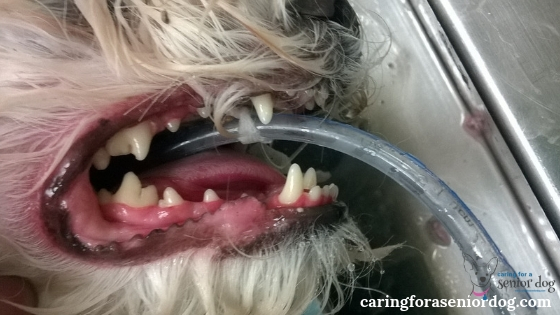 Dental disease
Has it been awhile since you've brushed your dog's teeth? Has it become increasingly difficult as he's gotten older?
That's a bit of a vicious circle because the more irritable he gets, the harder it is to brush, the harder it is to brush the more likely he'll start to suffer from dental disease.
The pain your dog will experience as a result can easily lead to aggression.
If your dog has bad breath, is pawing at his mouth, drooling or lost interest in food or treats, take him to the vet right away.
If he does have dental issues and they are addressed, the pain will disappear and so will his aggression (if it was the sole cause).
Lack of energy or mobility
If you have younger dogs in the household that he used to play with but just can't seem to keep up with anymore, attempts by the other dog to play can be met with aggression.
He will probably allow some play, but if his tolerance level isn't what it used to be he'll let them know when he's had enough.
This is particularly true if a lack of mobility prevents him from removing himself from an annoying situation.
Dog dementia aggression
Confusion, anxiety and not recognizing the familiar are just some of the symptoms associated with dementia, and yes that can lead to an otherwise sweet natured dog displaying bouts of aggression.
Vision and/or hearing loss
Imagine how scary it must be for your dog as he starts to lose his hearing, vision or both.
He has no idea what's going on, and because he is startled more easily, he may lash out before he realizes who's approaching him.
It's important to make adjustments to accommodate these changes in your dog, and they include:
Calling out to him, or somehow making your presence known before touching him – and that includes telling everyone else to do the same
Not moving furniture around so he doesn't bump into things, hurt himself and get scared
Keeping the floors clutter free so he doesn't trip, get hurt and become anxious
Keeping the noise and activity level in the house down for a bit
Brain tumour
Not common but not unheard of, a mass on the brain can cause a sudden change in personality.
As with many conditions, there are warning signs but often ignored under the mistaken assumption they are signs of old age.
A new pet
Your oldie may be very content with the life he has, and has little patience or interest in interlopers.
You may have decided to bring a new pet into the family without considering your old dog's needs first, now the new family member is bugging him and he's not liking it.
Don't be surprised if he starts showing some aggression, and please don't dump him as a result. He never asked for the change and he shouldn't have to pay the consequences.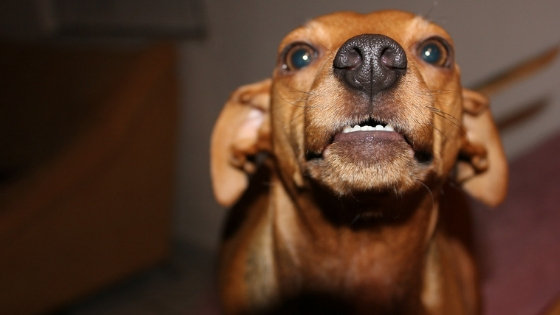 Calming an Aggressive Old Dog
There are many things you can do to manage or reduce your older dog's aggression.
Take your dog to the vet
The first thing you need to do is take your dog to the vet.
Aggression in older dogs is usually down to a health issue, so please don't adopt a "wait and see" attitude.
Any change in behavior, from something as obvious as aggression to a "feeling" something is off must be investigated.
Only once you have a diagnosis can a treatment plan be drawn up.
Be aware of what induces your dog's aggression
Take note of situations when you've seen your dog show aggression, and provide as much information as you can to your veterinarian (or an animal behaviorist if you need assistance beyond what your veterinarian can provide).
Note the…
Time of day
What behavior did you witness (film it if possible)
What was your dog doing right before it happened
Was anyone bothering the dog
This will help identify a pattern and may help your vet with the diagnosis.
Create a safe space
Make sure your dog has a safe space to retreat to – an area that is his where no one will bother him.
Whether you want to add a covered crate he can crawl into (leave the door open), or set up a bed in a quiet corner or another room, it's important to keep him away from stress.
Explain what's going on to the rest of the family
Let everyone know what's going on so there are no surprises, appropriate precautions can be taken, and no one unnecessarily gets angry.
Once everyone is on the same page, you and your family can come up with strategies to help your dog.
Play calming music
A CD called Through a Dog's Ear was a sanity saver when my dog Red had dementia. It would calm her down in no time and reduced the stress all of us were feeling.
CBD oil
While I don't believe CBD oil is a cure for everything that ails humans and animals, the success stories I read from senior dog parents I know is compelling, and cannot be ignored.
Not all are created equal so do your research. However, the #1 brand I recommend – that worked for my dog and has been helpful to many of our Facebook fans – is HempMy Pet.
If your dog is ultimately diagnosed with pain or anxiety, CBD oil may be an option, but check with your vet first.
Valerian or Valerian with Skullcap
Another possible aid is Valerian which is used to treat anxiety, if that's what the aggression stems from.
You can buy one specially formulated for dogs, or a human grade supplement, and have your vet help you figure out the correct dosage.
Thundershirt
The ThunderShirt applies constant, gentle pressure and helps calm anxiety and fear.
Whether that's due to separation anxiety, fireworks or visits to the vet, it's definitely worth a try.
Aggression in Older Dogs – Conclusion
If your senior dog is exhibiting behavioral changes in general, and aggression in particular, I recommend your first step be a visit to your vet.
What you see as aggression may simply be the result of a medical issue, and once treated could be resolved.
If no medical reason can be found, a chat with a dog behaviorist may give you the answers you need to help figure out ways to keep him calm and others around him safe.
Have you had experience with senior dog aggression? What behaviors did you see that had you concerned? What was the reason and how did you treat it? Sharing helps others so please leave a comment below.