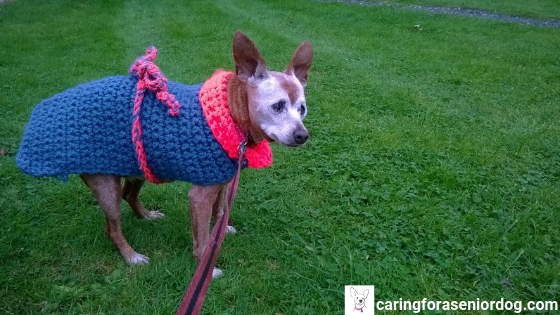 My old dog Red had doggie dementia for about two and a half years. It was a condition I was not familiar with and totally unprepared for. My usually amazing vet never mentioned the possibility, even after tests to explain certain behaviours came back negative. One day the word "dementia" popped into my head, who knows how, and when I asked my vet about it he told me it made sense. 
I went through a lot of stress, frustration and feelings of hopelessness and helplessness before I figured out what was wrong. I hope to save many of you from the same which is why I wrote this post.
UPDATE: This post was originally written Nov 23, 2015 and updated Dec 17, 2018. My heart dog Red crossed the rainbow bridge on May 18, 2018.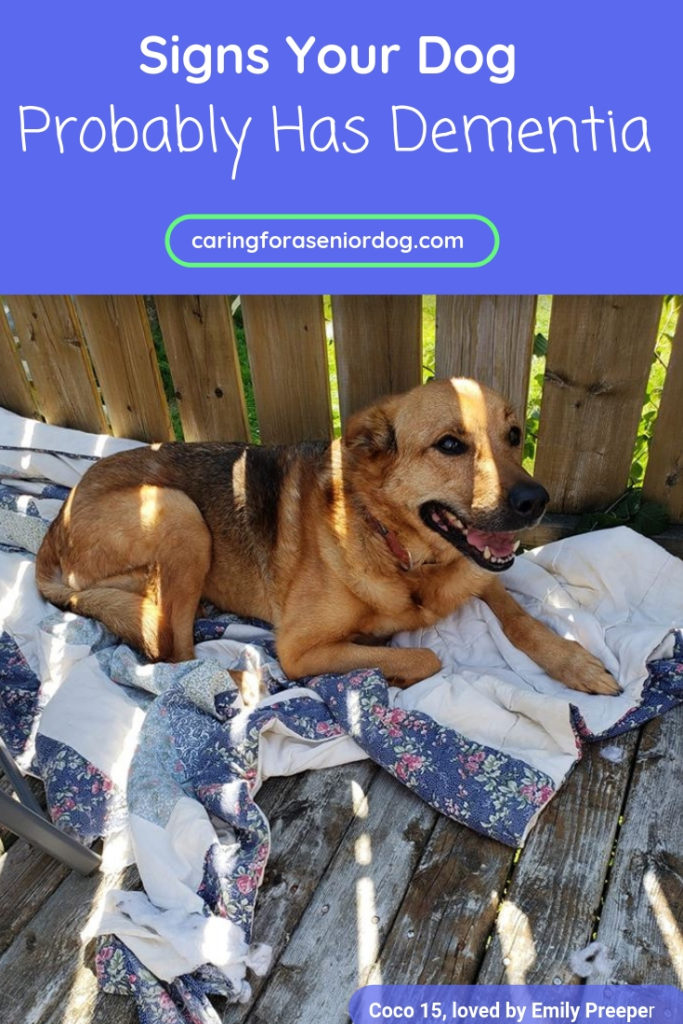 Probably but not definitely
Many of the signs you will see listed could be attributed to other conditions. For example, your dog pacing and not being able to settle could mean she's in pain. Not acknowledging or interacting with people she knows may mean she can't hear them enter the room or see them.
Don't ignore changes
If you notice behaviour changes, even if it's something small like your dog seeming a bit "off" please call your vet. A problem caught early has a much better chance of being treated or managed. 
Diagnosing dementia
There is no test to confirm a dementia diagnosis, it is made through a process of elimination. Since many of the same symptoms can be attributed to other illnesses, tests are conducted to rule them in or out. If they are all ruled out then it's typically doggy dementia. 

Treating dementia
I have included a link to an article I wrote about treatment options, so there's no need to repeat all that. The one thing I will say is, ask your vet about the prescription drug selegeline, the active ingredient found in Anipryl in the U.S. and Canada and Selgian in the UK. I don't know what the drugs are called in other countries. 
I say this because I know from my own experience as well as others, many vets don't even mention the drug because they don't believe it works for enough dogs. I disagree with that attitude because it doesn't have to work for enough dogs, it just has to work for YOURS and Selgian definitely worked for mine.
Red was on quite a few medications and there was no problem with interaction or side effects. Of course her experience doesn't mean it will be the same for your dog so speak to your vet!
The Best Natural Treatment For a Dog With Dementia 
Canine cognitive dysfunction checklist
This checklist is sorted by category, with a downloadable version at the bottom. This way you can print it, tick off the signs you're seeing and bring it to your vet. Take a video if possible and bring it as well. Together, these tools will go a long way to helping your vet with a diagnosis. 
Sleep and awake patterns
Changes in sleep pattern

Sleeps more during the day, less at night

Wanders or cries at night

Keeps family up at night
Disorientation
Performing the same behaviours over and over

Having trouble eating or drinking i.e. finding the bowls, keeping food in her mouth

Doesn't respond to her name

Doesn't respond to cues/commands

Wanders aimlessly/paces

Seems lost or confused in familiar surroundings like the house or yard

Gets stuck in corners or other tight spaces and just stands there

Has trouble with stairs

Stares into space or at walls

Difficulty finding the door

Stands on hinge side of the door

Doesn't get out of the way when the door is opening

Stands at wrong door to go out

Doesn't recognize family or friends

Gets stuck under or behind furniture

Has difficulty learning new things

Walks in circles, usually in one direction – WATCH THE VIDEO TO SEE WHAT I MEAN!!
Housetraining issues
May not remember the signal/words to go outside

Goes outside and just wanders, then pees and poops in the house

Doesn't let you know she has to go out like she used to

A perfectly housebroken dog seems to have forgotten her training
Interaction with family and others in your household
Doesn't greet anyone, or if she does she's less enthusiastic than usual

Doesn't look for attention like she used to

Walks away when petted

Withdrawn from family
Anxiety
Seems fearful and/or anxious

Easily startled

Barks for no apparent reason

Aggressive but never was before

Trembles for no apparent reason

Afraid of people she knows
Activity level
Less enthusiastic about her toys

Plays less or not at all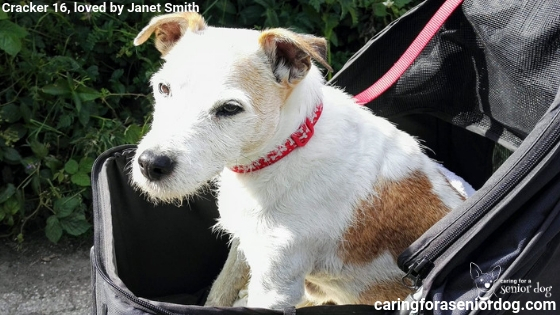 Signs your dog probably has dementia – conclusion
I know this might have been a little scary for you to read, but I hope you found it comforting as well. Until now you may have been faced with some unexplained behaviours which, as I know, can be frustrating and cause you to feel so helpless.
Make an appointment with your vet, bring your checklist and a video. Knowing what you're dealing with is the first step in figuring out how to manage it.
If you'd like to know more about our journey, read this article called "How I Care For Red Who Has Dog Dementia" !
Has your dog been experiencing any of the symptoms on this list? What did your vet say or do during your appointments when you were looking for an answer? Was your dog diagnosed with dementia? What treatment plan was recommended and has it been helping? Sharing helps others so please leave your comments below.