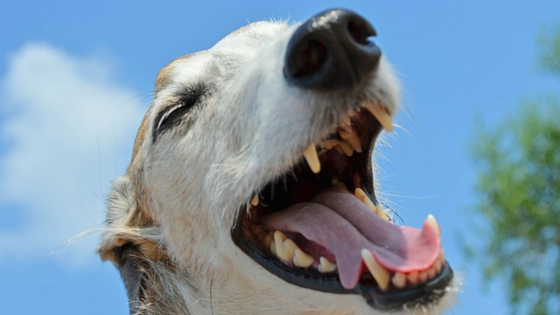 If your old dog has bad breath, the first thing you need to do is stop reading this article, make a vet appointment then come back and carry on reading.
You often hear people mention "doggie breath" and assume it's normal for that to be the case. In fact it usually signals some kind of problem. The sooner you get him looked at, the sooner it will all be sorted.
**There are affiliate links in this post, which means if you purchase anything I may receive a commission. This has no effect on the price you pay.**
What causes bad breath in older dogs
Bad breath is usually caused by gum or dental disease, but not always. Other reasons include –
Kidney disease/kidney failure

Diabetes

Ingesting a toxin

Gastrointestinal issues

Tumours in the mouth

Your dog is simply eating poop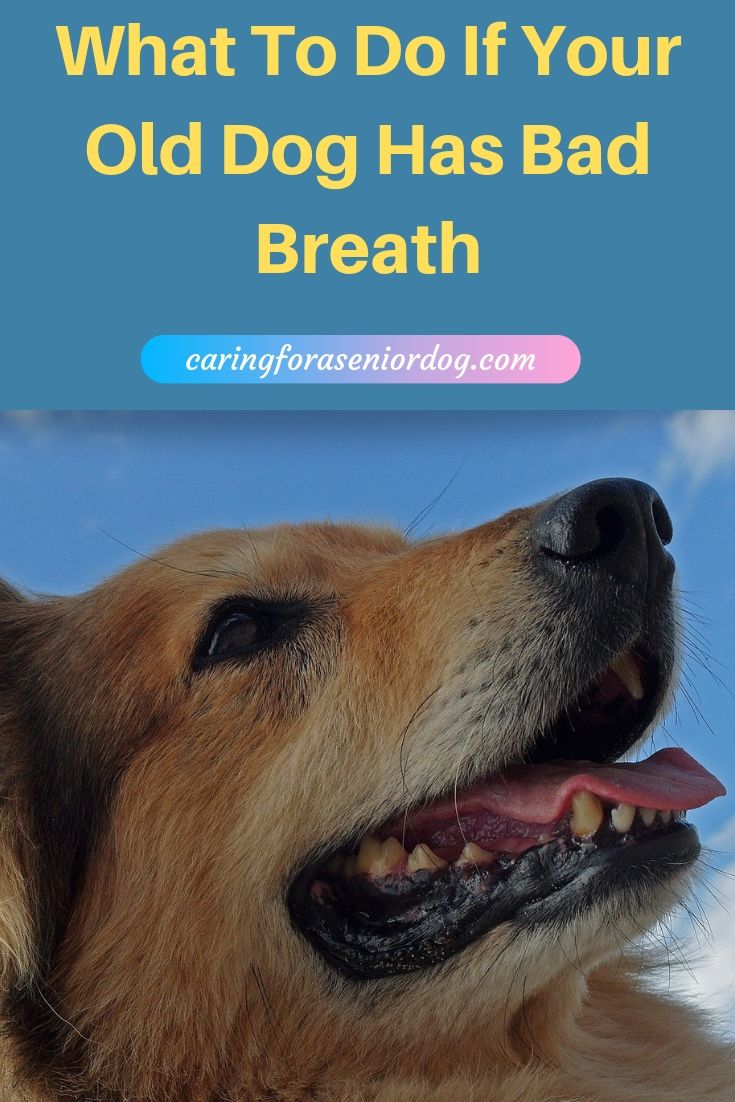 Signs your dog has dental issues 
Bad breath

Pawing at his mouth

Struggling to eat dry food or cookies

Drooling

Withdrawn or not himself
At the vet's office
The first thing your vet will do is ask about your concerns, what you've been noticing, changes in behaviour, when it started… Writing all that down in advance of the appointment will ensure you don't forget anything, and will make your time together more efficient.
Next your vet will examine your dog's mouth, or he will at least try to!! Some pups are a lot more cooperative than others, so how willing your dog is will be a factor in how thorough the check up can be. If your dog is anything like mine, the most your vet will be able to do is lift the side of your dog's mouth and have a quick look at his teeth and gums before any digits are lost!!
Luckily that is usually enough to at least see if there is evidence of periodontal disease and what next steps are needed. 
If his teeth are fine and there is no obvious explanation for bad breath, your vet will want other tests to check for possible causes. Those tests can include: blood tests, urine, ultrasound…
If all is not perfect, the problem may be resolved with a course of antibiotics, or dental surgery will be recommended.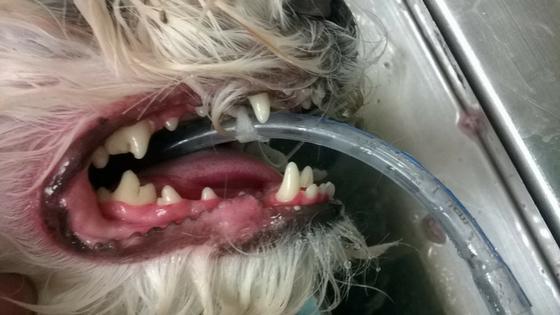 Other things you need to talk about
If dental surgery is the best option, you need to discuss your concerns about anesthesia and cost.
Anesthesia
I know a lot of senior dog parents will flat out refuse dental surgery, because they're scared of their dogs going under anesthesia. I get it, really I do but…
The last thing any of us want is for our dogs to be left in pain, which is what often happens in this situation. While there is always a risk anesthesia is safer than ever, so please have a conversation with your vet about the risks of going ahead, versus the consequences of leaving things as they are. 
The one thing I will say is, please make sure you have a vet you trust. 
Reference:
Anesthesia For The Geriatric Dog And Cat
Cost
I'd love to say you'll know exactly what the bill will be when you go pick up your dog so you don't get the shock of your life…but I can't. 
Your vet can give you an estimate during your appointment, but he can't possibly know what he'll find once your dog is under and he's able to get a proper look. Even x rays won't show the whole picture, so try and discuss "worse case scenario" then add some money to that. This way you either won't be shocked when you get the final bill, or you'll be pleasantly surprised it was less than expected. Unfortunately I've never experienced the latter scenario!
Anesthesia free dental cleaning
While it's true your dog will not be put under anesthesia for the cleaning, did you know they have to be physically restrained? It sounds horrific to me, but here is more information in this article "What is an Anesthesia Free Pet Dental Cleaning?" from the American Veterinary  Dental College. 
Day of surgery – what to expect
Your dog will be fasting for 12 hours before surgery, but water is allowed until the morning just check with your vet to make sure that's the case.
Typically dogs are asked to come when the practice opens, and barring any issues will be ready to go home by the end of the day.
I was never sent home with any pain medication, everything was given there, but because my dog Red was quite old my vet recommended Arnica to help her heal. 
Post surgery
Be sure to ask your vet what you can expect to see, and what signs you should look out for that could cause you concern. Also find out where you can go to for help after hours, just in case. 
Management/Prevention
Now that your dog's teeth and mouth are looking fab, it would be great to keep it that way. Just like we keep our teeth and gums healthy with regular brushing and cleaning, the same can be done for our dogs. Luckily there are so many dog dental care products, you're bound to find something that he is at least okay with.  
Brushing your dog's teeth every day is ideal, but isn't always realistic, which it certainly is not with our dogs. Even if you can only manage a couple of times a week, it is better than nothing. Toothbrushes come in a variety of sizes, and some even fit on your finger, while toothpaste comes in many flavours.
If there's no way you can use a toothbrush a dental wipe may work. How about toothpaste on a cotton pad? A liquid anti plaque solution is for adding to your dog's drinking water, powders can be sprinkled onto food or sprays for the mouth. Hard chew toys, bones and dental chews will also help.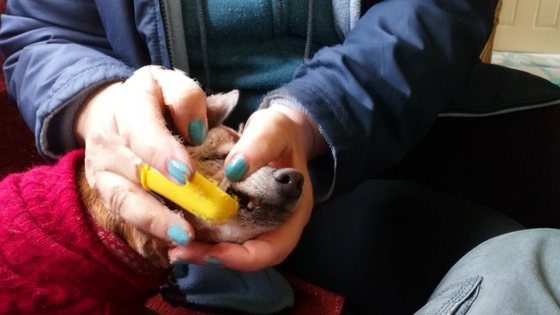 Red and dental disease
Red had some issues with her dental health over the years, ranging from a mild infection to dental surgery. We didn't adopt her until she was 8, and her previous owners didn't take the best care of her. Red was blind and didn't let me anywhere near her mouth. She may have been a little dog, but once she clamped her jaws shut that was it. Sometimes I managed to get my cotton pad wrapped finger in her mouth or a finger toothbrush (like in the picture above), but that was rare. It stressed her out so much it wasn't fair for me to keep trying. I added Plaque Off to her food once a day, but that wasn't enough. 
Once she developed pancreatitis, I couldn't even risk giving her dental chews and she wouldn't go near a toy. At the end of the day, you can only do the best you can do. 


What to do if your old dog has bad breath – conclusion
Make sure your vet takes a good look in your dog's mouth as part of his regular checkups. Staying on top of oral health is a lot easier, and less expensive, then fixing problems. 
Does your dog let you brush his teeth? What is your dog's dental care routine? Is he easygoing about it, or does he fight you all the way? Which products have you had the most success with? Sharing helps others so leave a comment below, and check out my senior dog Facebook page.