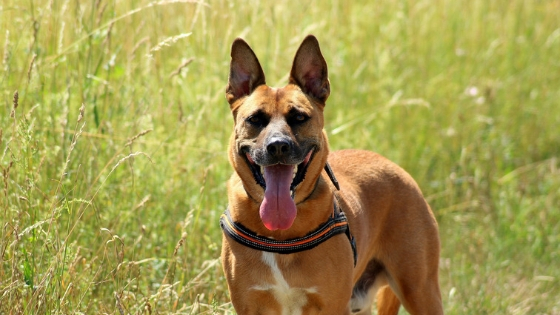 In this post we are going to be discussing all aspects of cancer in dogs, from how to know if your dog has it to the treatment options available. 
UPDATED NOVEMBER 1, 2018
How common is cancer in dogs?
According to an article on the pets.webmd website called "Dogs and Cancer: Get the Facts"  cancer is responsible for about half of all deaths in dogs over the age of 10. There is some encouraging news as it seems half of those cancers are curable if caught early enough.
What causes cancer in dogs?
Advances in veterinary care and more involvement on the part of the pet parent means dogs are living longer, and we're seeing them live to an age when cancers typically develop.
Other causes are thought to include –
Genetics

Nutrition

Hormones

Viruses

Toxins
The truth is you may never know the exact cause. What is important is getting a diagnosis as quickly as possible, then discussing treatment options with your vet that will give your dog the best possible quality of life.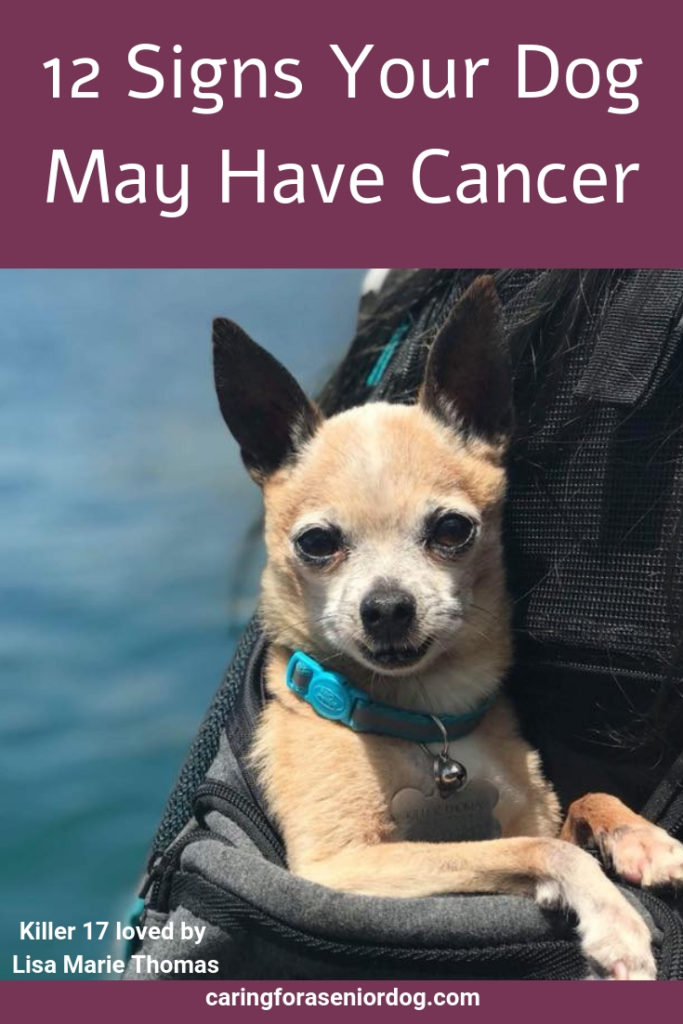 Types of cancer
The Drake Center has published a list of the most common types of cancer, and rather than "re-inventing" the wheel, I am quoting directly from their site. 
Hemangiosarcoma: This form of dog cancer is an incurable tumor of cells that line blood vessels, called endothelial cells. Although dogs of any age and breed are susceptible to Hemangiosarcoma, it occurs more commonly in middle aged or elderly dogs. Also certain breeds have a much higher incidence including Golden Retrievers and German Shepherds. For this reason, we may recommend additional screening these breeds after age 5. This form of dog cancer develops slowly and is essentially painless, so clinical signs are usually not evident until the advanced stages when the tumors are resistant to most treatments. Less than 50% of treated dogs survive more than six months, and many die from severe internal bleeding before there is an opportunity to institute treatment.
Mast Cell Tumors: These are immune cells that are responsible for allergies. Mast cells can be found in all tissues of the body but typically form tumors on the skin in close to 20 percent in the canine population. They range from relatively benign to extremely aggressive. Certain breeds of dog are at an increased risk for the development of this tumor, indicating that genetics might be a cause. Boxers are especially prone to this type of cancer.
Lymphoma: This form of dog cancer can affect any dog of any breed at any age. Most of the time, it appears as swollen glands (lymph nodes) that can be seen or felt under the neck, in front of the shoulders, or behind the knee. Occasionally, lymphoma can affect lymph nodes that are not visible from outside the body, such as those inside the chest or in the abdomen. This can cause trouble breathing and digestive trouble. Generally this form of dog cancer is considered treatable if arrested in its early stages. Standard Poodles, Golden Retrievers and Aust shepherds are a few of the breeds with higher incidence of lymphoma.
Osteosarcoma: This form of dog cancer is the most common type of primary bone cancer in dogs, accounting for up to 85% of tumors that originate in the skeletal system. Although it mostly affects older large or giant breed dogs, it can affect dogs of any size or age. Osteosarcoma occurs in many areas, but it most commonly affects the bones bordering the shoulder, wrist and knee. A major symptom is lameness in the affected leg, or a swelling over the area that seems painful at the site.
Brain Tumors: Epileptic-like seizures or other extreme behavioral changes are usually the only clinical signs. CAT scanning and MRI is used to determine location, size and severity. Although some oral chemotherapy and radiation therapy can control some inoperable tumors, surgical intervention may be recommended if the tumor is operable.
Bladder Cancer: Some breeds are more at risk for this form of dog cancer than others. This is a slow developing dog cancer, and symptoms may not show for 3 to 6 months. Urinary obstruction and bleeding are common symptoms.
Mammary Carcinoma: Non-spayed female dogs are at high risk for developing malignant mammary tumors, but all female dogs regardless of reproductive state remain at risk. Approximately 50% of these tumors are malignant, and complete surgical removal is recommended if the cancer has not metastasized.
Malignant Histiocytosis: This dog cancer affects larger sport breeds most often. It occurs as localized lesions in the spleen, lymph nodes, lung, bone marrow, skin and subcutis, brain, and periarticular tissue of large appendicular (limb) joints. Histiocytic sarcomas can also occur as multiple lesions in single organs (especially spleen), and rapidly disseminate to involve multiple organs. Unfortunately there is no reported effective therapy for this form of dog cancer.
Squamous Cell Carcinomas: It is most often found in the mouth and the nail beds of the toes. Early detection and complete surgical removal is the most common treatment. Fewer than 20% of dogs develop metastatic disease. SCC of the tonsil and tongue are quite aggressive and fewer than 10% of dogs survive 1 year or longer despite treatment measures.
Mouth and Nose Cancer: This is a very common form of dog cancer, more so in the mouth than the nose. Symptoms include a mass on the gums, bleeding, odor, or difficulty eating. Since many swellings are malignant, early, aggressive treatment is essential. Cancer may also develop inside the nose of dogs. Bleeding from the nose, breathing difficulty, or facial swelling are symptoms that may indicate nose cancer.
Melanoma: This form of dog cancer most commonly occurs in canines with dark skin. Melanomas arise from pigment producing cells called melanocytes, which are responsible for coloring the skin. Melanomas can occur in areas of haired skin, where they usually form small, dark (brown to black) lumps, but can also appear as large, flat, wrinkled masses. Malignant melanoma, which develops in the mouth or in the distal limbs (usually the toenail beds), is an incurable disease. These tumors have very often spread to distant parts of the body by the time they are first noticed, making complete surgical removal impossible.
Testicular: This form of dog cancer is common in unneutered dogs with retained testes. This form of dog cancer is largely preventable with neutering, and curable with surgery if arrested early in the disease process.
Resource – Cancer Information – Dogs by Tumor Type
How do I know if it's cancer?
Below you will find a list of 12 signs that might mean your dog has cancer. Is that definite? Absolutely not as many of those signs can also be symptoms of other illnesses. The only way to be certain is through testing at your vet's office.
What this list does mean is that if your dog is exhibiting any of these symptoms, even in a minor way, you should schedule a vet appointment as quickly as possible.
In order to make your time as productive as possible –  
Make notes of your concerns

When did it/they first start

Has something different happened at home, while out on walks, change in food…

Take a video – trust me it can really help with a diagnosis
12 signs 
Lumps or bumps on or under the skin
Get into the habit of petting your dog (I know you already do, but this time you have an ulterior motive!!) and check for any lumps or bumps. This includes his face, ears…
Weight loss
Sudden weight loss in a dog whose diet and eating habits have not changed is a cause for concern.
Changes in appetite
Lack of interest in or difficulty eating does not necessarily signal cancer, but dogs (and cats) don't stop eating without a reason so it is a sign of something. 
Unusual or offensive odours
Foul odours coming from anywhere on your dog's body (mouth, ears, nose or anal region) can signal a tumour. Keep in mind, bad breath can be due to poor oral hygiene and ears because of an ear infection.
Pale gums
Knowing what your dog's mouth looks like when he's well means you will recognise changes. For example, pale gums could indicate blood loss, and cancer is one of the illnesses linked to this sign.
Lethargy/loss of stamina
There is a difference between a senior dog slowing down and true lethargy. Is he spending more time sleeping? Not as playful? Lost interest in walking? It could be arthritis for example, but combined with other signs can be worrying.
Changes in bathroom habits
Peeing more often, difficulty peeing or pooping, presence of blood, even accidents in the house. Peeing more often can also be a sign of kidney issues or diabetes, and accidents in the house could mean dementia. 
Open sores or wounds that don't heal
Open sores or wounds that aren't healing could be skin disease or infection, but….
Evidence of pain
Limping, lameness, stiffness when your dog walks, unwillingness or inability to jump on the couch like he used to and the like, are typically the result of arthritis, which is very common in senior dogs. However, there is also the possibility it is the result of cancer, especially bone cancer.
Respiratory problems/ difficulty breathing
Coughing, shortness of breath, general difficulty breathing can indicate heart disease as well as cancer.
Vomiting, diarrhea, bleeding or discharge
Vomiting, diarrhea, and/or bleeding and/or discharge from any part of your dog's body needs to be checked out immediately.
Behaviour changes
Behaviour changes include some of the signs listed above, in addition to things like spending more time away from everyone, snapping, aggression. These behaviours can mean your dog is experiencing discomfort, or outright pain.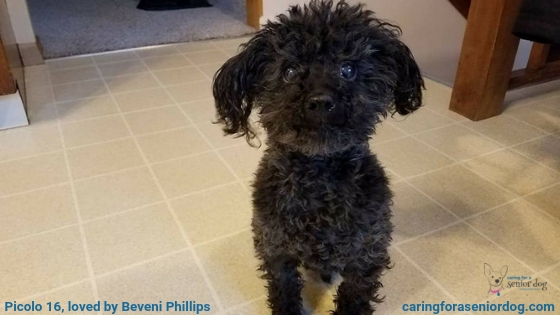 How is cancer diagnosed
Your vet cannot say with any certainty just by looking or feeling whether or not a tumour is cancerous. Your vet may recommend blood work, x rays, ultrasound, MRI and/or biopsy. In the case of two of my cats who had growths it was a biopsy that confirmed their cancer diagnoses. 
Treatment
The type of treatment, even whether or not to treat will depend on a variety of factors such as – 
Age of the dog
Overall health of the dog and his or her ability to tolerate the treatment
Tumour type – for example if it is slow growing, the drawbacks of treatment may outweigh any potential benefits
Has the tumour spread/the stage of the cancer
Finances of the parent(s)
Options
Surgery
Radiation
Chemotherapy
Imunotherapy tumor vaccines which uses the immune system to stimulate the destruction of the cancer. Learn more in this article "Novel Cancer Vaccine Uses Animal's Own Tumor Cells."
A combination of one or more of the above
Treating cancer in dogs naturally
While researching natural treatment options I discovered plenty of recommendations for products such as CBD oil, Essiac Tea, The Kelmun Protocol (aluminum-free baking soda and grade B maple syrup) and various Chinese herbs. 
While I don't have the knowledge or experience to comment, I can provide you with a few links so you can read up on the alternatives.
Natural Approaches for Preventing & Treating Cancer in Dogs and Cats
Holistic Vets Explain: Natural Treatment Of Cancer In Dogs
Holistic Cancer Prevention & Care in Your Pet
Prognosis
We all want to know "how long" but it's virtually impossible to find out. Sure our vets can give us an educated guess, but how many stories do you hear of pets outliving that guess? 
Although I've never had a dog with cancer I did have 3 cats with different types of cancer. One lived for over 2 years with no treatment other than surgery, one lived an extra 7 months with chemotherapy and unfortunately we had no idea our third cat had it. My neighbour has a dog who was diagnosed with cancer over a year ago, and the odds were no better with treatment so they decided to just let him live a good life…until it wasn't good anymore. He has survived longer than the year they gave him so you just never know.
The best thing you can do is enjoy every day, make his or her life wonderful and take lots of pictures!!

How to reduce the risk of cancer 
In the article "5 Ways to Keep Your Dog Cancer-Free for Life" Dr Karen Becker discusses her views on how to reduce the risk of your dog getting cancer. 
Keep your dog at a healthy weight

Feed an anti-inflammatory diet (real whole foods, preferably raw)

Reduce or eliminate exposure to toxins 

Don't spay or neuter until 18 months-2 years (think about the risk of pregnancy and contributing to the over population problem, not to mention the possible contribution to behaviour problems by waiting so long)

Don't over vaccinate
12 signs your dog may have cancer – conclusion
Lots of information you're probably feeling a bit overwhelmed. Try not to panic and take things one step at a time. If you've noticed changes in your dog, even if it's just something that seems "off" book a vet appointment sooner rather later. The quicker you find out what's going on, the greater the likelihood of a better outcome.
Does your dog have cancer? What signs did you see that had you concerned? How was it diagnosed? What treatment was recommended? Sharing helps others so please leave your comments in the section below.
**I would like to invite you to join Senior Dog Care Club, my Facebook group for senior dog parents. It is a wonderful community where you will find lots of helpful tips and advice, a place to ask questions and share experiences. I look forward to welcoming you.**