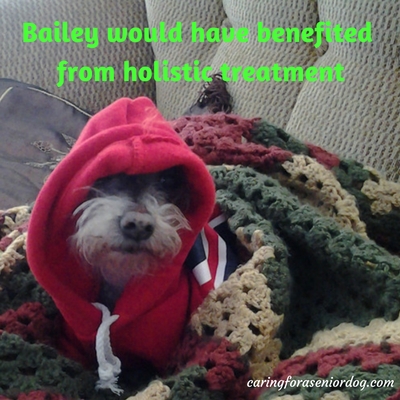 I'm so fascinated by the holistic approach to veterinary medicine, I wanted to share an article about its' use for treating arthritis in dogs.
Why specifically arthritis you ask?
I'm interested in holistic medicine as it applies to the overall care of animals, not just a specific condition. I'm highlighting arthritis in this post because I have seen a few dogs lately that have it. When I speak to their guardian I too often hear they're either giving them loads of drugs, or they say not much can be done. Neither scenario is good.
I wanted to highlight natural gentler options, and even if medication is still needed (which I'm in favour of when necessary), adding some alternative therapies presents a nice balance.  
Why the fascination with alternative medicine?
I've always been interested in a more natural approach to healthcare, never liking to take the medications I felt were too often and easily prescribed.
Even before I heard the terms "homeopathy" "alternative" or "holistic," it seems I intuitively knew I didn't like the way the doctors I and others were seeing approached treatment. Okay a pill will help the symptoms you're feeling from XYZ, but it's not addressing the underlying problem. Putting a mask on something isn't dealing with the reason for the issue.
About 16 years ago I found an anthroposophic doctor, when I was living in Toronto. Dr. Eckler was amazing, a trained MD she prescribed remedies before drugs, and looked at the whole person not just the allergy you came in with. Unfortunately I haven't been able to have that kind of treatment during the many years I've lived in England and I'm worse off because of it.
Great, but we're not talking about you we're talking about vets!!
Sorry just wanted to present some background.
Over the past two or three years, I've wanted to take my senior dog Red to a holistic vet. As she got older the issues started cropping up, and her list of medications grew accordingly. It's at the point where she's taking so much stuff it's ridiculous.
My vet in the UK is amazing, I can't deny that. He's done an incredible job of keeping Red well and pretty healthy. He skilfully handled each hiccup and I'm forever grateful, I just wish it wasn't with the use of so many drugs. There were no holistic vets in his practice or anywhere in the area, so there wasn't much I could do.
Things have changed
We recently relocated to Spain where we'll be spending a few months. Last Friday we took Red to see Dr. Ortega, a holistic vet in Malaga. What a nice guy and one who shares my philosophy. He spent so much time with us, talking about Red's background, my concerns and my own philosophy towards how I'd like to see Red cared for. We never felt rushed and it was an eye opening experience.
Although I do a lot of research into alternative treatments, to actually be sitting in the same room listening to someone who can help Red was a thrill.
He felt my vet has done a great job, but of course having a different philosophy he wan't happy about the amount of drugs in her system, or her prescription diet. As a matter of fact he commented on what a strong dog she must be, weighing only 4 kgs yet able to process all the drugs she gets on a daily basis.
I will be seeing him sometime next week to hear the results of her specialised blood tests, to get her new homemade diet plan he put together and his plan for reducing/replacing her medications. When I heard "homemade" I must admit I sighed a bit. I hate cooking, but for Red I will definitely do what's needed. It seems I only have to do it once a week because it's freezable. Let's hope!!
Presenting alternatives to my readers
I've been adding more information about alternative vet care on this resource, as I always get a favourable response from readers when I do.
The article about arthritis that I'm including is called "Holistic Treatment of Arthritis" and was written by Dr. Jeff Feinman, a veterinary homeopath in Connecticut.  
I am constantly amazed by the differences in attitude between "traditional" and "alternative" approaches, and am drawn to the latter. I do hope you find the information as enlightening as I have.
A holistic approach to treating arthritis in dogs – conclusion
Now that I'm beginning my own journey into the world of holistic veterinary medicine as a participant/recipient rather than just an outsider, I'm interested in hearing your experiences.
Have you been to a holistic vet? Is it something you're interested in trying? Share your stories in the comments section below, and if you have a senior dog please share on my Facebook page.