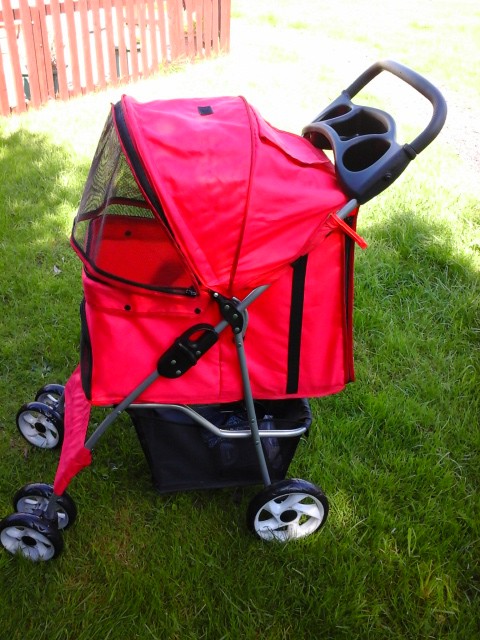 The Confidence Deluxe Folding Four Wheel Pet Stroller is a great addition to any household with a dog weighing up to 20lbs. After carrying my dog Red around on family outings or trips to the vet for longer than I can remember, I decided it was time to stop breaking my back and look into getting a pet stroller. There are a lot of them to choose from, but one stood out for me – The Confidence Deluxe Pet Stroller.
I love it so much, and I know what a difference it can make to your dog's quality of life, I had to share this with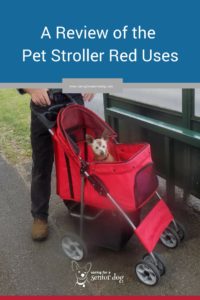 you.
A quick mention – it's available on Amazon Prime!
Convenient front and rear entry
You want a stroller that's easy to use, and that means hassle free when it comes to putting your dog in and taking him out. There are two ways to do that – at the top like a regular baby stroller, or through a rear panel that unzips. This second access point is super convenient if the sunshade is down and zipped up. It's also handy if you're pushing the stroller and want to hand your dog a drink or a treat. Just reach down, open the zipper then close it back up.
Portable
This pet stroller folds down in a second, and opens just as quickly and easily – no complicated manoeuvres required! Being lightweight means no problem lifting it into the trunk of your car. When not in use stow it away in a closet without sacrificing much space, or under a bed.  
A smooth ride
I use it on sidewalks and paved paths and Red seems very comfortable in it, no jostling around.
Features and specifications
Easy to assemble – less than 5 minutes and no tools required

Lightweight and easy to manoeuver

Collapsible protective canopy

Mesh in the front, back, and on the sunshade for ventilation on warm days, and protection against bugs or flying insects

Good size basket holds some shopping, extra sweater, leashes, treats, snacks…

Cushioned handlebar

Parent tray with 2 cup holders and larger section to hold phone, keys, treats…

A spongy insert for comfort

Safety tether to clip onto harness or collar

Foot locking rear wheels

Folds in seconds

Clasp on frame locks the stroller when closed

Holds up to a 20lb dog comfortably

Full dimension 32.3" x 17.7" x 38.2"

Enclosed size: 22″ x 13.4″ x 11″, Folded size: 32.7″ x 7.3″ x 15″, Handle bar height: 39.4″
Who can benefit from a pet stroller?
I have to say YOU because you no longer have to carry your dog around, and YOUR DOG because he gets to join you on more outings.  
Senior dogs, dogs with arthritis or joint problems that can't walk as far as they used to. Bringing a stroller on your walks means she (or he) can walk as far as is comfortable, then hitch a ride the rest of the way. You don't have to rush back home and your dog can still enjoy being outside.
A dog recovering from illness or surgery that may not be allowed to walk, other than a quick pee and poop. Putting him in the stroller gives him an opportunity to get out and about, see pals, get some fresh air and prevent boredom.  
Transporting puppies or kittens and you don't want to have to carry a crate.
Many cat parents use a pet stroller.
Perfect for use on busy streets, festivals or taking the family for a fund day out. Small dogs can easily get stepped on, feel anxious in large crowds, or find dropped food on the ground that can make him sick. The stroller will keep him safe, and for that extra secure feeling close and zip the sunshade and create a cosy "den on the move."
I'd like to share the benefits it has brought to our lives
The love of my life is a blind Chihuahua/Min Pin named Red. She is approximately 16 years old and an absolute joy. She can't walk too far so we go for lots of short strolls. When I want to take her for longer outings or on day trips, I couldn't do it without the pet stroller. Although she only weighs about 9 lbs, after 10 minutes she starts feeling more like 50! I've taken it on buses and trains, and it's so easy because it's lightweight and folds up in seconds.It makes me happy knowing I can include Red in more activities because of it.
Although I originally bought the dog stroller for her, it turns out it had another use I never could have anticipated.
We have another dog named Jack and one day last year, within the space of a few hours, his back legs became paralysed. Long story short, he had spinal surgery and months of recovery. He was only allowed out a couple of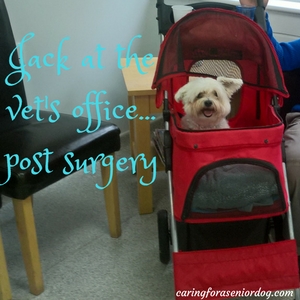 minutes at a time to begin with, so with his neurologist's approval, I would take him out and about in the stroller so he wouldn't get depressed stuck in his crate all day every day.
There's room enough for my two dogs (9lbs & 10lbs) to sit, but not lie down. That's okay because Jack only spends a few minutes in it if he needs a rest after running around, or we're in a crowd and he might get hurt.
Some things to consider
I don't believe they are deal breakers but I do think they are important for you to be aware of.
The cup holders are deep enough for cups and small bottles, but not larger ones. I'm not too bothered because I put it in the basket underneath, or in the folds of the sunshade if I want easy access.
If you're standing behind the stroller and you reach over the handlebars to put something into the stroller, or to pet your dog, hold onto the stroller or your body will tip it backwards. I know that from personal experience but thankfully Red was fine. In the years I've had it, it is not something that has ever happened on its' own, only the one time when I caused it. Now I just go to the side of the stroller and do what I have to do.
A little bumpy over non smooth surfaces like a pebbled path, so I stick to paved sidewalks and paths.
Customer Reviews and Scores
I found 297 customer reviews at the time of writing and they had awarded this Confidence Deluxe Pet Stroller 4.6 stars out of a possible 5 on average.
"I take my 17 lb shih tzu everywhere in this! I absolutely love it. I'll be taking her to Europe next year with this stroller. It is a life saver on hot days or when my dog is too tired to keep walking. It's very sturdy, lightweight, the brakes lock well and collapses for easy storage. Buy it!
"I love this. I put both my small babies in it one 5lbs one 7lbs and a dog bed. Sturdy yet very lightweight, easy to open and close. Get so many compliments."  
"Wow! Impressive. This stroller has features that much more expensive strollers don't even have. Such as the tray on the handle which will hold 2 bottles of water/pop and a tray for keys/cell phone/etc., and the basket underneath which is roomy enough to hold my iPad, supplies, whatever. The stroller zips/unzips easily, is roomy, has a pad (although I have added a baby blanket for additional comfort) and a strap to hook collars/harnesses. If you are looking for a high quality, well featured stroller, then this is the stroller for you!"
Conclusion
As far as I'm concerned, the pet stroller is one of the all time greatest inventions. Not only are they a great help to us as pet parents, but it means our dogs can accompany us more than they might have been able to otherwise. I have had the Confidence Deluxe Foldable Pet Stroller for over 2 years now, and I honestly can say I don't know how I managed without it.
I highly recommend this product.