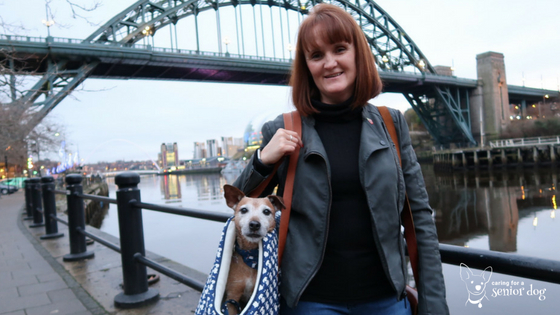 I shared nine fantastic years with my dog Daisy who sadly crossed over the Rainbow Bridge in April when she was 13.
She had arthritis from the age of four when I first rescued her, but was so lively and only slowed her down in her final few months.
Two months before we lost her, Daisy was diagnosed with dementia, and a week before she passed her vet suspected she had a brain tumour.
Caring for a senior dog is both rewarding and heartbreaking and I found the advice on this website so helpful and comforting.
You go through so many emotions and it can be difficult, so I wrote this article about some of the things I learned caring for Daisy in the hope it will help other owners.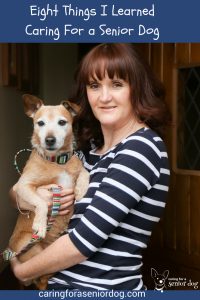 Ensure they have quality sleep
All dogs love snoozing in the day, but I learned not to let Daisy sleep for long periods. One of the signs of dementia is restlessness at night.
Before Daisy was diagnosed we had a few nights where she woke up at 2am and wouldn't settle. I took her to bed and she either sat shaking, wide awake or circled around the bed.
So we'd go for a walk and eventually she would go to sleep.
Her restlessness and insomnia were on the list of unusual characteristics that we took to her vet who said it was most likely she had dementia.
In the final months, she would settle in her crate on a huge soft pillow, or sleep on a comfy bed, with blackout blinds or with me in the human bed.
I also monitored sleep quality with her FitBark activity monitor.
Make walks/playtime fun
Like many owners, I was guilty of using my phone while out walking with Daisy until I learned how our pets hate it.
I made sure walks were special time for the two of us. Sometimes I'd take her ball and do very small throws for her – a modified version of something she really enjoyed.
Some dogs might not want to walk quite so much, or not fancy going out in the cold weather but it's important to keep them mentally stimulated.
Play games at home with them. Daisy liked her tug toys and games where we hid treats under cups for her to find them, and we used a Ruffle Snuffle enrichment mat and a Lickimat too, both were really reasonably priced and gave her a lot of happiness.
Your dog might not be bounding around like they used to or tend to sleep more but giving them your attention often is still really important.
Give them food they really enjoy
When Daisy was diagnosed with dementia I was recommended a book called Whole Pet Healing by an American vet, Dr Dennis W Thomas.
He talks about the benefit of giving dogs wholesome, balanced meals rather than processed food and explains that as dogs age, their body temperature can start to cool.
They seek out warmth, for example lying in the sun or by a fire or radiator. Daisy did this and Dr Thomas said to give her food that is warming in nature to offset the cold imbalance.
As I work from home I had the luxury of being able to cook for Daisy so I made her slow cooked casseroles with chicken, beef or lamb and rice or potatoes and veg served warm.
She had wet food so she had the nutrients she needed. It meant she enjoyed her food, took her medication without a fuss and was a happy girl.
Warming foods are chicken, beef, lamb, venison, white rice, oats, asparagus, carrots, potato, pumpkin and butternut squash.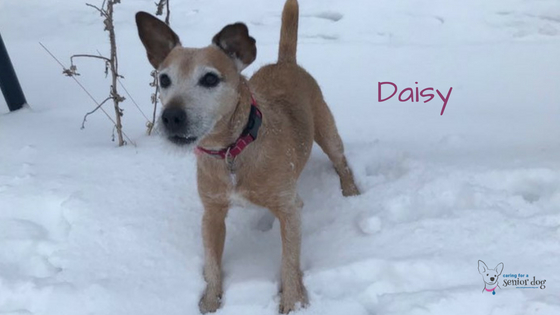 Hide their medication as much as you can
I read a book called Remember Me by Eileen Anderson with lots of helpful advice including tips on how to minimise the stress of taking medication for your dog.
Find a food your dog loves – Eileen suggests all kinds of things from meatballs to peanut butter.
Daisy had two Vivitonin tables a day which ideally should be taken on an empty stomach.
Her vet said they could be put in a tidbit so I'd wrap them in a piece of slow cooked meat or inside a sausage. I kept tablets in the fridge too – it helps disguise their taste.
You don't want to distress your dog when they take their medication. Her Activait and YuMove supplements were mixed in with her food and I ensured her food was so nice she didn't care!
Daisy also had Metacam for her arthritis, and I gave her this in a syringe just as I put out her food bowl. The excitement of her food distracted her.
Create a safe space for them
Daisy never used a crate, preferring to sleep on the sofa, but when she reached the stage where she could no longer jump up, she grew to really love her crate.
We kept the door open and it had a cover so it would be dark at night, with a huge comfy bed, a soft blanket and toys.
We put down rugs, runners and carpet tiles so she didn't slip as recommended by vet Hannah Capon who runs the Canine Arthritis Management website,  which is full of helpful tips.
Daisy had a pet carrier/bed and a pup-poose for when we were out if she got tired.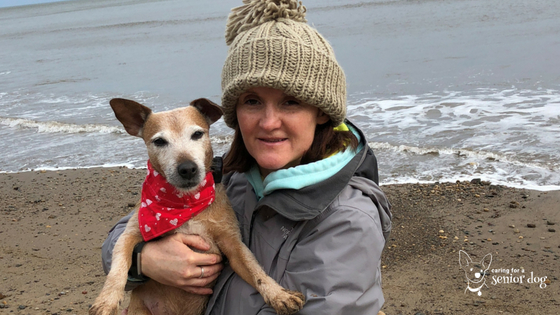 Expect the unexpected
A week after Daisy was diagnosed we went for a walk along the canal. She was scampering around as normal, and went for a wee at the side of the water, lost her balance and slipped in.
Thank goodness she was OK and I had her out of there in a nano-second.
I very quickly learned that cognitive function is affected by dementia and Daisy's behaviour wasn't as logical as it was.
She would lie on the edge of the couch for example, so I'd coax her to her normal spot so she didn't fall off, and had soft rugs on the floor.
Daisy would sometimes walk along walls or on the edge of paths, or very close to me so you have to watch your dog at all times.
This may sound silly but even things like grids at the side of the road become a hazard. Daisy's legs were so slim they could get trapped in them and before, she knew to walk around them so I'd ensure she didn't step on them.
Make sure you're always scanning your walks for things that could present danger.
Enjoy every moment
It's natural to be upset when you learn your dog has a degenerative illness.
But life doesn't stop with an older dog, it simply changes.
Celebrate the good times and help them enjoy life.
If Daisy was having a good day, we'd seize the moment, pack up the car and take her on an adventure.
We didn't walk for miles and miles like we used to, but she still enjoyed a run out.
Daisy loved new smells so I'd take her to different places and see her spring around like a pup.
She enjoyed home cooked food so I'd sneak her tablets in there and watch happily as she wolfed it down.
When Daisy growled at us at night we knew it was her illness, not her, so we'd give her a cuddle and tell her everything was ok.
We treasured each day we had with her.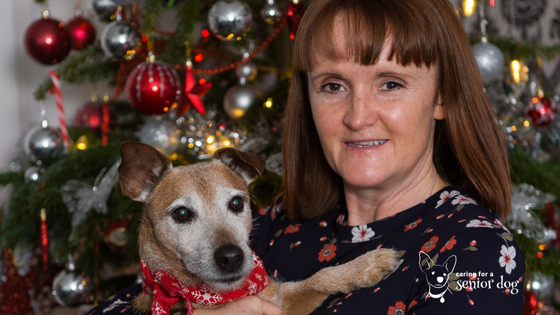 The hardest part is goodbye but it is the kindest too
I knew when Daisy wanted to go. As well as dementia, she had a brain tumour and it was a ticking time bomb.
Our vet told us that around the corner was a haemorrhage or seizure which would have been terrifying for Daisy.
We took some time to digest the news and in those few days, she declined quickly.
On walks she was frightened, darting around as the tumour was pressing on her optic nerve and she couldn't see.
We'd return home and I'd cuddle her for hours, playing music to calm her down.
Her frightened episodes became more and more frequent, and even though she was eating, going out to the loo and walking, I knew this wasn't how she wanted to live.
Daisy had been a tough, independent dog who survived on the streets and had so much spirit. The light in her eyes had gone.
So on April 17th this year, the vet came to our home and put Daisy to sleep.
It was peaceful, with us sitting next to her stroking and cuddling her and telling her how much we loved her.
I still question myself now. Did we do it too soon or too late? I will never know but I feel I did my best for her.
For nine years Daisy gave me so much love. She was my best friend, my rock. I still can't imagine life without her.
I never wanted to say goodbye and even though it was the worst moment of my life when we did, I think it was the kindest thing.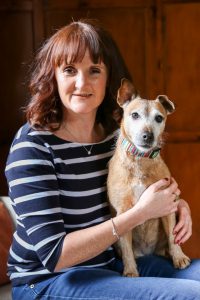 Rachel Spencer is a freelance journalist and specialises in writing about pets and animals. She lives in Newcastle-Upon-Tyne and runs a pet blog, The Paw Post which was inspired by Daisy and will continue as her legacy.