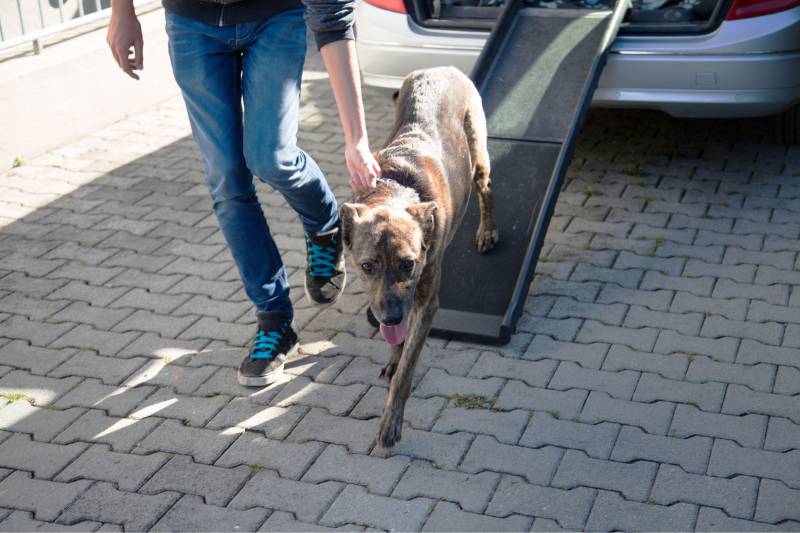 When it comes to caring for our senior dogs, their safety and comfort are top concerns! After all, we want to give them the best possible quality of life.
As they enter their golden years, mobility challenges are common.
Do you have a dog that previously loved to snuggle on the couch but now struggles to hop up beside you?
Does your dog enjoy car rides, but getting into the vehicle is a challenge?
If so, one great solution is to introduce a dog ramp. Unfortunately, they can come with a hefty price tag.
For those who would prefer a budget-friendly solution, you can build a dog ramp that is just as safe and reliable for your senior dog.
To help you get started, we've put together this guide to creating your own inexpensive DIY dog ramp, including recommended materials, handy tips, and all the guidance you need to take on this project!
Last Updated: Oct 30, 2023
Disclosure: Some of the links in this article are affiliate links (Amazon Associate or other programs we participate in). As an affiliate, I earn a small commission from qualifying purchases.
Why Consider a Dog Ramp for Your Senior Dog
I've written about them before here on the website because, along with pet strollers, dog ramps are an incredible invention.
It can be challenging helping your dog navigate the world if they are struggling with mobility issues.
Whether your dog is too big to lift, or you have mobility issues that make even picking up the tiniest dog difficult, a ramp is a wonderful thing.
They are available in many sizes and styles, including ramps that can be put leading up onto a couch, alongside a bed, or used for getting in and out of a car, SUV, truck, or van.
You could even use a purchased or DIY dog ramp for pool access if that's what you need!
With so many options, you're probably wondering why I'm even talking about building your own. After all, you can get a reasonably priced one delivered straight to your front door.
Here are a few reasons to consider…
6 Reasons to Build a Dog Ramp Vs Buying One
There is no one "right" answer as to whether you should build a DIY pet ramp or purchase one. Every situation is unique!
Take a moment to assess your needs, your skillset (or the skills of your loved ones, if they are helping), your budget, and your desired timeline.
Here are a few reasons why you may consider building a ramp for a dog:
You or your loved one enjoy DIY projects and may be looking for a new project
You have an awkward space where standard ramps don't fit properly
The inclines on store-bought ramps are too steep for your dog
You are a skilled handyperson and can build one to your exact specifications and stylistic preferences
Your dog is quite unsteady and you'd like higher sides on your ramp to protect them from falling
You have the skills to make a quality homemade dog ramp for a lower cost than purchasing one
Should You DIY or Hire a Professional?
If you are handy and love DIY projects or are keen to learn, this could be a really fun project to start.
However, not everyone is interested or capable of building a safe and reliable dog ramp – and you don't want to compromise on your senior dog's safety!
If you want one built and are unable to do it yourself for whatever reason, consider hiring someone to do it for you.
When hiring someone, take time to do your research. Ask plenty of questions and explain precisely what you are looking for in terms of size and weight capabilities.
When I first started looking, I called companies that specialized in ramps, but boy, were they crazy expensive!
Local builders also wanted a fortune because they wouldn't build anything less than an impressive and jaw-dropping ramp.
Hey, I get it – Pride in craftsmanship and all that, but I only needed a simple ramp. It didn't have to hold 300 lbs of weight and last a century.
Things to Consider When Building a Dog Ramp
Before you head out to your local home improvement store, you will need to answer some important questions.
These key considerations are essential to determine the supplies you will need:
Indoor or Outdoor Use
Are you trying to build a dog ramp for stairs to your front porch or build a dog ramp for bed access?
If you plan to use the ramp outside, are there features you will need to include, like a non-skid tread or materials that will hold up to the elements?
Size and Shape
How long and wide will your ramp need to be? Don't forget to factor the degree of incline into your calculations.
Are there obstacles you need to work around? One benefit of a DIY dog ramp for couch or bed use is the ability to customize it to suit your room.
What weight is your dog? There are critical differences in the construction of a ramp built to support a 15 lb dog and one built to support a 90 lb dog.
Material
Do you have a preferred material? Our is made from wood with rubber non-stick squares nailed on top.
Does your dog have preferences in terms of the surface? Some dogs will happily use rubber non-stick squares while others will be more comfortable on carpet.
Does your ramp need to be lighter and easier to move? If so, you may need to consider a lightweight material.
Style
Continuing the discussion for portability, would you prefer a fixed or portable ramp?
Would you prefer a DIY folding dog ramp for easier storage?
Should you include raised sides to prevent your dog from falling sideways off the ramp? If so, how high would the sides need to be?
Tools Required
Do you have the necessary tools to work with the material you chose?
Can you borrow or buy the tools needed? How much would they cost?
Do you need training or experience to safely use the tools you are considering?
How to Build a Dog Ramp
Now that you have answered all the above questions, you're ready to go ahead with the next step of your project.
Are you going to create your own plans? Wing it? Follow instructions or watch a video online?
There is no one "right answer." Instead, you must choose a course of action best suited to your experience with this type of DIY project.
My husband decided what he wanted to do, had a plan in mind, and just got on with it. Not a written plan in sight.
If that's the direction you want to take, have fun! I'm sure it will be gratifying to create something from a vision in your head.
For those who need or prefer a more structured approach, detailed plans are available online, like this tutorial for an easy DIY dog ramp from HGTV.
You can also follow a video that breaks down how to build a dog ramp like this one from the YouTube channel "On The Fly DIY":
Final Thoughts – How to Build a Ramp for a Dog
A dog ramp is a great way to improve your senior dog's quality of life by addressing their mobility struggles.
By allowing them to easily access the areas they love, like the couch or your bed, you give them back the independence they enjoyed as a young puppy.
Take time to consider the style and size of ramp you will need. You will also need to decide if it will be used indoors or outdoors.
An outdoor ramp, like a DIY dog ramp for car access or to lead up to your back porch, may need to use special materials to ensure that it can stand up to the elements.
Most importantly, build a ramp that will suit your dog's unique needs and make them (and you) comfortable.
Have you built a DIY dog ramp? If so, I would love to see your finished product! I welcome you to share it with me on the Caring for a Senior Dog Facebook page.