Basically, kidney disease in dogs is diagnosed by measuring the levels of two waste products in the blood: blood urea nitrogen (BUN) and creatinine. A urinalysis rounds out the testing.
Here is a bit more detail.
Urinalysis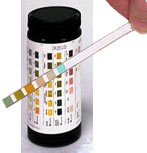 When your vet asks you to bring in a urine sample from your dog, try and get the first urine of the day – mid stream is preferable, and try and get it to the vet within a couple of hours of collection. 
The urine is tested for:
Urine specific gravity: Measures how concentrated the urine is. The lower the specific gravity, the more serious the kidney problem is likely to be.
Protein: Elevated amounts of protein in the urine, may be the first sign of kidney problems. White blood cells and debris in the urine help determine if it is acute or chronic.
Sediment: The urine is centrifuged for analysis under a microscope. Red or white blood cells help determine the cause.
Chemistry panel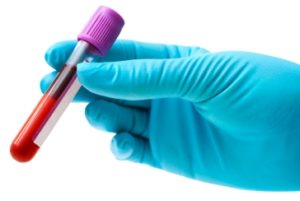 Blood urea nitrogen (BUN): Is a waste product excreted by the kidneys. If the kidneys are not working properly it will build up in the blood, and the higher the level, the more serious the problem.
Creatinine: The kidneys are the only organs that excrete this substance, and if creatinine builds up to higher than normal levels, it is a sign of decreased or impaired functioning of the kidneys.
Phosphorus: The foods your dog eats are likely very high in phosphorus. As kidneys fail they are not able to effectively excrete phosphorous into the urine, so levels increase.
Potassium: When kidneys fail, potassium levels rise, causing fatigue, nausea and an irregular, slow heartbeat that can be life threatening. However, when appetite is lost because of advanced kidney disease, blood potassium level can fall dangerously low.
**Frequent monitoring of blood urea nitrogen and creatinine levels, help your vet determine if his/her treatment plan is working.
Complete Blood Count (CBC)
A CBC is done to check for anemia, the result of a decrease in the hormone involved in the production of red blood cells (common with kidney disease).
Electrocardiogram (ECG)
May be used to assess heart function, affected by high potassium levels.
Blood Pressure
High blood pressure is common in chronic kidney disease. It is known to damage the kidneys, but kidney disease is known to elevate blood pressure.
Because it is difficult to test blood pressure in dogs, your vet may not be able to find out whether or not your dog has it. He or she will decide on the best course of action in this case.
Imaging techniques
Radiography: This is done to check the size of the kidneys. Small being more common in chronic kidney disease, while large could mean acute or other diseases.
Ultrasonography: Used to check for changes in kidney density.
Diagnosing kidney disease in dogs – conclusion
I didn't want to get too "medical" here – that's what your vet is for. I simply wanted to give you a general idea of the things your vet might do to confirm/or dismiss a diagnosis of kidney disease.
Your vet will go into details about what tests he recommends, and why. If you're unclear about something, never be afraid to ask.