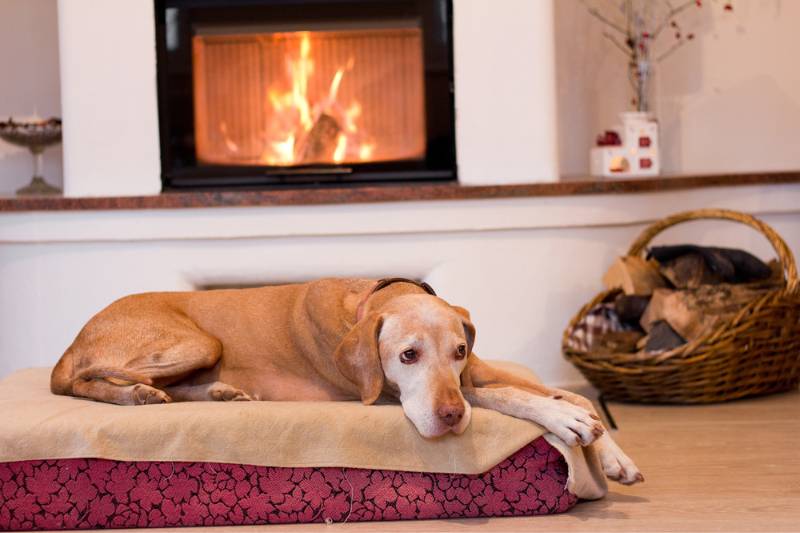 Making your home senior dog friendly is much like babyproofing.
You will go through your house room by room, looking for hidden dangers and even getting down on the floor to see things from a different vantage point.
Many dog parents undergo this process when their dogs are young puppies.
But as your dog enters their golden years, you will need to walk through the house and reassess everything once again.
Issues that your dog may be dealing with as they age can mean that situations that were once no problem can now be uncomfortable or even harmful.
Last Updated: Sept 29, 2023
Disclosure: Some of the links in this article are affiliate links (Amazon Associate or other programs we participate in). As an affiliate, I earn a small commission from qualifying purchases.
Begin with a Conversation with Your Veterinarian
I apologize if I'm stating the obvious to many of you, but first-time senior dog parents or those who may have been led to believe that "old age" is a diagnosis may not realize this.
While we can expect to see changes as our dogs age, that doesn't mean there is nothing we can do about it.
For example, your dog may struggle to walk or get off their bed.
Yes, that is common, but plenty of treatment options still exist to help ease aches and pains and increase mobility.
I recommend you make a note of any changes you're seeing. If you think something seems "off," then have a conversation with your vet.
If they dismiss your concerns, think about getting a second opinion.
Medical problems and diseases that are caught early have a better chance of responding to treatment.
Don't Complicate the Process
I don't want you to think you must undergo a major renovation.
Most changes necessary to create a safe home for senior dogs are minor to us, but they can make the most significant difference regarding your companion's comfort and accessibility.
Pay attention to your dog's biggest daily challenges to identify where you should start to improve their safety and quality of life.
Not every point I mention will be relevant to you at this moment.
But save this list to refer back to should the other points become an issue for you or someone you know.
14 Tips to Make Your Home Senior Dog Friendly
Don't Re-Arrange the Furniture
If you are concerned about senior dog accessibility in your home, your first instinct may be to move furniture and create an easier pathway for your dog to maneuver.
But you could create more problems than you solve when moving furniture.
Many older dogs will suffer from some level of vision loss. This is stressful and scary enough for everyone, so you want to make the transition as easy as possible for your dog.
As they lose the ability to navigate with their eyes, your dog will start to navigate through your home by memory.
Moving your furniture may increase the chance of your dog banging into things. This can lead to injuries or increase your dog's fear and anxiety.
The one exception to this would be if you are removing a hazard entirely from the room, like when I took out a coffee table that my dog kept bumping into.
Keep Floors Clutter-Free
I never leave clutter on the floor, which goes for dog toys, blankets, shoes… anything my dog may trip over.
Not only can a blind dog get hurt, but a dog suffering from arthritis or other mobility issues can find it challenging to maneuver around.
Make it Easier for Your Dog to Get Up on Higher Surfaces
Has your dog always enjoyed a good snuggle, but lately, it's been more difficult for them to jump onto the couch or bed?
Are they having trouble climbing the stairs to your front door or getting into the car without help?
A ramp for dogs or pet stairs can make a world of difference.
While adding this extra element to your home may not get you on the cover of Architectural Digest, it will keep your dog safe.
Be sure to teach your dog how to use these mobility aids, and don't leave them unattended until you're sure they are comfortable using them.
You can try blocking off all other access to the bed or couch so they have no choice but to use the ramp or stairs.
Elevate Food and Water Bowls
If your dog is suffering from arthritis or other aches and pains, reaching down to their food and water bowl can be a painful experience.
There are many raised bowls available in a variety of styles, materials, and sizes. If you're thinking of getting one (or a couple), you may want to consider the following:
When you're figuring out the height, you don't want your dog to have to stretch her neck up to reach
If you get a 2-bowl feeder, do you have room to keep it out (you'll have to for the water)
Do you prefer one that adjusts a fixed-height bowl (which will require careful measurement for the right height)?
In a 2-bowl feeder, your dog's dry kibble may end up in the water bowl and vice versa. If this is a concern, a 1-bowl feeder may be your preference.
Be Mindful of Knobs and Door Handles
If your dog has vision problems or dementia, be aware of door handles, knobs, and any other sharp objects sticking out at head level.
You can make these objects safer by wrapping them in fabric several times to add a layer of padding.
Cover up Door Edges, Table Edges, Chair and Table Legs
Whether your chair or table legs are made of a smooth material or one with sharper edges, such as wrought iron, it's a good idea to pad them to protect your senior dog.
The same goes for the edges of doors and other surfaces.
I used what I believe is known as pipe insulation, which is like a pool noodle but narrower.
Cut it to the proper length, slit it down the middle, and use it to cover the legs and door edges. It worked wonders!
Sharp corners on tables can be covered in small pieces of bubble wrap.
Cover/Hide Wires and Cables
Keeping wires and cables tucked safely away and out of reach of pets is good practice, regardless of your age or type of pet.
Not only can they be a trip hazard, but someone might think they look like an exciting toy to chew on.
Even if you have left your cables in full view for years without any incidents, you never know, so better safe than sorry.
Baby Gates/Pet Safety Gates
One of the most common senior dog safety measures is using a safety gate to keep them away from potentially dangerous areas of the home.
Your pup may still run up and down those stairs like a youngster.
But if they have become unsteady, suffer from joint pain, have vision problems, or struggle with confusion, putting a safety gate at the top and bottom of the stairs will prevent accidents. 
They can also be used to keep your dog out of high-risk areas like the kitchen.
Purchase an Orthopedic Dog Bed
You may find your dog's taste in beds has changed over the years, and what was comfortable when they were 4 may not be at 14.
There are quite a few orthopedic beds that are very highly rated by senior dog parents.
Should every dog with mobility issues only use an orthopedic bed?
No, of course not. It will come down to your senior dog's comfort level and personal preferences.
You may need to go through a little trial and error with your dog to find out what they prefer, including both the style of bed and its location.
A few factors to consider when shopping for a dog bed include:
Padding
Ease of access
High sides to lean against
Waterproof
Removable cover for washing
Self-heating/cooling properties
If you find a bed your dog loves that doesn't offer heating/cooling benefits, you can pair the bed with a self-heating mat or electric heating pad for added comfort.
Consider putting more than one bed around the house so they don't have far to go when they are ready for a nap.
Plus, I always keep a blanket on each bed that they can snuggle or burrow into if they feel cold.
Tone Down the Excitement
Your home may have been party central, and your dog loved the activity and commotion.
But if you notice they are disappearing more these days, they may find it more challenging or scarier to deal with all the activity around the home.
That doesn't mean you have to stop having friends around, but setting up a quiet area where your dog can go when they need some space would be helpful.
Consider setting up your dog's safe space with a nice, comfy bed, a favorite toy, a bowl of water, and maybe even a pheromone calming diffuser.
Even if you've never used a crate before, it may prove comforting.
Add a bed, blanket, and toy, cover part of it to create a den, and leave the door open so they can come and go as they please.
You can also play calming music created specifically to relax dogs like "Through a Dog's Ear."
Cover Slippery Floors
As many dogs get over, they will begin struggling with mobility problems. This can lead to slipping and sliding on your wood or tile floors.
Try putting down area rugs, yoga mats, or interlocking mats to provide traction and make it easier for your dog to walk on.
If mats aren't an option, you may choose to purchase some senior dog essentials like socks or shoes that feature additional grip on the bottom or a product like Dr. Buzby's ToeGrips.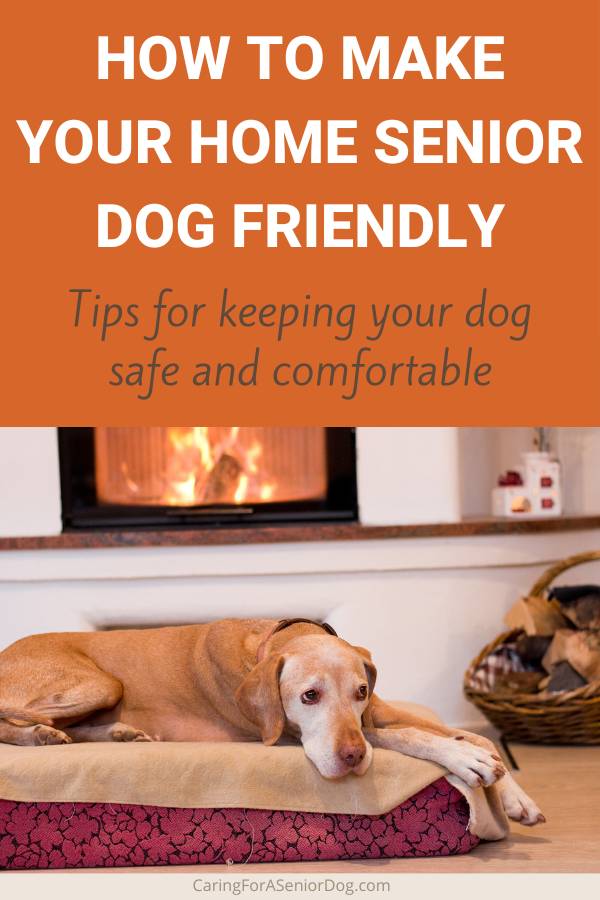 Extra Water Bowls
There are many reasons why senior dogs may need to drink more frequently throughout the day.
But this can create a challenge if they must navigate through your home to find their water bowl in a single location.
Consider placing additional water bowls in all the rooms where your dog spends the most time, like the living room, bedroom, or office.
Pay Attention to the Temperature
I know many people who always keep a window open or a fan running, even in the winter. Others like to keep a warm and toasty home.
For those concerned about how to make an old dog comfortable, it's no longer about the temperature YOU want. It's about what they need.
Older dogs tend to feel the cold more. If you notice they are shivering inside, consider buying a sweater.
Outdoors, during the cooler weather, your dog may need to wear a coat.
Ensure they are always well-fitted so your dog is comfortable and not feeling constrained.
Keep the Doors Open (NOT the Front Door)
Another challenge your dog may face if they are experiencing vision loss is navigating your home when they cannot see if doors are open or closed.
One change I made that has helped to make my home senior dog friendly is to keep all the doors open throughout the house, like my bedroom door or even the bathroom, if no one else is home.
This allows my dogs to move from to room without any stress.
It's also a good tip for a dog with dementia.
Final Thoughts: The Ideal Senior Dog Home
There are many challenges that your dog will experience as they get older that weren't an issue when they were in their prime.
Whether you are noticing your old dog slipping on the floor or struggling to reach down to their water dish, these are struggles that you can help them overcome.
Try walking around your house and visualizing what things could cause an issue.
After reading all these tips, I hope you see how easy it can be to make your home senior dog friendly.
What changes have you made to make your home more senior dog friendly? Sharing helps others, so leave your helpful tips in the comment section below.