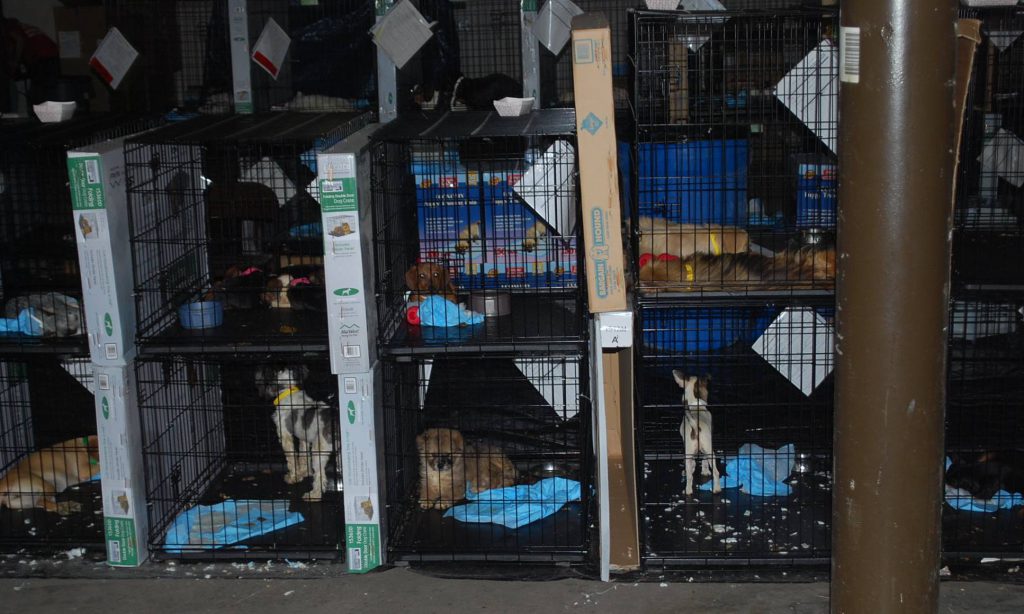 As I write this story, tears are streaming down my face and my heart is broken. Saffy died yesterday afternoon.
In spite of this, her story must be heard.
Saffy (or Saffron Cleopatra – the formal name my husband gave her), was rescued from a puppy mill, also known as dog hell. For those of you who don't know what that is, I urge you to look it up right now. It's too important not to.
We rescued her 9 months ago (January 2013) from a shelter where I volunteer.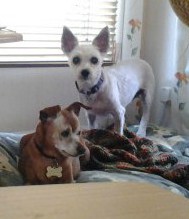 She had been there since the previous April (2012) when she was rescued, having spent 7 years in a chicken coop, breeding for pet shops and online sellers.
The head vet tech told us, she was the worst case they had ever come across.
We had rescued many senior and special needs dogs from that shelter, but their problems were always physical. This is the first time we encountered one with emotional damage.
With no guidance or advice, we were totally unprepared for this challenge.
Surprisingly, I couldn't find much practical help online, so we lived and learned.
We quickly discovered that: looking at her led to uncontrollable shaking, she wouldn't let anyone walk behind her, and bending down to put her leash on led to her peeing and pooping from fear.
The heartbreak at watching this poor dog is indescribable, but we never give up on any animal we bring home, and we were not about to give up on her.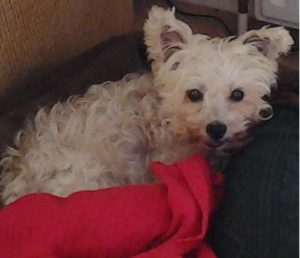 She spent the first few days in a corner of our bedroom, back against the wall. I would leave her food and water, walk out and shut the door, before she would even go near her bowls. If she caught me watching her, she would run back onto her bed.
After a few days she started venturing out. It was quite obvious she wanted to be a part of things, but had no idea how.
Thankfully we had another dog in the house (for readers of my website that dog is Red), and she quickly attached herself to her for comfort.
Once out she needed a new safe spot, and she quickly decided that would be our couch, her back against the corner. Close enough to the action, but far enough removed to feel protected.
She was more petrified of my husband (the kindest soul to animals on the planet!), then of me, and when he walked into the room she would run across the couch like a lunatic, then pee.
I have all the patience in the world for animals, but that was too much. Peeing on a tile floor is one thing, a fabric couch another. We ended up covering the whole thing in garbage bags, with blankets on top. Quite the sight, but what don't we do for our animals?
For several months, she was driven by fear. She had never been on walks, and would freak at the sight of a car, or another human being.
One day while on a walk with my husband she panicked, and got out of her collar. Even though that collar was a proper fit (I'm a bit paranoid about that on any dog!), sometimes it happens, and you can only watch in horror as they take off.
Have you ever tried to catch a dog that was nothing more than a bundle of adrenaline? We all know you can't chase a dog, so we tried to get her to run after us – forget it. My husband tracked her on his bike and watched helplessly as she swam across canals, and darted in and out of traffic.
We called the humane unit of the police department, and animal control, then hung flyers around the neighbourhood.
At least we knew if she was picked up, we would get her back because she had ID tags on her collar, and was microchipped.
Once it got dark, we had no choice but to go home.
Saffy had been gone 6 hours, when there was a knock on the door. A policeman had found her, and she was sitting in the back of his police car, like nothing happened.
I will always be grateful for the care they showed, calling me as they drove around the streets all evening, looking for her.
After this, we decided to only walk her in a secluded area behind our house.
I was so paranoid about her escaping, that I took extra precautions. I had her wear a harness and used 2 leashes – one on her collar, the other on her harness.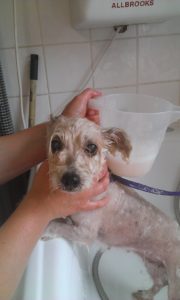 Can you imagine all this happened in just two months? Then we returned to England where we live most of the year, and over time she started to gain confidence.
What helped is the fact that I spent 24 hours a day with Saffy. She became very attached to me, and would constantly look for me whenever I left the room.
You can't possibly imagine how great that felt!
Incredible progress, after such a horrific life.
Sadly it wasn't to last.
About 3 weeks before she died, we had a breakthrough! I petted her for the first time, and I cried. Imagine how far Saffy had come, to allow me to do that. No shaking, no fear.
What was even more amazing was the day she let my husband pet her.
And so it was – after 9 months, and virtually overnight, she was becoming a confident, well adjusted dog.
Then tragedy struck our family. She wasn't eating well, and her behaviour had changed – quieter.
Long story short, she died in surgery and we have requested an independent body to investigate. It was sudden, and inexplicable, but we say the vet panicked and didn't know what to do.
To say we are heartbroken doesn't even begin to describe how we feel. It's not an exaggeration to say, every minute of our lives for the past 9 months revolved around helping Saffy gain confidence.
We were looking forward to years with her.
It all seems so cruel doesn't it? What hurts the most is, knowing she will never have the life she was just beginning to enjoy.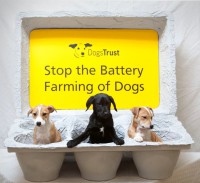 If you're considering bringing a pet into your lives, please rescue one from a shelter, rescue group or animal control facility. Animals from pet shops, and sold online come from puppy mills, no matter what they tell you.
Every year, around 4 million healthy and adoptable animals are killed in shelters throughout the U.S. Each one of them deserves a home. Please adopt, don't shop!
This was written Oct. 1, 2013 one day after Saffy died.