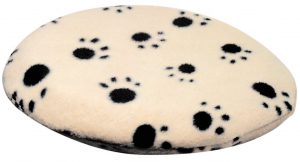 The Snuggle Safe Pet Bed Microwave Heating Pad seems perfect for this time of year, doesn't it? I don't know about you, but my dog Red really feels the cold, and isn't happy about it! She wears a sweater in the house, has a blanket on her bed, and a heater where she sleeps. I've been considering a heating pad and definitely did not want one with cords and plugs. I like a lot of what I learned about this one, so I thought I would share these features with you.
Get more information and buy now on Amazon.com >>>
Features and Specifications
No cords

Heats up in the microwave in just a few minutes

Pad fits under your pet's bed

Provides up to 10 hours of warmth

Contains a non-toxic Thermapol compound, which remains solid when heated according to directions

Great for traveling, including car rides in the winter

Made in the UK and on the American market over 16 years

To clean, wipe with a damp cloth or spray lightly with disinfectant then wipe dry  

Allow to cool completely before reheating

Incredibly versatile – perfect for dogs and cats of all ages, stray cats, feral cat colonies, hedgehogs, rabbits, humans…
Get further details and buy now on Amazon.com >>>
Customer Scores
I found 1,294 customer reviews at the time of writing and they had awarded the Snuggle Safe Pet Bed Microwave Heating Pad 4.3 stars out of a possible 5 on average.
What people who have purchased it are saying –
"Fantastic product! I keep my heat a bit lower when I'm not home, so I heat these up for my dogs before I leave in the morning. They stay really warm all day and I don't have to worry about chewed cords or electrical hazards. My dogs love them!"
"My skinny short-haired Chihuahua LOVES the Snuggle Safe Microwave Heat Pad. On a cold night when I put it in her bed she makes a little groaning happy noise – the human equivalent would be ahhhhh!!! I cover her with a baby blanket and she's in heaven, stays warm all night. Worth every penny!"
"I have about 8 of these discs, and they are an absolutely fantastic product. We use it for stray cats that find their way to our porch in the winter. I fix up a cardboard box, put several layers of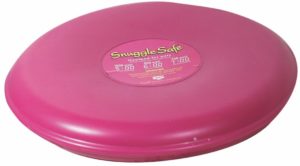 blankets in it, and slip the heated Snuggle Safe disc in under the first blanket. Every cat we've ever used it with was in cat "heaven" when they curled up in that box and found it so warm. That little disc has helped several cats survive the winter."
"I bought one to eliminate some of the electric cords we have snaking all over the house all winter from electric pet bed warmers. It is safe, reliable, and I can warm the communal dog bed all day while I'm at work without worrying about electrical fires, chewed cords, etc. Love the idea of using it under blankets in the back of the car when we all go on the road together!"
Drawbacks
Some users commented the pad was very hard and their pets wouldn't lie on it, even when placed under a pillow or bed.
A few people have had issues with leaking contents when heating in the microwave.
Buy now at Amazon.com >>>
Conclusion
A heating pad that stays warm for 10 hours and has no cords to be concerned with, certainly is appealing.
The issue of the disc being too hard for some pets to sleep on would not deter me, simply because every pet is different, some will like an item, others won't. My dogs' beds are "cushy"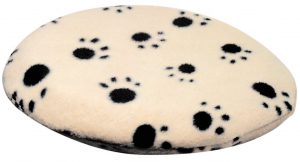 enough I don't think it would bother them.
Leaking contents is something to be aware of, but with such a low percentage of users having that problem, only you know how much that would influence your decision. I would be careful to follow heating directions very carefully.  
Most real buyers of this product are extremely pleased with their purchase and would recommend the Snuggle Safe Pet Bed Microwave Heating Pad.