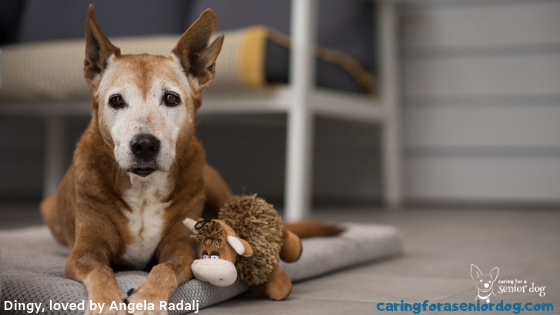 The story of Dingy starts in June 2016 on a dark night in an outer suburb of Perth, Western Australia. It was the day that my partner, Craig, and I moved in with each other for the first time and we were running terribly late for a party at my sister's house. We were finally on our way, but a few minutes into our journey we saw a dog dart across the road ahead of us from a block of cleared land and down towards a narrow street. Concerned, we quickly pulled into the street to meet it. The dog allowed us to approach it with a degree of scepticism and then rolled onto the ground to present her belly to us! She was a tan colour with a white face that exuded wisdom, and deep brown eyes that revealed both love and fear. She was very thin and had long overgrown nails, a thick tail, and a split in her left ear. It was clear that this dog was homeless, or horribly neglected. We would later find out that she was a Kelpie X of around 12 years age, and we would name her Dingy!
While Craig and I had a chat about what to do with Dingy, she took the initiative to leap into the driver's seat of the car! With that decision made for us, we decided the best thing to do next was to take her to the nearest 24-hour vet emergency where she could be checked for a microchip and have a health assessment.
Dingy began to shake with fear as we entered the vet clinic. I whispered in her ear, "I promise nothing bad is going to happen to you," and wiped away a tear as we left her to go to our party.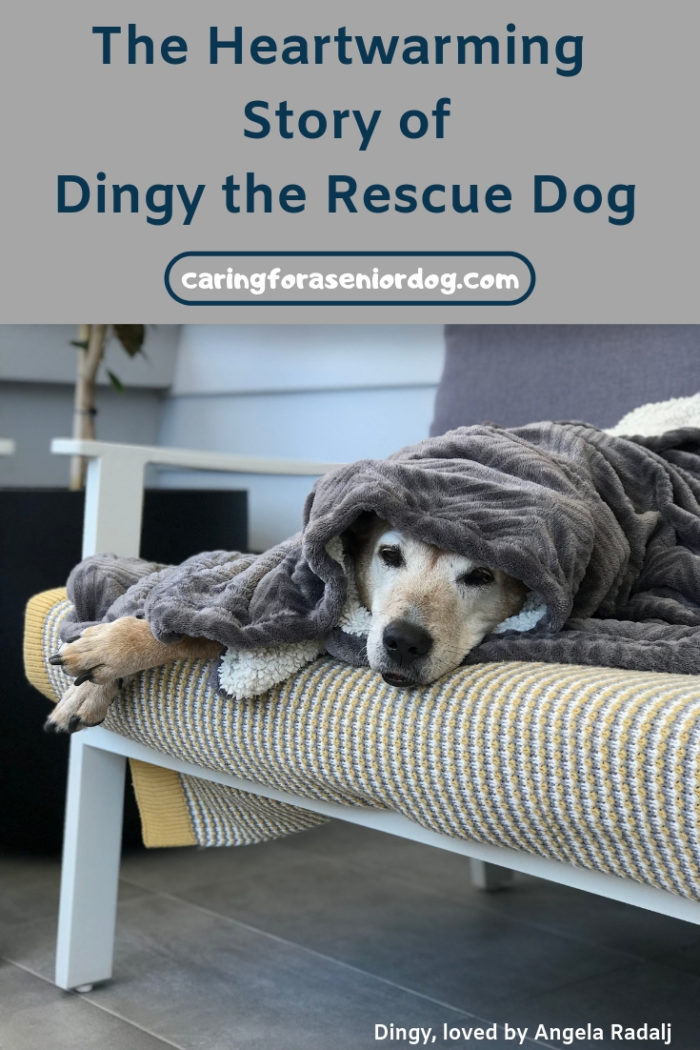 At the party we couldn't stop talking about the dog we had just found, and showed everyone the pictures we had taken of her on our phones. We made jokes about adopting her and people told us we would be crazy to do that after only just moving in together.
The next morning Craig asked, "Can we get the dog?" and without hesitation I said "Yes!!"
The rental property's lease would only allow my cat (no dogs). Luckily the lease was ending in three weeks. We called the vet emergency to check if Dingy had a microchip – and to our excitement, she didn't! We asked if we could adopt her, but were told of we needed to wait for 7 days to allow an owner to come forward. This frustrated us because we were so afraid that her past owner would continue to subject her to the same neglect.
It was the longest 7 days of our lives! We called every day to check if she was still available for adoption. We desperately needed a new rental nearby that was dog-friendly.
At last, the 7 days were up and Dingy hadn't been claimed – she was ready to be adopted… but we hadn't found a new dog-friendly place to live yet! We wanted to have our new baby desperately, so we secretly kept her in the rental and snuck her out on walks to the nearby parks.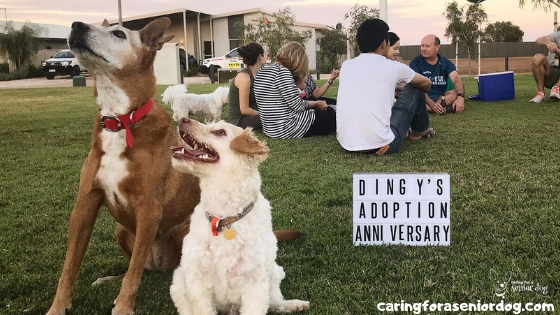 We were told by the vet that Dingy had arthritis, a harmless limpoma on her side and a bit of anxiety. They prepared us that she was an old girl, not in great shape, and that our time with her might not be long. This didn't matter, because she was so happy with us and we knew we'd give her the best life we could provide.
Dingy lived with us for 6 months in Perth where she found great joy playing in the park across the road from our house each day. These first 6 months were tumultuous! She urinated on anything soft, to the point we thought she was incontinent… and even researched how to cut holes into human nappies for dogs! She would pace at night time, bark in the house, and we learnt that she was an independent, stubborn old lady who would jump into any body of water in sight (swamps, lakes, rivers, puddles, etc. – even if there was no towel in the car)!
After 6 months of Perth life, our little family moved to a small town in the northern part of Western Australia. The climate was warmer and much better on Dingy's sore joints. There was a fortnightly vet visit service in our small town and even the mobile vet clinic got to learn who Dingy was very quickly. In our small town, it was isolating to deal with Dingy's increasingly difficult behaviour (Canine Cognitive Dysfunction) at night time. She would get into a manic state and pace for days and nights on end! During one of these manic episodes, it was 2am and I literally Googled 'how to stop old dog pacing at night' and came across Hindy's Caring for a Senior Dog webpage. This led me to the Facebook webpage and gave me hope to help Dingy (and my own sanity).
Hindy welcomed me to the Senior Dog Care Club and asked how she could help. I explained Dingy's behaviour and medical history. Even though Dingy was on dementia medication, Hindy recommended another kind, which helped her dog Red, and also stopped Dingy's manic episodes.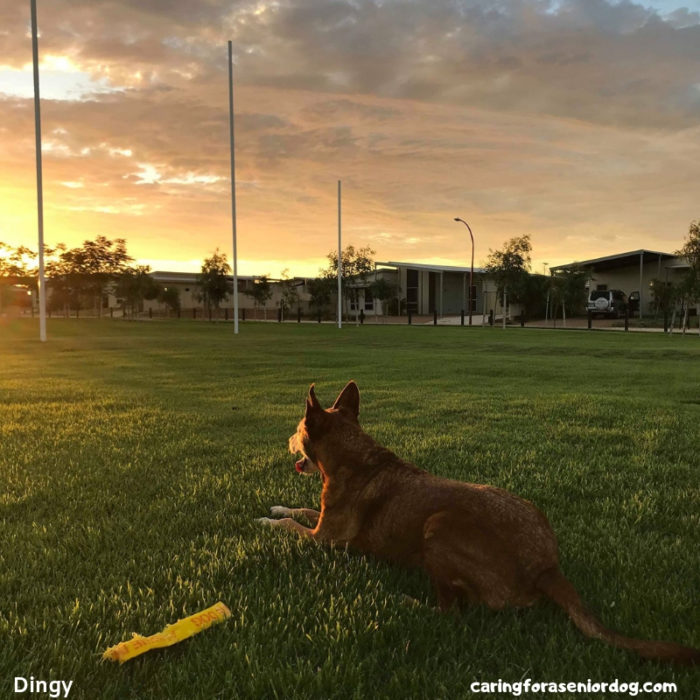 It is difficult to write the end of Dingy's story because everything happened so quickly and we only said goodbye one week ago.
In short, Dingy had a small growth on her gums that grew very big, very quickly. At first, we just thought it was a harmless epulis like she had had surgically removed once before – But it wasn't. She had a procedure to 'de-bulk' the growth on her gums and we were heartbreakingly told by the vets it was malignant bone cancer and had most likely spread all throughout her body. We were told we didn't have long. Three weeks after her debulking surgery, Dingy severely struggled to drink and eat, but she was still a happy girl and enjoyed her outings. This made our decision painful and difficult, but we knew by the fact she wasn't drinking or eating, we would have to make the tough decision for her.
To anyone reading this story, I'd like you to know that old dogs matter and we would do this all again. We have had the BEST 2-and-a-half-years with Dingy in our lives! Please don't discount senior dogs as possible future pets, because they will teach you so much about life. Dingy's appreciation and general spirit was inspiring and humbling. She never wanted us to pity her. She wanted us to focus on what she COULD do and encourage her to be her best old self. Yes, her CCD was incredibly challenging at times, and her vestibular (wobbly-dog-syndrome) was scary, but it is all part of the relationship building between you and your pet. Our photos of Dingy make us smile, our stories make us laugh, and our memories of our happy little dog, Dingy are forever.
Instead of a puppy, or designer breed dog, just take a moment to consider the joy of changing the world of a local old doggy just around the corner at your local pound. They will change your world too!

Thank you for listening to Dingy's story.
Angela & Craig.