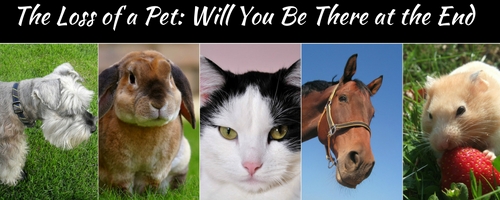 When the time has come and you're about to experience the loss of a pet, will you be there at the end?
No matter how long it's been since you said goodbye to your last furry family member, it's always heart wrenching, and you never forget that feeling.
I stay
I have always been there (except once which I'll explain further down), and will continue to be there as long as I'm able, because I have no doubt it is the right decision for me.
Is it easy? No, it's one of the most horrific experiences of my life. Knowing there's nothing I can do to stop the inevitable from happening, and having to say "I'm ready" is tough beyond words. Why do I do it? Because I know it would eat me up alive if I wasn't there to give them comfort.
Our dog Bailey had pancreatitis, and was at the vet in another city. The end was unexpected, I had no car, and it was late in the day. My husband worked in the same city, and since they were besties, he was the right person to be with him.
Some go
Several people have told me they couldn't handle being there, and while at the vet I have seen people leave the room, because it was too much for them to witness, and heaven knows it is.
The person who leaves is no less brave than the person who stays, nor did they love any less.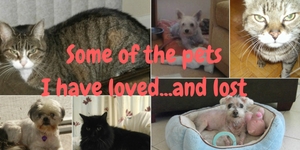 Guilt
I want to talk about the guilt some people feel at not having been there. It can hit anytime – soon after, or much later when the grief has subsided.  
That is a road you don't want to walk down.  
I can certainly understand why you feel the way you do, but not only is it unproductive, it will eat you up inside. Easy for me to say? No it's not actually, because I know guilt, and I have to learn to handle it regularly.
Please explain this to yourself – you're feeling guilty in your current state of mind, but you made the best decision for yourself in another state of mind. How can one judge the other?  
Understand what I'm saying?
How will you decide?
While it's not a topic we want to think about, it's a good idea to know who would want to be there, and who wouldn't. At the time, circumstances may force different decisions, but it's still a good idea to know who stands where, before you're forced to decide with very little time to think.
If the idea of having it done in a cold, and unfamiliar environment makes you sad, many vets will come to the house. It is an option a lot of people prefer, as it allows their pet to be calm and comfortable in familiar surroundings. It may be easier for you to be there if it's done in your own home. I hesitate to use the word "easy" because nothing can be further from reality, but you know what I mean.
If this is a strong consideration, know in advance if your vet offers this service, or would you have to look further afield.
Don't be too hard on yourself if you keep changing your mind, I'm the queen of reversible decisions.
If it helps, think about it like this – would you feel worse if you were there, or weren't there?
Reasons people stay and reasons people go
Here are some reasons why people stay, and why they go. There's no right or wrong decision, only the decision you make.
Stay
Get comfort knowing their pet went peacefully

Sure they were treated with respect because they witnessed it

Want their pet to know they were with them until the very end

Know for sure their pet died – sometimes you have to see to believe

Can't regret not being there
Go
Don't want their pet to be stressed by their reaction/emotions

They don't want it to be the last memory of their pet

Don't want to see death
It is not our place to judge if someone decides they aren't able to be there in the last moments of life. Some wouldn't be anywhere else, others prefer a different final memory. What's important is you do what's right for you.
You have to believe your pet knew how much you loved them, and are grateful for how you cared for them.
When you face the loss of a pet, will you be there at the end?
Were you with your pet or not? Would you like to share the reasons for your decision? Would you make the same decision if there's a next time? Sharing your experiences helps others, just write in the comment section below.