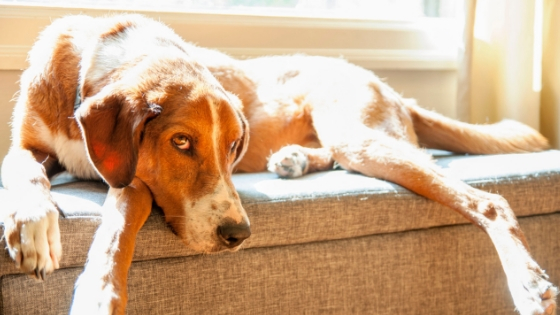 There are plenty of reasons why you would choose to exercise your dog indoors and they could be – weather, mobility issues (you and/or your dog), extra activity in addition to walks.
It's important to walk your dog every day, the distance and frequency will obviously be tailored to your dog's abilities. However, if you absolutely cannot take your dog out due to safety or other concerns, or you just want to add some extra fun to your dog's life, here's how to do it!  
**There are affiliate links in this post, which means if you purchase anything I make a few pennies…literally. That money helps me help homeless animals through donations and fostering, as well as keeping this blog running. **
Head to a pet supply store
Load your dog into the car and take him for a walk through one of those big pet supply stores, or any other large retailer that allows dogs. Some of them are so big your pup can get a decent workout, especially if you do a few laps!
Let him sniff around, make friends with other dogs and get your shopping done at the same time. Sounds like a win/win to me!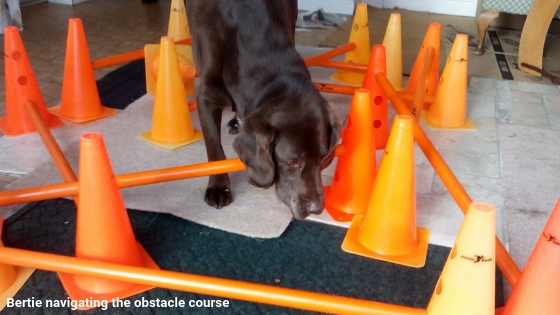 Set up an obstacle course
You don't need a lot of space to set up a challenge for your dog.
Throw a couple of pillows on the floor he has to walk between or orange cones you can find in the dollar store
Rest each end of a broom on a couple of bricks or bowls turned upside down, then let him step over it
Make a tunnel with some blankets or take a cardboard box and cut the ends off
Hold a hula hoop and have your dog walk or jump through it. How high off the ground will depend on his or her mobility 
You get the picture!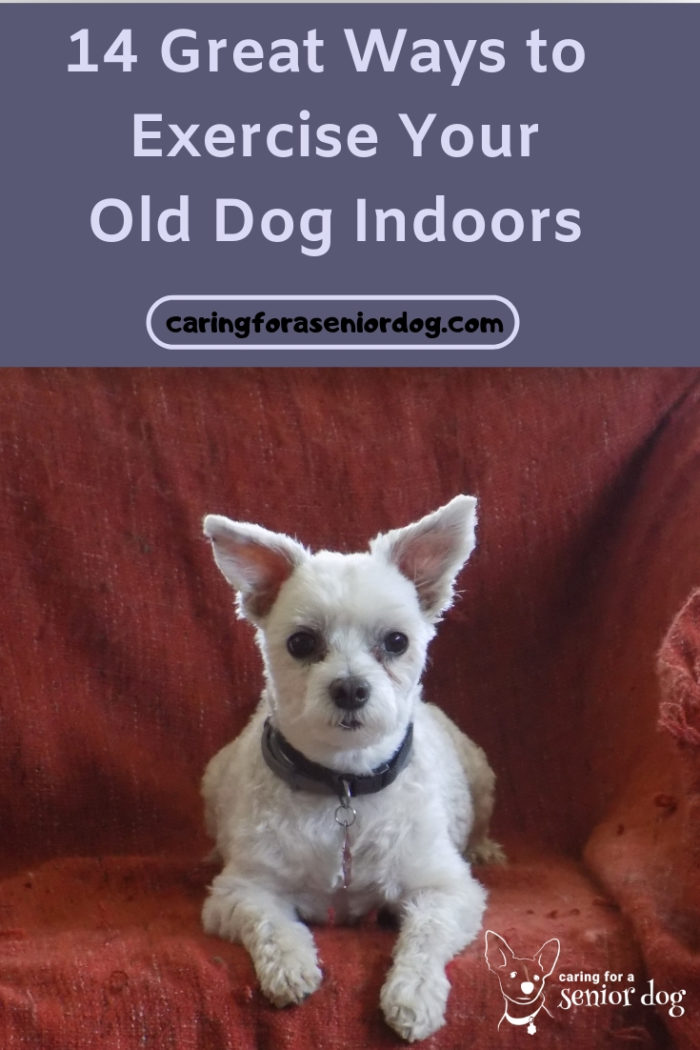 Go fetch
You may not have enough room to throw a frisbee, or your dog can't run like he used it, but you can still roll a ball along the floor for your dog to fetch. Even if he can only walk slowly it will still be fun, and somewhat of an energy burner.
Run or walk up and down the stairs
Depending on your dog's condition, he may be able to run or at least walk up all or a few stairs. Stand on the step he's able to reach, throw his favourite toy to the bottom and have your dog bring it back up. After a few rounds he'll be ready for a nap.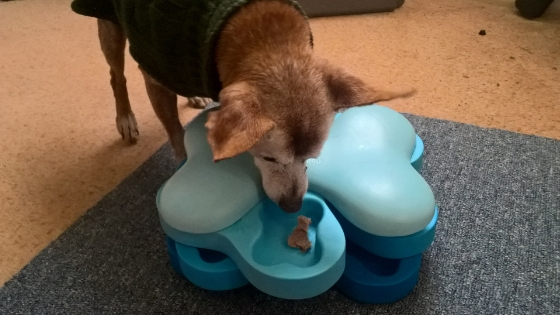 Puzzle toys
The mental challenge of a puzzle toy is another great way to get a dog active. Whether you buy them or go the DIY route, they're a lot of fun. Change them up every couple of days so he doesn't get bored. Pinterest is a great resource for DIY puzzle toys.
Put your dog on the treadmill
A treadmill is a great way to get your dog moving, it just may require a bit of training to teach him how to use it. Don't have one? There are doggie versions on the market if you wanted to make the investment.
Swimming
Swimming is such great exercise for dogs of all mobility levels, simply do a search to find an indoor doggie pool in your area.
Teach your dog a new trick or two
Training is not only fun and an opportunity to bond, it also provides your dog with mental stimulation which helps work off energy and stave off boredom.
Of course he's already well trained, but there's always something new he could learn. How about teaching him the names of some of his toys, then getting him to bring them to you!!
Get your dog to help around the house
I just mentioned teaching your dog names of toys, so why not also teach him names of certain household items, then get him to do some chores!!
For example –
Teach him what a sock is, then get him to pick them up and bring them to you. Ask him to put the toys he knows the names of in the toy basket.

Play hide and seek
Whether you or one of your kids hides and your dog has to seek, or you hide a bunch of yummy treats around the house he has to find, it will keep him busy, exercise his brain and even tire him out.
Indoor dog park
Indoor dog parks are such a great idea, bringing the fun of the outdoors inside!  
Not every park will offer the same services and amenities but they typically offer things like –
Artificial grass

Park benches

Tons of equipment for dogs to play on

Ball pits

Separate areas for dogs of different sizes

Fresh drinking water

Some even cater to dogs that need training or have issues when the park is quiet

Refreshments for dogs and their people
Buy your dog some new toys
I know we never need an excuse for this one, but if it's been awhile and he's stuck indoors, now is the time to buy him something new to peak his interest. Whether it's a chew toy, a bone or a stuffed toy he can really sink his teeth into, it's a fun way to burn calories and keep your dog busy.
Classes
Flyball, agility, scent work or just fun and games, find some local classes and give them a try. You're bound to find something your dog will love.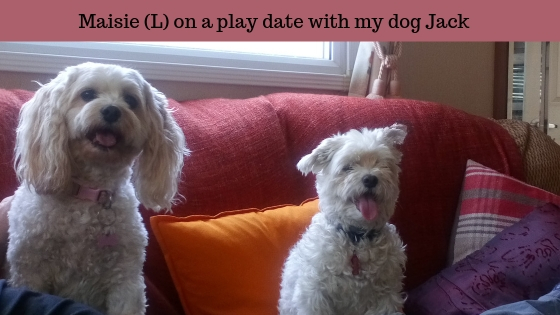 Organise a play date
At your place or theirs, getting together for a doggie play date is so fun for the pups, and their people!! I know whenever one of my dog's friends comes over they run around like lunatics, then have to rest because they're so tired out.
14 great ways to exercise your old dog indoors
So there you have it, my 14 ways to exercise your old dog indoors. I love that there are so many options, suitable to all mobility levels. 
When you aren't able to take your dog outside, what do you do to make sure he gets enough exercise and has fun at the same time?