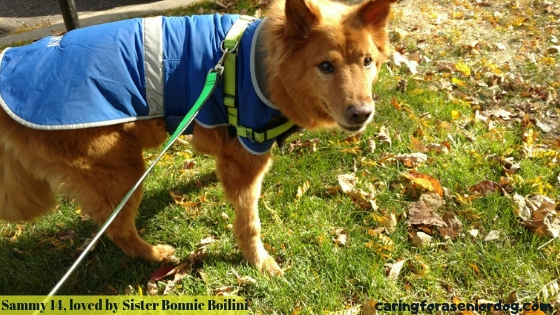 Hi, my name is Sammy.  I am now 14 years old.  I adopted Bonnie Feb.3, 2017.  I was rescued by Alive Rescue in Chicago.  I was taken to Animal Control and most likely they would have killed me because of my age and I was really sick with severe pancreatitis. At first I was afraid of people and could not look at them.  Bonnie fostered me for a few months and then I had to move to a nice couple who adopted me.  I was afraid, and pretty sick at the time, so I cried a lot.  The couple took me back to Alive and I went back to Bonnie's.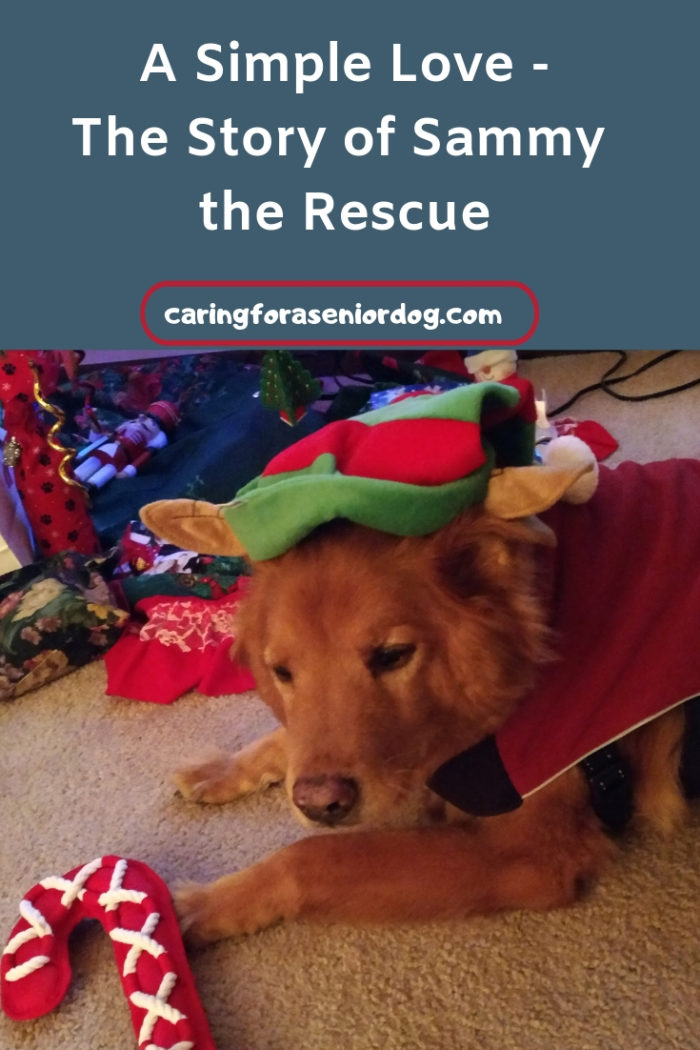 I felt good there and hoped I would not have to move again.  She always tells me that no one will ever hurt me, and that our home is only one of love. Another family wanted me, but Bonnie said I could stay with her.  It was then that I adopted her.  She says I rescued her (which makes me feel good). Not sure if I told you that I live in a Convent!  She even had an adoption party for me and people brought me gifts. A brown truck stops at the Convent at times and I still get boxes which I love to open.
Bonnie writes about me in a journal she calls "a simple love".  I read the journal one time, and this is what I read," If someone was to tell me that my life would be so exceptionally different when Sammy came, I most likely would not have believed it. It all began when I got the call from Alive Rescue that they had a foster for me.
10/13/17- Today made the day for three woman at LH(senior apartments).  Two women were sitting on a bench, both looking very sad.  When the one saw Sammy she smiled.  He actually went up to them for them to pet him.  Sammy sensed their sadness.  They kept thanking him in their broken English.   Later in the evening as we again walked the same route we met a woman from LH who was walking with her walker.  She asked where we have been, then went on to tell us about she is staying in her room because of not feeling well.  Sammy again surprised me and went up to her, and she stroked his neck. Another smile, another example of a simple love."
I think I know what Bonnie means now about this love.  We don't have to do anything, it just is. I wish all my other buds could adopt people and experience this love.  Even though I am a senior with bad legs, I can still make her and others happy. I just want to thank Alive and other groups that give us seniors another chance at living, at loving.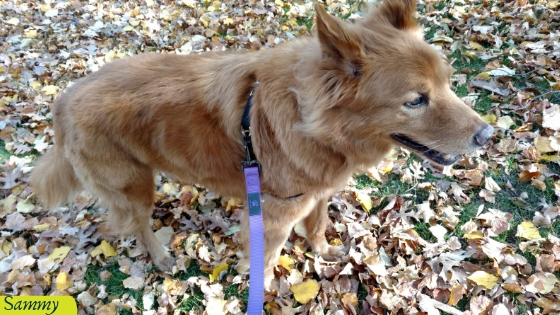 On Nov. 9th Sammy died like he lived, on his own terms and with dignity.  I took him to the Vet for oral surgery.  He walked in, like he had never done before.  In the past he planted all four feet on the ground, and I had to drag him in.  He walked in like a warrior to fight.  He went up on the scale, and I handed him off to the Vet Tec.  I received a phone call a few hours later.  The tumor that was the size of a pea a month earlier had encapsulated his whole mouth.  I could not let him suffer.  He had suffered for too many years at the hands of others.  I held him, blessed him, and he peacefully slipped with the help of medication.
Shared by Sister Bonnie Boilini