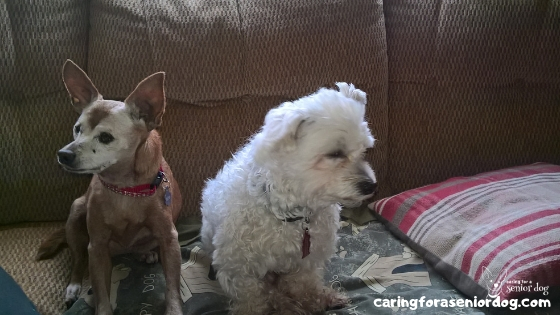 As human caregivers to our fur babies, it's natural for us to be devastated when we have to say goodbye. What about the dogs left behind? Do they grieve or do they not even notice?
My heart dog Red died in April 2018, and I can tell you without a shadow of a doubt, Jack couldn't care less. Okay he may have looked for her a couple of times, but I think it was to confirm she was really gone! Even though Red was here before him, he never liked her. He didn't bother her, but it was obvious he wasn't happy she existed because she got too much attention for his liking.
The picture at the top of this article pretty much sums up Jack's apathy towards Red. Jack is on the right, and my sweet girl Red on the left. He is extremely photogenic, but in this picture he looks grumpy. 
I have had a few dogs who died before this and left others behind, but perhaps because they were all quite old with issues they didn't seem to be affected.
The only time I recall any impact was with my group of 5 cats. Calypso, my oldest and my heart cat was very bossy. She would think nothing of walking by one of the others and jumping on them if she felt like it. She was definitely in charge. When she died I was beyond devastated, my first experience with pet loss, and I noticed that for quite some time (sorry don't remember how long it went on), the other cats seemed out of sorts. It's as though she was the leader and now none of them were sure of their place. I'm not sure if it was them grieving and needing comfort, or the hierarchy as they knew it had shifted. Perhaps it was a bit of both!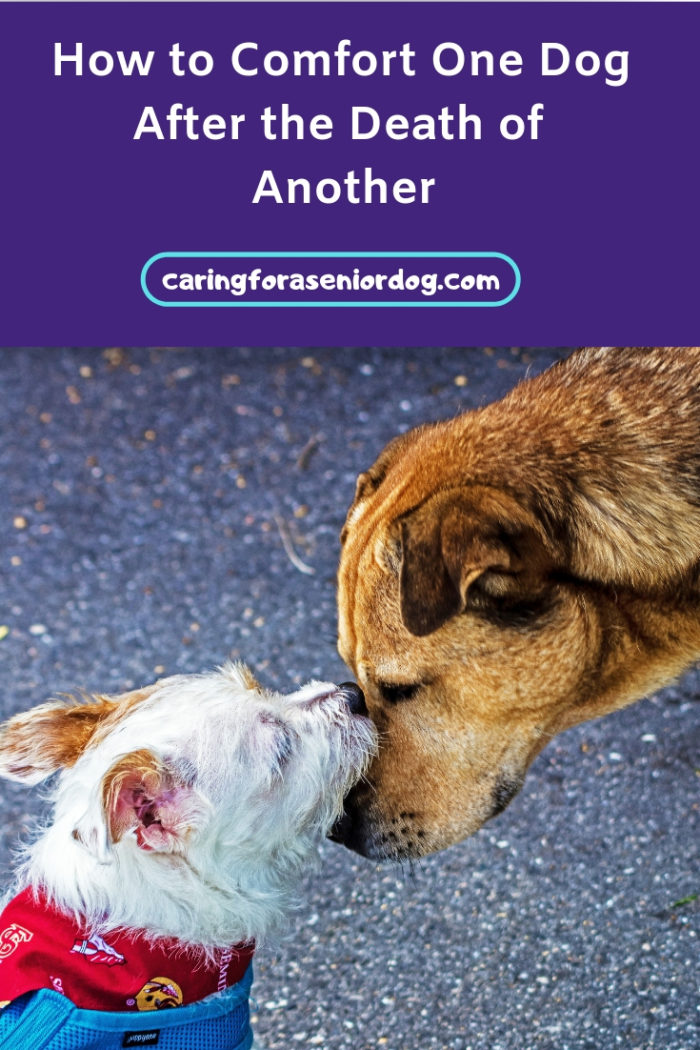 Do dogs grieve when another pet dies?
Studies seem to suggest the answer is yes. As a matter of fact, the most common behaviour witnessed was the constant checking of the places where the other animal used to rest, and 60% of dogs did that! If you would like to read the full study – "Owners' Perceptions of Their Animal's Behavioural Response to the Loss of an Animal Companion." 
This article "Do Dogs Grieve Over the Loss of an Animal Companion?" is a very interesting read. 
How do dogs express their grief or sadness?
There is no "one" way, but here are some behaviours you may notice –
Increased barking

Changes in sleeping habits

Looking for the dog that passed

Quiet

Withdrawn

Depressed

Lethargic

Loss of appetite

Confusion due to a change in routine

Anxious when left alone

More confident and friendly

No obvious signs

Here's how to help a grieving dog
We can't be sure what is going to help our dogs through the mourning process. Like with many things it's likely to be a case of trial and error, but here are some tips that may help.
Bring your dog to say goodbye – I find this such an interesting point, and not one I had ever thought of before I started writing this article. Let me backtrack for a moment. I know someone who always has a vet come to their house when it's time, and all the other animals are present, but I never gave it much thought, assuming that was obvious since they all lived there. When I started asking people if they had any tips for how to help the remaining dog, a few of them said they bring their dog with them when it's time to say goodbye.
I decided to do some research into how common this practice was, and if I could find an "expert's perspective." I came across a website called Home Pet Euthanasia and an interesting article worth reading called "Should Other Pets Be Present." 
Stick to the same routine – Dogs like the familiar, they like to know what's happening when. There's no reason his meal times and walk times should change now.   
Be vigilant – Be sure your dog is eating, drinking, peeing and pooping as normal. We can't know how long the remaining dog(s) will grieve, but if you feel things aren't improving and you're worried about his health, particularly if he's depressed and not eating, I recommend you speak to your vet. If that hasn't helped, find an animal behaviourist or professional experienced with pet grief.
Pay him more attention/keep him busy – An extra walk, a nice brushing session, play a game, teach him a new trick, take him on an outing to a pet supply store, a day trip with the family? Exercise and mental stimulation will help with boredom and anxiety.
Be careful not to reward depression – When you were training your dog, remember the advice about ignoring behaviours you don't want to see and rewarding those you do? Instead of always going over to pet him while he's lying on his bed depressed, distract him with a walk, a playdate or an organised indoor doggie fun class for example.
Changes in group dynamics – Each animal in a multi-pet household has a different relationship with each other. When one dies it's normal to see some instability in the group until they're able to work out a new dynamic, which is what happened when my cat Calypso died.
While they're figuring things out there can be conflict, so keep an eye on their behaviour. If it's troubling, especially if it doesn't seem to be subsiding, a visit to your vet or animal behaviourist is recommended.
Natural help – If you're concerned about how well, or should I say not well, your dog is coping, here are a few things you may want to try. I recommend trying one thing at a time.
Adaptil plug in pheromone diffuser 
Valerian or Valerian with Skullcap
Diffuse Lavender Essential Oil
Through a Dog's Ear (calming music) 
Exercise
Getting another dog
Getting a dog on impulse is never good no matter the situation, and adopting one because you see your dog so depressed is no different. Of course it's tempting, and there are many instances where it was the right thing to do, but sadly many where it wasn't. A rash decision about such a big decision will often end in heartbreak, and a dog surrendered.
It's important to realise not every dog, and certainly not every old dog will find it easy to cope with the loss of a friend. Expecting him to adjust to an interloper in the house may be too much for him to handle.   
It's also entirely possible your dog may relish the solitude. After all, caring for a sick older dog takes up so much of our time, and as a result our resident dog may not be getting as much attention as they should.   
Is your dog ready to accept a new dog?
Just because your dogs were inseparable does not mean that will be the case with a new one. Before you jump in to another lifelong commitment, take your dog to the dog park more often and see how he is with other dogs? How about play dates? That may be all the doggie companionship he needs…at least for the time being.
Are you ready?
You're convinced your dog is ready, but are you? It takes time to recover from such a loss, and you may not be ready. Perhaps you're enjoying the quieter household, or your own circumstances have changed and aren't able to deal with a new furry member right now.
Let your dog choose his new companion
If you're sure welcoming a new dog into the family is the right thing for everyone, make sure your dog is involved in the selection process. Many shelters and rescue groups will expect to do a "meet and greet" with you and your dog to ensure they'll get along. They want to do what they can to ensure it will be a good fit.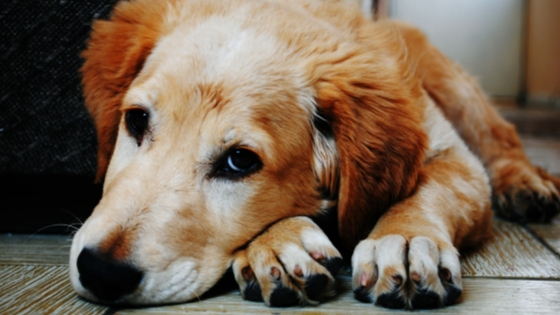 What some people I know did to help a grieving dog
Let their other dog(s) smell the ashes
One woman brought her dog home in a blanket and let the other animals sniff and gently paw the dog. She did this because a few years earlier she put an animal down but didn't bring him back home. Her dog cried and wouldn't eat for days because he didn't understand what was going on
The resident dog was taken to the vet so she could sniff her friend after he was gone. She felt it would help him understand what was happening
Lots of attention and cuddles
One woman's dog was so depressed she had to get another one for company
Put the dog's collar around the remaining dog
Invited dogs over for play dates
Kept the remaining dog busy
What has your experience been?
Did your dog get depressed after the loss, or did he seem unaffected? If your dog did mourn, what behaviours did he exhibit, and what did you do to help? Sharing helps others so please leave your comment in the section below.