Losing a dog is the most difficult part of having one. Knowing when you are ready to get a new dog after the death of another one is a personal process and is different for everyone.
You may find that your mental health suffers without a dog, and you get a new one within days or weeks.
Some wait months or years. Others may decide they no longer want a dog at all.
There is no wrong or right answer.
This article will help you recognize whether you and your family are emotionally ready to add a new dog to the family.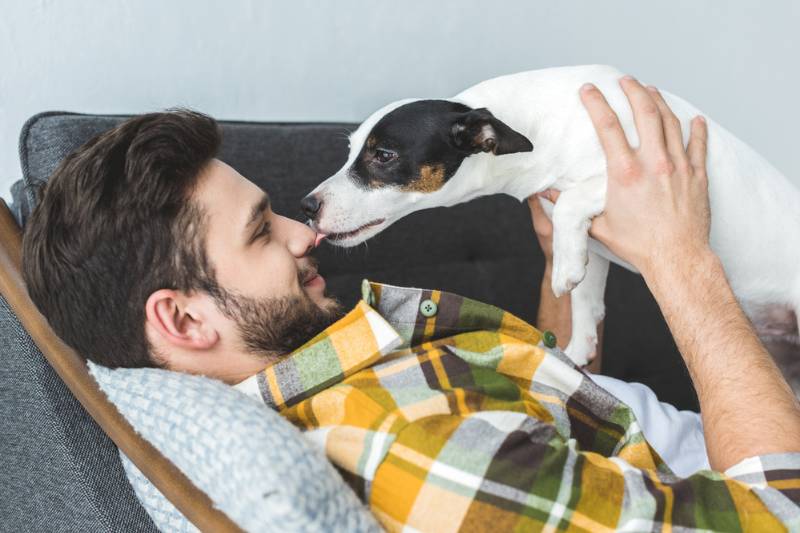 Should I Get Another Dog After Losing One?
You may feel guilty even thinking about getting another dog after losing one. Bringing home a new dog may feel like betraying the dog you had before.
You may fear getting a new dog, knowing you'll have to endure the loss all over again.
Only you and your family can determine whether you should get another dog after a loss.
While you're contemplating whether the time is right, there are some steps you can take alone and with your family to reach a decision.
Take the Time to Grieve for Your Dog
It's normal to feel sad, lonely, and angry for some time after you've said goodbye to your pet.
Grief looks different for everyone, and it's important not to compare yourself to others as you navigate the process.
You may feel fine one day and can't stop crying the next. Let yourself feel what you feel without judgment or comparison.
If you have not yet worked through your grief, it can lead to a disconnect between you and a new pet. 
You could feel resentful toward a new dog and project unprocessed feelings onto the new dog.
Before bringing home a new dog, honoring your old dog can help create space for the new one.
Is Everyone in the House Ready for a New Dog?
Before deciding to bring home a new dog, make sure you have discussed the idea with all members of the household.
Not everyone may be on the same page about getting a new dog. Some may still be processing their grief and not feel emotionally ready to care for a new dog.
Hold family meetings to determine what stage everyone is at in their grieving process.
Once you have decided to get a new dog, discuss details, such as timing, what breed to get and from where, and training expectations.
Deciding on a New Dog
As you and your family are discussing whether the timing is right to bring home a new dog, there are some important factors to include in the decision-making process. 
Getting a Puppy vs. An Adult Dog
While puppies are fun and exciting, they are also a lot of work. Getting an adult dog can cut down on some of the initial training.
Alternatively, you may want to consider getting a senior dog. They make excellent companions and deserve to live the rest of their lives in a good home.
A senior dog will likely require less exercise and dedicated training, which could be a great option for busy families.
Regardless of the age of the dog you choose, you'll need to base your expectations on your decision.
Here are a few questions to ask yourself:
Is everyone in the house on board with the training requirements of a puppy vs. an adult dog vs. a senior dog?
Will a senior dog require medications?
Will an older dog need to see a vet more often?
Do you have the time to dedicate to training a new dog?
Consider Your Other Pets
If you have other pets in the home, you need to factor in their needs as you decide.
Your dog may also be grieving, and you may need to comfort them during this time.
Be honest about the other pets and how they might feel about a new addition to the family.
Senior dogs might not be too keen on a new puppy getting in their face constantly. Or they may be ill and require your full attention now that they are the only dog in the house.
If you do choose to bring home a new dog to a house with other pets, familiarize yourself with how to properly introduce new dogs and avoid conflict.
The same goes if you have cats in the house.
The goal is for everyone to feel safe and comfortable.
Should I Get the Same Breed as the Dog That Died?
When you're considering getting a new dog, it's important to remember that it won't be a replacement for the one you just lost.
Getting the same breed or coloring can make it difficult to create that distinction because it will be easy to compare the old dog to the new one.
If you're fond of the breed, here are a few considerations for selecting a new dog:
Choose a different fur pattern if you want the same breed
Select a dog of the opposite sex
Don't use your old dog's collar for your new dog
Pick a breed in the same family with similar personality and traits
Alternatives to Getting a New Dog
If you're still unsure or not quite ready to get a new dog, there are a few ways to continue including dogs in your life without committing to a new pet just yet.
Volunteer at Your Local Shelter
This is a great way to be around dogs and give back to those needing care. Volunteering can fill the void you feel since losing your dog as you continue to process your feelings.
Foster a Dog at Home
If you're feeling closer to being ready to get a new dog but still not quite there, fostering a dog can act as a test to see if you're ready to get a new dog. 
Pet Sit or Walk Dogs
Another way to fill the emptiness is to volunteer to walk or pet sit for friends' dogs or sign up on a dog walking site. This will allow you to spend time with dogs without an obligation to the pup.
Conclusion: How Soon Should You Get a New Dog
Deciding whether you and your family are ready to get a new dog after losing your last companion is a very personal decision that should be discussed at length with the whole family.
Don't jump into adding a new family member if anyone is still hesitant.
The human members of your family aren't the only ones that have to work through their grief. Make sure to consider how your other pets are feeling and dealing with the loss.
For those who aren't ready for a new dog, there are other options to get your "dog fix" without adopting. Consider volunteering at your local shelter, fostering a dog, pet sitting, or dog walking.