People who get a new dog after one dies may not feel an immediate connection. It can take time to love a new dog, leaving you wondering whether you will ever love them at all.
These feelings are completely normal and valid, and everyone processes loss differently.
Some may be ready to welcome a new dog weeks later, while others require months or even years.
If you've welcomed a new dog into your life after losing another one, it's important to be kind to yourself.
Going into the new relationship with an open mindset and the right expectations will help pave the path to success.
Just because it's not love at first sight doesn't mean that you won't ever feel love for your new companion.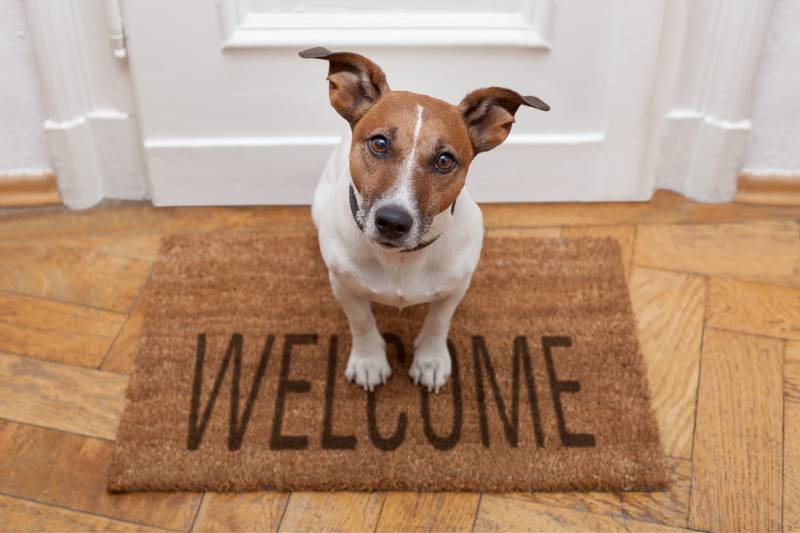 Is It Possible to Love a New Dog Even if You Aren't Over the One You Lost?
The answer to this question isn't necessarily whether you can or can't love a new dog. It's whether you are ready to love a new dog.
Humans have an enormous capacity to love. Opening our hearts to a new pet will only expand the love we have to give.
You must go into the new relationship with the expectation that the love will be different but can be just as strong.
Just as parents may connect more with one child over another, it doesn't mean they love that child more than the others. They just love them differently.
Give Yourself Permission to Love a New Dog
Just because you welcome a new dog into your life doesn't mean you will just forget about the old dog.
You may feel guilty about getting a new dog and feel like you're cheating on or replacing your old dog, but no pet will ever replace the one you lost.
If the dog you just lost was your "heart dog," then it's natural to feel like it's impossible to love a new dog even if you aren't over the one that died.
Some pet owners find that formally honoring the memory of their old dog helps create space for the new one.
How Long Does It Take to Love a New Dog?
Again, there is no cut-and-dry answer to this question. Dogs are individuals, and each comes with their own personality and needs.
You may fall head over heels for a dog you meet at the shelter.
Maybe you bring home a very challenging dog, and it can feel like you'll never be able to love them.
Other dogs might have easygoing personalities and be easier to love from the start.
If you go into expecting the new dog to behave and act just like your old one, then you may never love the new dog.
It's easy to forget about the difficult times with your old dog before they were trained. All dogs have a "breaking in" period and won't be the perfect dog from the start.
Setting realistic expectations and going into the relationship with an open mind will help create room for love in your heart.
Bonding With a New Dog
Building your bond is one of the best ways to connect with a new dog. Even a few short sessions daily will give you the time to build your relationship and develop a bond.
Here are a few ways to get started:
Hand feed your dog all meals through training
Teach your dog some new tricks
Play tug games while working on training
Create boundaries for your dog at home
Develop and stick to a routine
Dogs thrive when they have leadership, so even if a new dog acts out in the first days or weeks in your home, creating structure for them will go a long way as you begin your relationship.
Allow Your New Dog to Acclimate to Their New Home
Remember that going into a new home with new people can be incredibly stressful for a new dog, especially if they are a rescue.
Give your dog space during the first few days at home. Don't smother them with affection and cuddles.
Try to keep the home calm and avoid inviting too many new people over during the transition period.
They may sleep a lot, lack confidence, and will undoubtedly make mistakes as they learn.
Have patience and teach them acceptable behaviors and what is expected of them.
This will show your dog you respect them as they learn to trust you. They may not feel certain that they will love you, either!
In a few weeks, your dog will likely feel more comfortable in your home as they learn the rules and routines. But some dogs will take longer to feel safe.
Conclusion: How Long Does It Take to Love a New Dog
When it comes to welcoming a new dog into your life, there is no "right" or "wrong" timeline.
Some dog owners will be ready to take this step far earlier than others, and that's okay! Be patient with yourself and give yourself time to work through your grief.
As you start to build a relationship with your new dog, don't set unreasonable expectations. Especially if the dog that you have recently lost was your "heart dog."
Focus on establishing a relationship and building your bond a little each day. Your new dog won't replace your previous one, but they can find their own special place in your heart.