If your senior dog has been looking sad lately, you may be wondering what is going on.
Like humans, dogs can get depressed, too. But understanding the signs of depression in dogs will help dog owners catch it before it gets worse.
Sometimes, it can be tricky to tell if your dog is depressed or just sad.
While there is not as much research on dog depression as on humans, dogs display many of the same signs of depression.
Some of these signs overlap with physical concerns or illness, especially if you have a senior dog. This can make identifying the signs of depression in senior dogs even more challenging.
Be sure to schedule a visit with the vet to rule out any medical conditions before you diagnose them as depressed.
The information below will help you determine if your older dog could be suffering from depression.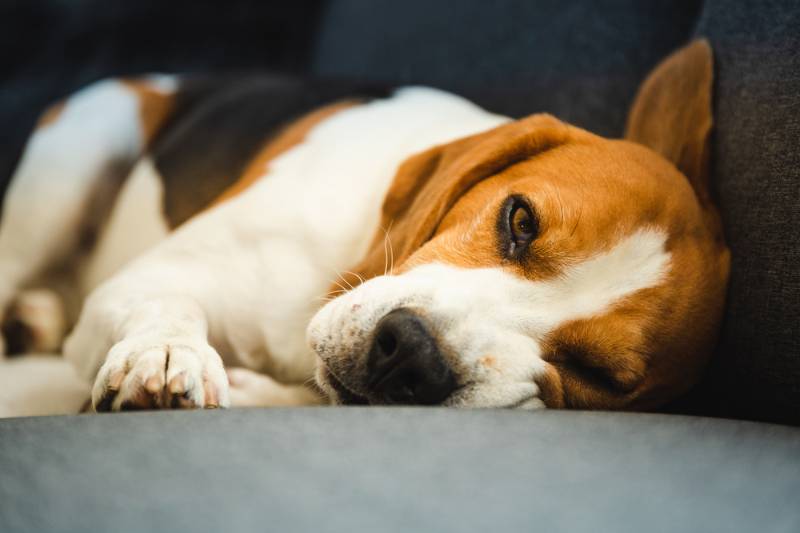 Signs of Depression in Dogs
Identifying signs and symptoms of depression in dogs can be tricky since they can't tell us how they feel using words.
Knowing what to look for can help you identify whether your dog is depressed.
Because the signs of depression and general sadness look the same, it's a good idea to keep track of how long your dog appears sad.
Sadness is generally short-lived. However, if you don't notice a spark in them after a week, your dog might be experiencing depression.
Some dog owners may also assume that their dog is bored. But bored dogs will usually find something to do, whereas depressed dogs will lack the energy to do anything.
The following are common warning signs of depression in dogs:
Sleeping All Day
Dogs sleep 12-14 hours per day, and senior dogs even more. But if you notice your pup sleeping longer than usual, it could be a sign of depression.
Some telltale signs include your dog not reacting when you come home or get out their leash or food bowl.
Note: this can also occur when your dog loses hearing, so it might be worth discussing with your vet.
Behavioral Changes
Depressed dogs can become moody or mopey. They might hide in a corner or dark part of the house, like a closet.
Dogs hide because something is bothering them, whether physical or emotional.
Disinterest in Regular Activities
It's common for dogs suffering from depression to lose interest in their favorite activities like going for walks, hiking, or playing with their toys.
Take note if your dog begins to lack interest in any kind of exercise or play.
This behavior change may indicate another medical condition, such as arthritis or other mobility issues, which could also be discussed with your vet.
Decreased Appetite
Like humans, dogs will lose weight due to disinterest in food.
Pay attention if your dog begins to refuse their favorite treats or leaves meals uneaten.
Conversely, dogs may also eat more food to comfort themselves.
Decreased appetite can also signal dental problems, dementia, or other diseases.
Excessive Paw Licking
Obsessive paw licking or chewing is often a sign of an underlying psychological issue.
Dogs lick or chew excessively as a method of self-soothing.
Why Is My Dog Depressed?
There are several reasons why a dog may become depressed, often due to significant life changes.
If any of the following circumstances have changed in your or your dog's life recently, it could very well cause their depression.
Environmental Changes
Big life changes like a move, the birth of a baby, or marriage to a new spouse can all affect your dog and trigger depression.
Even the weather can trigger depression in dogs, as it does in humans who experience Seasonal Affective Disorder (SAD).
Grief
Dogs mourn death just like humans do.
The loss of an owner, another member of the household, or another pet, can result in canine depression.
A child leaving for college or even a favorite neighbor dog that moved away can also cause a dog to grieve.
Response to Human Emotions
Some dogs are more empathic and can take on the feeling of the humans around them.
For example, if their owner recently experienced the death of someone close, lost their job, or received a bad health diagnosis, their dog may pick up on the feelings of grief of their owner.
How to Treat Dog Depression
Once you have confirmed with your veterinarian that your dog suffers from depression, you can work with them to determine a treatment plan.
While comforting your dog if they are down is normal, you will want to avoid coddling or excessively fussing over them because it might reinforce the sad behavior.
Instead, reward them with treats and praise when they display signs of enthusiasm and improved mood.
While there is no quick fix, there are things you can do to help cheer up a depressed dog, including:
Training
Sticking to a schedule
If your dog is depressed due to the loss of a companion pet, there are a few things you can try to help them navigate the loss.
Consider getting another pet if the timing is right
Foster a dog to test if their mood changes with another animal in the house
Take them for regular play dates with dog friends
If all else fails, talk to your vet about medications.
Dogs can use the same medications used by humans for depression. Be sure to seek a veterinary behaviorist for the proper prescription and dosage.
Keep in mind that it can take a few months before the medication begins to take effect. For most dogs, six to 12 months is the average treatment time for anti-depressants.
Conclusion: Signs of Depression in Senior Dogs
Our senior dogs can experience many physical and mental challenges in their older years.
The signs and symptoms of these conditions often overlap, making it challenging to identify the exact cause. But it doesn't mean that you can't work with your veterinarian to reach a diagnosis.
Pay careful attention to any changes, including physical changes and changes in behavior.
Recognizing that your senior dog suffers from depression is the first step toward offering much-needed relief with a solid treatment plan.