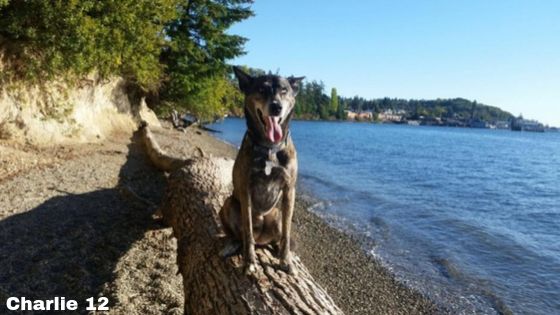 As the years pass it's more important than ever to keep your old dog active, yet the opposite seems to happen! Too many senior dogs are spending their lives on their beds, rather than getting any kind of physical exercise or mental stimulation.
I realise many have mobility issues that make it difficult to be as active as they once were. The good news is, there are plenty of ways to ensure your dog is able to release pent up energy and prevent boredom, no matter their ability.
**There are affiliate links in this post, so if you buy something I may receive a commission. This has no effect on the price you pay.**
Best arthritis pain relief for dogs
Before we talk about all the ways there are to keep your dog active, I thought we should have a brief chat about how to help dogs with arthritis.
Here is a list of medications members of my FB group said have been recommended by their vets. Have a chat with yours and see what he or she thinks. 
Tramadol

Rimadyl

Metacam

Gabapentin

Onsior

Amantadine

Deramaxx

Galliprant

Novox

Luxicom

Cartrophen injections

Adequan injections

Carprophen

Meloxicam
For a detailed list of natural treatment options, please read my article "What is the Best Natural Arthritis Pain Relief for Dogs."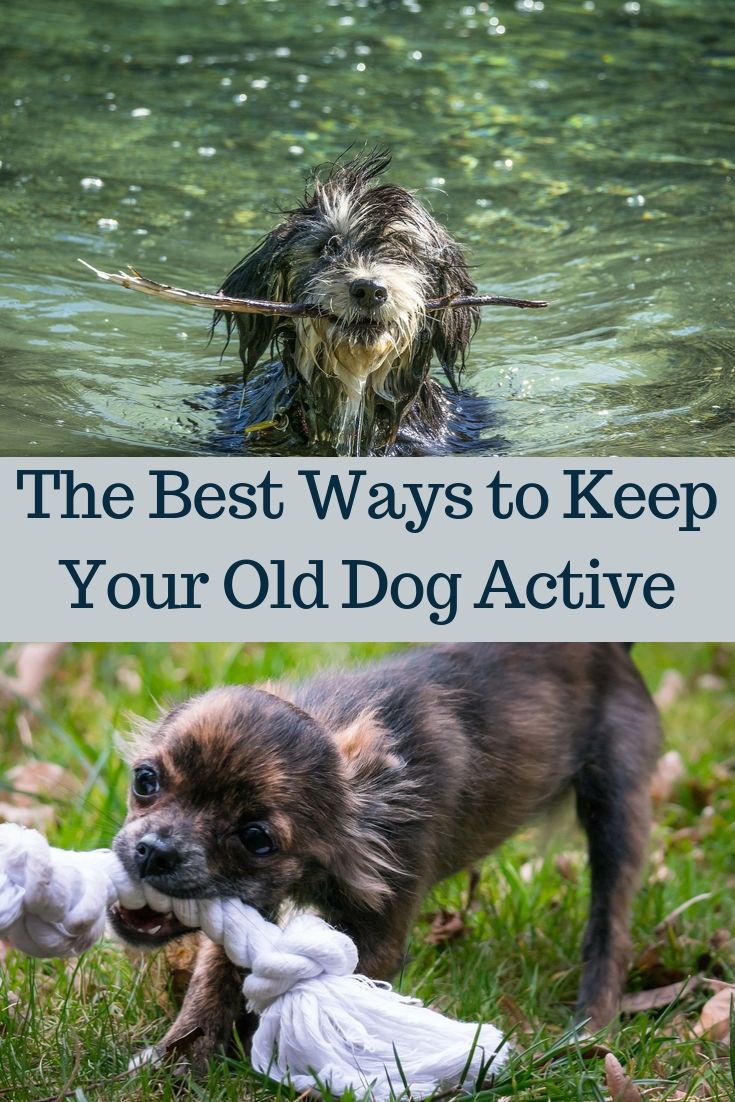 It's about physical exercise and mental stimulation
When we hear the word "active" most of us assume that means physical exercise, and we wouldn't be wrong. However, mental stimulation also plays a big and important role in keeping your old dog active, because it is a great way to help your pup expend some energy. 
No matter the weather, you'll find fantastic tips right here.
Find exercises that suit his level of mobility
Walking and swimming are both great ways to keep your dog active and in good condition. When it starts getting cold and swimming outdoors is no longer possible, search for a doggie swimming pool in your area. Can't find one? How about hydrotherapy!
Older dogs tend to feel the cold more than their younger counterparts, so a sweater and probably a coat on top will be much appreciated. If it's slippery outside booties, leggings or paw wax will make it easier for him to walk. 
It's a lot better to take your dog for shorter more frequent walks, than one long one each day. Not only will it be easier on his joints, it also means he gets out of the house more often. 
Indoor dog park
Indoor dog parks are such a great idea, bringing the fun of the outdoors inside!  

Not every park will offer the same services and amenities but they typically offer things like –

Artificial grass

Park benches

Tons of equipment for dogs to play on

Ball pits

Separate areas for dogs of different sizes

Fresh drinking water

Some even cater to dogs that need training or have issues when the park is quiet

Refreshments for dogs and their people
Arrange play dates
You do it for kids why not dogs? Call a friend who has a dog yours enjoys hanging out with and get together for a walk or visit in your home.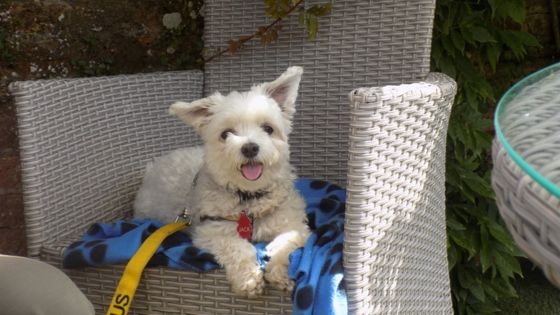 Visit a dog friendly cafe
Of course this qualifies as "active." You can park a bit further away from the cafe and make that one of his walks, and don't underestimate the importance of your dog being out and about.
My husband and I take Jack on many day trips, and this was at a beautiful outdoor cafe we found. Here he is resting under the shade of a tree. 
Take him shopping
Whether you're stocking up on dog food from the local pet supply store, or you need supplies from one of the big box stores, bring him along with you. Some of the places are so massive he'll get a good workout just by following you up and down the aisle. 
Vary your route
Have you and your dog been walking the same route for years? Add some interest to your daily walks by turning right instead of left, walking down a new street or even taking a drive to a park you haven't been to in a while, or ever!
Having new sights to see or smells to sniff may add a pep to your pup.
Teach your old dog new tricks
I don't like to sound like a cliche but it works in this context. Even though your dog is very well trained, set up mini training sessions to go over what she already knows, and teach her something knew.
How about a new toy
Maybe the reason your dog has lost interest in her toys is because she's bored with them, or her tastes have changed. The squeaky toy she couldn't get enough of in her younger days may no longer satisfy her, so what about a plush or rope toy? 
Puzzle toys
A great way to keep your dog busy, they come in varying degrees of difficulty. Buy them or go the DIY route, he'll love them. Check out Pinterest for an unlimited number of easy to make ideas.
Here's one thing you can try, and you probably have everything you need at home.
Take a muffin tin and put a favourite treat in a few of the cups, then cover with a tennis ball or one that is lighter. Your dog will have to remove the ball to get the food.
Play hide and seek
This is a fun way to get your kids involved, and you can play it in a couple of different ways. You or one of the kids hides and the dog has to find you. Bring a delicious treat so you can reward him as soon as he finds you. Or, hide treats around the house and let him find them. This will not only keep him busy for a little while, it will even tire him out.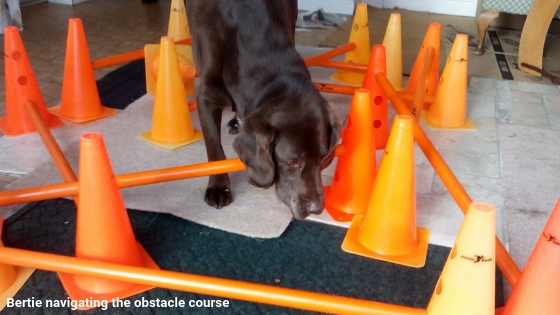 Create an obstacle course
This is perfect for inside or out, and you don't need a lot of space to do it. Here are a few ideas.
Throw a couple of pillows on the floor he has to walk between or orange cones you can find in the dollar store

Rest each end of a broom on a couple of bricks or bowls turned upside down, then let him step over it

Make a tunnel with some blankets or take a cardboard box and cut the ends off

Hold a hula hoop and have your dog walk or jump through it. How high off the ground will depend on his or her mobility 
Hide treats around the yard
Give your dog something fun to do while he's out in the yard, by hiding some treats around for him to find. Remember where you hid them in case he doesn't find them all and you would rather not attract any unwanted four legged visitors. 
Get him on the treadmill
If you live in a harsh climate, and there are many weeks or even months where walking the dog is very challenging, a treadmill could be the answer. It may require a bit of training but consider that part of mental stimulation! If you don't have one there are doggie versions available. 
Mobility aids will help
Whether you're taking a walk, a day trip in the car or playing hide and seek, mobility aids may be just the help your dog needs to get around. 
Here are my top 3!
Ramp
Whether you have a small dog and you find it difficult to lift him due to your own mobility issues, or your dog is simply too big to lift without help, a ramp will be a lifesaver. There are lots of different styles and prices, you're bound to find the one that's best for your needs and the type of car or truck you drive.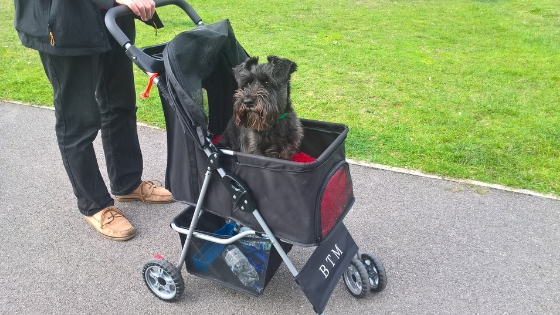 Stroller
This is the greatest invention and one that has helped me so much with my old dog. Red only weighed about 9lbs, but believe me after just a few minutes of carrying her my back would be killing me. Even though we took her lots of places with us before he had a pet stroller, it was so much easier and more pleasurable with it. She was able to walk as much as she could, and when she needed a break would hop in and take a rest. It was also great in crowded areas where being so small meant she could have easily been injured. 
Here are a couple of articles you will find helpful
How to Choose the Right Pet Stroller for Your Senior Dog  
21 Reasons Why You Need to Buy a Dog Stroller
Non skid socks or booties
Whether walking across uncarpeted floors or strolling in the snow, non skid socks or booties will help your dog with traction. If yours is as stubborn as mine was and wearing booties outside was out of the question, paw wax works wonders to protect their feet from salt. 
There you have it, my best advice for keeping your old dog active!
What are you doing to keep your older dog active? We'd love to hear your helpful ideas so please leave them in the comment section below.