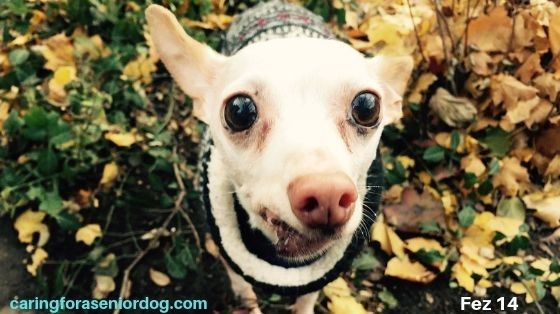 A common question I get asked by senior dog parents is what to feed an old dog with no teeth! The good news is, dogs adapt very well and you'd be surprised what they can gum!
Before we jump into what to feed them, I'd like to take a bit of time and talk about why some dogs end up toothless, or with so few teeth in their old age.
Disclosure: Some of the links in this article are affiliate links (Amazon Associate or other programs we participate in). As an affiliate, I earn a small commission from qualifying purchases.
Common Ways a Dog Ends Up with No Teeth
If you are reading this article, I'm assuming you are the owner of a dog with few, or no, teeth.
If you adopted a senior dog (thank you!), you may have taken on a toothless dog because it's quite common for them to have serious dental problems.
Or you may have just taken your older dog in for a teeth cleaning and were shocked when the vet had to remove most of them.
Either way, you may be wondering what went wrong. Here are some of the most common reasons senior dogs lose teeth.
Neglect by previous owner(s)
Senior dogs surrendered to the shelter commonly have bad teeth.
Their previous owner(s) may have been apathetic to their needs, unaware of an issue, or unable to afford it, never taking their dog in for regular checkups.
Part of regular checkups at the vet is monitoring the health of their mouth and teeth. A veterinarian could have spotted signs of dental disease before it becomes a major issue.
No matter the reason, these old dogs often arrive at the shelter needing extensive dental work and many teeth removed.
Financial constraints
As we all know pet care can be very expensive. The older our dogs get, the more health challenges they may face and the bigger the bill.
Not everyone can afford pet insurance or even know it exists, and they just don't have the means to pay a big bill for dental surgery. It's unfortunate but the reality for many.
I've heard of some vets agreeing to let clients pay over a period of time, but that has never been my experience.
In this case, the tooth loss is not due to malicious neglect. The owner may be aware of the problem and want to do something but simply cannot afford it.
The result is the same though – teeth break and fall out.
For advice on how to save money on vet bills read this ⇒ How to Save Money on Vet Bills: My 22 Tips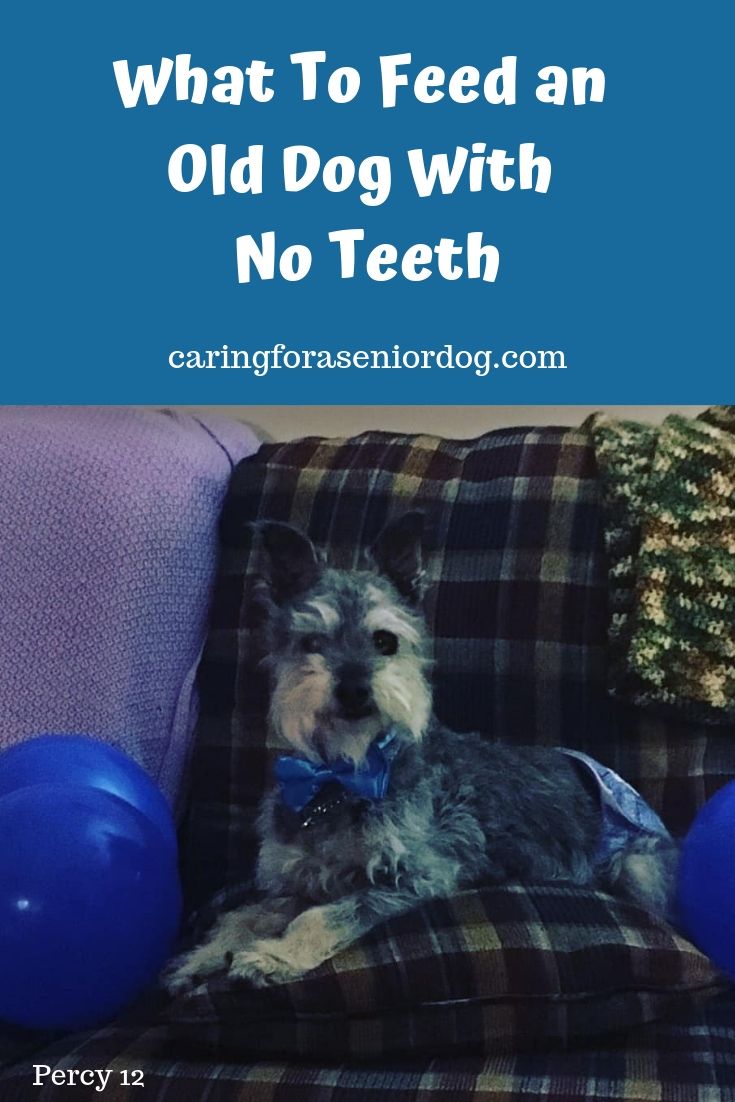 Unaware of the signs of dental disease
Although it's always being said dogs are good at hiding pain, there are signs they will exhibit to let us know they're experiencing mouth pain or discomfort.
Many people don't know or understand what these are. If they did, they could have caught their dog's dental disease in the early stages.
Because they didn't, the teeth were in too bad of shape once the problem became obvious and a veterinarian had to remove a dog's teeth.
If you want to keep an eye out for signs of dental issues, watch for these things:
Bad breath

is one easy to recognize indicator of a problem, and doggie breath isn't natural
Loss of interest in eating
Not chewing on a favorite toy
Pawing at the mouth
Won't let you near his mouth
Swallows without chewing
Favors one side when eating
Less interested in playing
Drooling
These signs are especially concerning if it's a sudden change (ie. they didn't do it before but your dog started doing it over a period of a day to few weeks)
If Your Dog Still Has a Few Teeth…
Again, you have likely arrived on this article because your dog is missing many, if not all, of their teeth.
If your dog still has some teeth left, it's important to take care of them so they can be retained as long as possible. More teeth means it will be easier for your dog to eat their food.
Here are some suggestions on keeping the rest of your canine's canines (get it!!) in good condition.
Brushing
It would be great if you could brush your dog's teeth every day, but if not then try and do it as often as possible.
There are a few styles of toothbrushes for dogs, so you should find something he agrees to…unless he's like mine!!
Single head
Like the name suggests, this kind of dog toothbrush has one head on the end.
My favorite is the double-sided soft silicone gentle dental brush.
The silicone bristles help massage their gums and they may like the feeling more than standard bristles.
Double ended
This style has a large head on one end and small on the other to suit various size dogs, which makes it a great option for multi-dog households with both little and bigs.
This simple and inexpensive double-headed dog tooth brush will do the job.
Three sided
This style basically has 3 brush heads, all on the same end of the tooth brush, that are arranged at different angles.
The brush heads allow you to clean all sides of your dog's teeth and gums – the top, inside, and outside – at the same time with one brush stroke.
I like this one best because it also has a soft-grip handle.
Finger toothbrush
The brush looks similar to a sewing thimble and fits over your finger.
The thimble part is usually made of silicone or microfiber. The bristles may be standard or silicone.
This is what I used for my old dog Red. She was so difficult but I found I had a tiny bit more control with a finger brush. 
You can purchase the ones I had the most success with HERE.
Electric
Yep, an electric toothbrush for dogs actually exists!
As with human versions, benefits include:
Better at removing plaque and tartar
Since they do more of the work for you, they may be easier for people with limited mobility
Used properly, they are gentler on the tooth enamel and gums
Increased blood flow in gums to helps to improve general dental heath
Some have a built-in timer to help make sure you are brushing for long enough
There aren't a ton of options out there but the ones on the market do vary quite a bit in quality, how they are configured, and cost.
Here are some of the best options in my opinion:
Mira-Pet Ultrasound Toothbrush for Dogs – well made and probably one of the best on the market. It received a 4/5 rating on Amazon.
Petosan Sonic Pet Electric Toothbrush – this has a 2-sided configuration so that you can clean both sides of the teeth at the same time.
Gentle sonic toothbrush made for humans like the Philips Sonicare ProtectiveClean – If the product is not made specifically for pets, I have to include a "use at your own risk" disclaimer. I know several people who switch the head out and use their sonic toothbrush on their dog though.
Remember though, before going anywhere near your dog with it, turn it on to check the noise level because too loud could scare him.
Some claim to be silent but aren't really.
This type of toothbrush may take some more training to get your dog used to the sound and feeling.
IMPORTANT: You will need to use toothpase when brushing your dog's teeth. Please Buy doggie toothpaste or make your own, NEVER use the human kind.
Getting your dog used to a toothbrush
Some dogs will let you do anything, including coming at them with a foreign object and sticking it in their mouth!!
However if your dog is like mine that's never going to happen.
Here are some tips to help you get best results –
Do it when he's tired after a long walk so he's calmer
Choose a quiet spot
Depending on the size of your dog, and of course the position he's most comfortable in, hold him in your lap or sit next to him
Rub your finger, a soft cloth or even a flat cotton pad over the outside of your dog's teeth first.
You don't want to stick your finger in his mouth right away in case he decides to show you how much he doesn't like what you're doing!!
Start with just a few teeth at a time and take it from there.
Once your dog is comfortable, put a tiny drop of toothpaste on your finger and let him lick it off.
Don't be discouraged if he hates it, there are a few different flavors you can try.
Now you're ready to put some of the paste on the cloth, and gently rub it on the outside of his teeth and gums
Once he's loving it, okay tolerating it, you can try using a toothbrush.
If he resists all attempts and you've tried all the styles, carry on using the cloth. He will still benefit from it.
It is important to do this "training" very slowly and gradually.
If you rush he may not let your near him again, so take your time and don't move on to the next step until he's totally comfortable with what you've been doing
Be sure to give lots of praise, whether that's a healthy treat or a favorite toy, whatever motivates him.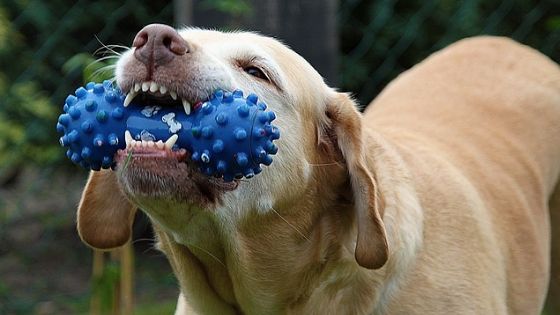 Other ways to care for your dog's teeth
Dental wipes
Dog dental wipes are similar to a finger toothbrush but they are often just a think piece of cotton or microfiber.
There are no bristles – the cleaning action comes directly from the fabric rubbing on the tooth surface.
This can be a way of "brushing" without it feeling as foreign to your dog.
Chew toys
Textured chew bones, rubber bones, chew toys and rope toys are great additions to your dog's oral hygiene routine.
The act of "gnawing" helps scrape the teeth, remove plaque and stimulate the gums.
The benefit of a toy over an actual food product is the lack of calories, and no ingredients that might be forbidden in your dog's diet.
Keep things interesting by switching between toys.
Dental chews
Dental chews are longer-lasting treats that are made with ingredients that benefit dental health.
If you are unable to brush your dog's teeth, then I highly recommend trying dental chews.
Even if you do brush they can further help your dog's teeth and relieve boredom.
When deciding which chews to buy, walk away from any with an ingredient list as long as the packaging or which contain ingredients impossible to identify.
If your dog has diet restrictions, check the ingredients with your vet first.
For dogs with diet restrictions, or a sensitive stomach, WHIMZEES Natural Limited Ingredient Dental Dog Treats is a great choice.
Never leave your dog unattended when he has a bone or a chew.
Food additive that help loosen plaque
My all-time favorite dental supplement, and one I've used successfully for years, is ProDen PlaqueOff® Powder.
According to the company website, PlaqueOff is an "all natural food supplement that naturally helps oral health for dogs and cats with a specially selected algae harvested in the North Atlantic from specific areas. 
ProDen PlaqueOff® Powder is free from additives and artificial preservatives and contains no gluten or added sugar."
I sprinkle it every day on my dog's food and he doesn't even notice, which is a good sign considering how picky he is.
Water additive
A "mouthwash" added to your dog's water bowl is another worthwhile product, but should not to be relied on to be effective on its' own.
It's great to supplement brushing, or other methods of keeping your dog's teeth clean, and help as a breath freshener, but they won't visibly reduce your dog's plaque if it's the only thing you use.
Do be aware that a water additive may alter the taste of the water, but my dogs have never had a problem.
If you notice your dog drinking less or not at all, stop using it right away. Keeping your dog well hydrated is crucial.
Raw food diet
I know, I haven't gotten to the "what to feed your old dog with no teeth" section yet. I'm not jumping ahead with this.
I'm including this here because there is evidence that a dog that eats raw food has a lower incidence of dental disease, although that does not mean dental disease never happens.
Gnawing on raw meat acts as a natural toothbrush, and chewing on raw bones can help remove tartar.
Please don't run out and buy raw meat or bones without consulting a holistic vet, or your regular vet to determine if it's right for your dog.
When It's Too Late for All That
If your dog has very few, or no teeth, already, no worries.
You came to this article to help figure out what you can feed your dog so here is my advice.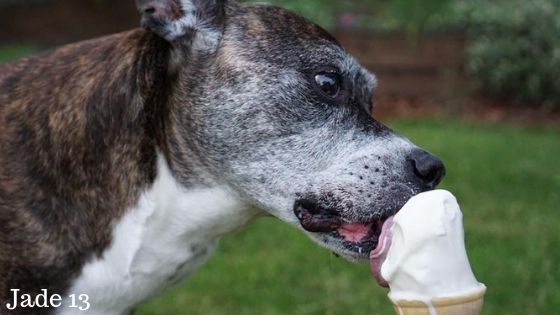 What to Feed an Old Dog With No Teeth
I'm going to be talking about the types of food, NOT the brand and the reasons are simple.
First of all, there's a pretty good chance you can keep using the same food with a couple of minor adjustments as I will discuss in a second
Second, if you are interested in switching brands, there are so many to choose from it requires research and a whole separate article.
First you should think about the type (dry, wet, freeze dried, dehydrated, raw) then start researching brands and the quality of their ingredient list.
Dry food
If your dog has been eating dry food missing teeth shouldn't stop him, you may simply need to adjust the way you serve it.
Grind in a food processor or coffee grinder
Add warm water, chicken broth or bone broth to the chunks to soften
Wet food
Some pet parents choose to switch their dogs from a dry food to wet, because they feel it would be easier to eat.
Many canned varieties come in a pate which is very smooth so you shouldn't have to do anything to it.
If your dog is struggling, adding a bit of water will make it even smoother.
Others come with chunks of meat and/or vegetables, in which case you may try either cutting it into smaller pieces or blending it in a processor to make it easier to manage.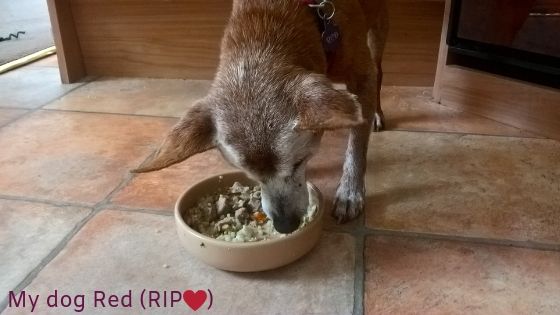 Homemade
While there are many articles promoting the benefits of a homemade diet, there are plenty of others questioning whether or not it can satisfy the nutritional requirements of your old dog…or any dog for that matter.
Can boiling up a pot of chicken soup or stew really be nutritious enough?
If you have your heart set on homemade here are some options –
How about ordering from a company that prepares fresh dog food, and delivers it straight to your door? One such company is Nom Nom Now.
I have never used this company because their products are not available where I live, but I know a of people that have used this service and are very happy with it.
Check out the book by Dr. Karen Becker called Real Food For Healthy Dogs and Cats.
I'm a fan of her approach to pet healthcare, and I would use this as a guide if it's a route I wanted to go down.
Consult a canine nutritionist to help you formulate a diet specific to your dog's needs.
Boil chicken, veggies, maybe even some rice and/or quinoa and add a small amount to your dog's existing diet. He will still get all the nutrients he needs, with some variety.
If it's not soft enough, you can always puree it if needed. Be sure to check with your vet to make sure all the foods you're using are okay for your dog to eat.
Helpful tip – Cook in big batches and freeze. Last night I made a massive pot of chicken breasts, carrots, sweet potato, squash, peas and green beans, then when it was cool froze it in containers, and I did the same with the "soup." I then mix it with his regular food.
Raw
Another option is raw dog food.
As with everything there are those who think it's the only way for our dogs to eat, and others who don't recommend it for every dog.
It's worth researching, but in terms of ease of eating it's smooth so it could work since it would be the consistency of wet food if it was ground up enough.
Freeze dried patties
Another form of raw food, freeze-dried patties can be broken up into tiny pieces and reconstituted with water.
This makes them a soft food alternative that may be tastier to your dog (because it tastes more like fresh meat).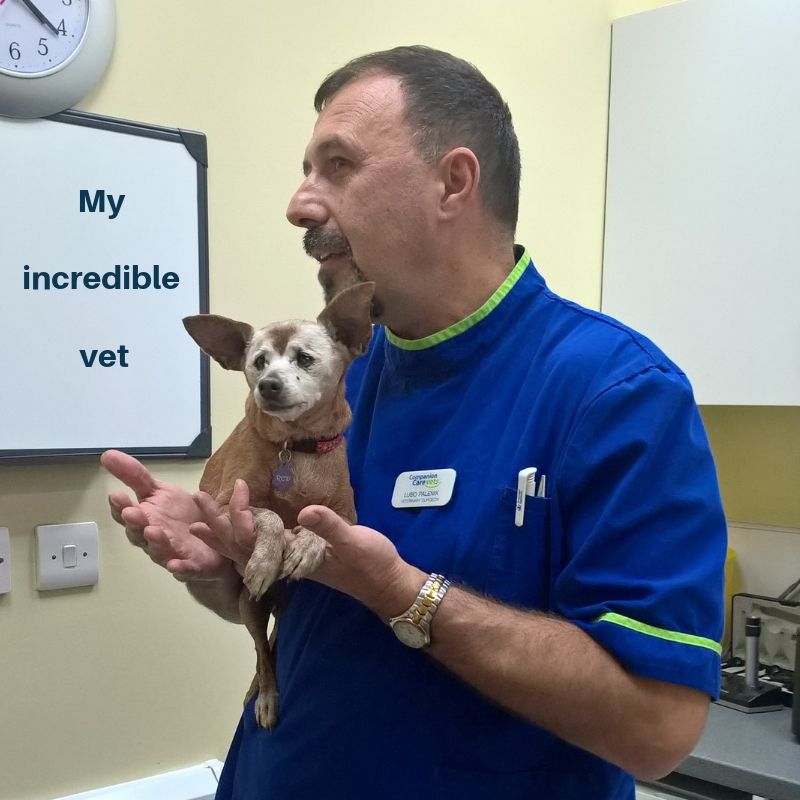 Speak to your vet before switching foods
If you've had to make adjustments to your dog's diet, have a chat with your vet about any supplements he recommends you add.
If your vet isn't helpful when it comes to nutrition, a canine nutritionist may be.
Weighing your dog periodically is also important to make sure she is maintaining a healthy weight.
Treats
Your dog's favorite crunchy treats may no longer be an option, but your pup can still get rewards for being the great dog he or she is!!
Here are some alternative treats you can try.
Fat free cottage cheese
Xylitol free peanut butter
Crumbled, single ingredient freeze dried treats (I like them because they don't have fillers or a lengthy list of ingredients my dog doesn't need)
So there you have it! I hope you found this post about what to feed an old dog with no teeth helpful.
How has your dog adapted to tooth loss? Have you changed his/her diet? What do you feed your dog now? Sharing helps others so let us know in the comments.