There are a lot of older dogs needing homes, but many people don't consider adopting a senior dog because of the associated myths about their age.
Old dogs, however, can make excellent companions.
Typically, dogs are considered seniors around the age of seven, but it depends on the size and breed.
Larger dogs tend to age more quickly than smaller ones.
Common reasons senior dogs are surrendered are due to the death of an elderly owner or one that had to move to an assisted living facility that does not accommodate dogs.
Other reasons include financial hardship, divorce, or the birth of a child.
Unfortunately, senior dogs are not adopted at high rates, so they are more likely to be euthanized to create space at shelters.
If you've considered adopting a senior dog, this article will help you understand what to expect and provide advice if you decide to welcome an old dog into your home.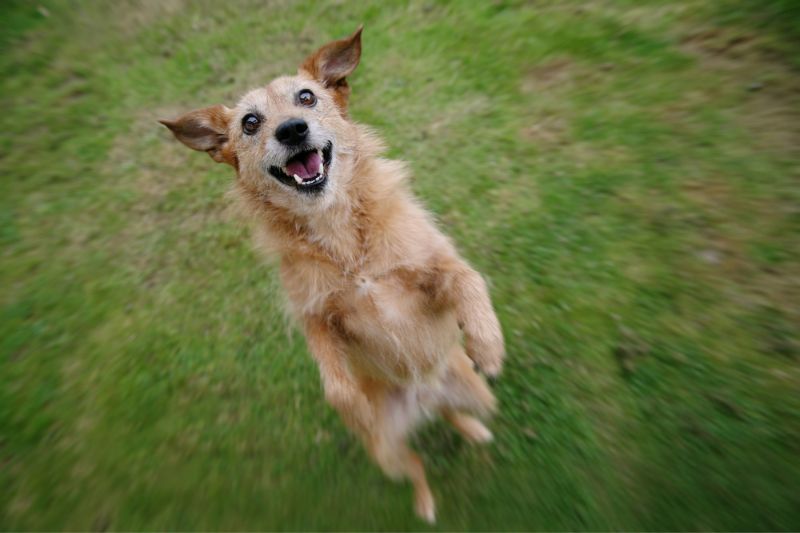 Pros and Cons of Adopting a Senior Dog
Like with any new dog you bring home, no matter the age, the decision will have pros and cons.
Weighing the advantages and disadvantages will help you understand whether you should adopt a senior dog.
Benefits of Adopting a Senior Dog
One significant advantage of adopting a senior dog is that you can bypass the puppy stage.
While puppies are undoubtedly cute, they're also a lot of work and require a ton of attention. The period immediately after bringing a puppy home is not called the puppy blues for nothing!
An older dog may still need some work, but they are generally great options for those with less time on their hands.
Senior Dogs Often Come Housetrained
An older dog has likely been housetrained, though also important to understand that this isn't always the case. It's not uncommon for surrendered dogs to have spent their lives tied up in a yard or with owners who didn't take the time to train them.
You Know the Size and Weight of the Dog
Provided the dog isn't over or underweight, when you adopt a fully-grown dog, what you see is what you get in terms of weight and size.
Older Dogs May Have Lower Energy Levels Than Much Younger Dogs
Unlike a puppy or adolescent dog, dogs over a certain age will likely be less energetic.
Keep in mind that less energy doesn't mean old dogs are content to just lie around on the couch all day. They still require daily physical and mental stimulation.
May Come With Some Basic Training
Ideally, adopting an older dog means that you won't have to train everything from scratch. However, many dogs are never trained with proper house and behavior manners.
Cons of Adopting a Senior Dog
Depending on the age and health of the dog you choose to adopt, there may be some additional management for things like medication or disabilities that will require extra time and effort on your part.
Old Habits Can Be Tougher to Break
Since a senior dog will be accustomed to behaving a certain way in their previous life, it may take them longer to learn the rules of your home.
Exercise patience and communicate clearly.
They May Have Mobility Issues
It's just a fact of life that as we age, so do our bones and physical limitations.
Older dogs can have arthritis, hip problems, or other mobility issues that limit their movement.
You may need to purchase ramps or harnesses to help them reach higher locations, like the car.
Alternatively, they may require low-impact exercise like swimming instead of long walks.
Older Dogs Are Likely to Have Health Issues Sooner Rather Than Later
As we age, things in our bodies stop working as well as they used to.
Older dogs may develop diseases or illnesses that require regular medical attention, with the cost to go along with the care.
Your Time Together Is More Limited
Yes, this is a grim thought, but it's the truth and something you need to acknowledge as someone considering adopting an older dog.
Shorter time together doesn't mean less quality time. Make the most of your time together, and don't focus on the brevity of it all.
7 Tips for Adopting a Senior Dog
If you go into your senior dog adoption with the right preparation, the transition will go much more smoothly for both you and your new dog.
The following tips will help set your expectations during the first several weeks after you bring them home.
Never Assume That a Senior Dog Is Trained
One of the main reasons dogs are surrendered is due to behavioral issues. Many behavioral problems can be addressed with proper training.
Before bringing your new dog home, have a training plan in place for them and take note of the skills and behaviors they need to learn so you can tackle those right away.
Prep Your Home Just as You Would Any New Adoption
While puppies are notorious for their curiosity and chewing everything in sight, any dog can be destructive, especially if they have had no structure in their past life or are stressed about living in a new environment.
Keep food, toys, shoes, and anything else you value or that could lead to a veterinary visit off the floors and out of access from your dog.
Exercise Patience
With many years of life behind them, your new old dog will likely take some time to learn the rules of your home, especially if the rules differ from those set in their previous life.
Depending on their health, they may also walk more slowly or take longer to accomplish tasks that a younger dog can do in a snap. Walks may look more like sniffaris than five-mile hikes.
Give the Dog Space and Time to Adjust
The process of being surrendered, having to live at a shelter for a while, and then going to live in a new home can put a lot of stress on a dog.
Refrain from doting too much on them in the first couple of weeks, and give them time and space to familiarize themselves with your home and the family.
Consider Physical Needs and Limitations
In addition to ensuring that any chewable objects are out of reach, you will also want to make your house senior dog friendly.
What that means is considering your dog's needs based on any physical limitations.
For example, you may need to buy a ramp for the car or bed or purchase a few baby gates to prevent your dog from bounding down the stairs where they could fall.
If your new dog has incontinence, make sure to have the right products.
Get the Right Supplies for a Senior Dog
Older bones require a little more comfort. They tend to feel cold, heat, and hard surfaces more than younger pups.
You can help them feel cozy in their new home with a few must-have senior dog supplies, like a memory foam bed, extra blankets and jackets, and heating pads.
If your dog is blind or losing their vision, get them some toys that visually-impaired dogs will enjoy.
Introduce Your New Dog Slowly to Other Pets in the Home
Ideally, you will have introduced any current dogs in your home to the potential new dog in a structured manner before deciding to bring them home.
Proper introductions look like side-by-side dog walks in neutral, where the dogs barely interact, aside from a few quick butt sniffs after some time walking together first.
Initially, you will also want to keep the dogs separated in the home, allowing them to rely on scent to get to know one another.
You can crate the original dog in a separate room to allow the new dog to explore the home a bit.
How to Adopt a Senior Dog
For the most part, you can search for a senior dog like you would any other adoption.
The adoption process will require you to fill out an application, answer some screening questions, and pay an adoption fee.
If you're unsure where to start, here are a few places to look.
Search for Animal Shelters in Your Area
Animal rescues have dogs of all ages. The staff will be happy to learn that you're looking for a senior dog, and they'll be happy to keep an eye out for you. Many list adoptable dogs on their site, Facebook, or aggregate sites like Petfinder.
Speaking of Petfinder…
These days, it's easy to find a dog just about anywhere, thanks to adoption databases like Petfinder and Adopt-a-Pet. 
You can insert the breed, size, age, and other descriptions to help locate your ideal dog.
Look For Senior-Specific Rescues on Facebook
Facebook groups are a great place to find very specific dog rescue niches. Admins will regularly post photos of adoptable dogs.
Some groups are not location-based, while others are.
Other Ways You Can Help Senior Dogs
If you're not ready to commit to adopting a senior dog or want to do a test run to see if it's something you would be interested in doing in the future, there are several ways to help senior dogs without having to bring one home.
Volunteer
Animal shelters are always looking for volunteers.
If you're thinking about adopting a senior dog, consider donating your time to a senior dog-specific organization so you immerse yourself with older dogs.
Foster
There's no better way to determine whether a senior dog is right for you than to do a test run with a foster.
Looking after a dog until they find a new home will give you hands-on experience with a senior dog.
Share Info on Social Media
If you're still not ready or have just decided that a senior dog is not the right choice, you can still help by sharing senior dog profiles on social media.
Conclusion: Adopting a Senior Dog
Adopting a senior dog comes with both life-changing benefits and heart-breaking challenges. It is a decision that you should take seriously.
If you are welcoming a senior dog into your home, be prepared with plenty of patience.
They may move a little slower, and their time with us is limited, but in that time, they will bring so much joy into your life.