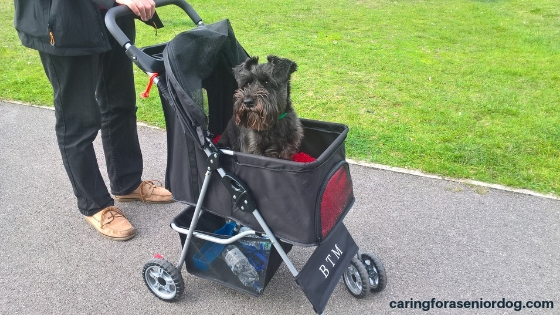 I think pet strollers for dogs are the greatest invention, so it made sense to write about why I believe senior dog parents should buy a dog stroller.
Considering how fantastic I think they are, I guess I really shouldn't be surprised I came up with 21 reasons!
I must admit that when I first saw a dog in a stroller, I had a mix of emotions. Actually, I think it was less of a mix and more of a judgment.
My first thought was how funny it was, then ridiculous, then I chastised (in my head, not out loud) the woman pushing the stroller, ranting about now letting her dog's paws touch the ground, he's not an accessory, blah blah blah.
After carrying my dog around for a couple of years and getting a backache every time, I realized I was going to get the very thing I thought was ridiculous. And I did and I love it!
Last Updated: May 20, 2023
Whenever I took my senior dog out in her stroller, I always got tons of looks and comments.
At first I felt uncomfortable being the focus of so much attention. But then it was pointed out to me that I was helping a lot of people by being out and about with it.
Pet strollers are still not that well known where we live. Many people have told me they thought it was a brilliant idea and could use one for their dog.
I can only hope many more dogs will get out now than they would have if their parents hadn't seen me.
Because I am in love with senior dogs, I automatically gravitate towards them, yet I have often commented about how few I actually encounter on my walks.
If they feel stuck close to home due to mobility challenges, seeing my stroller may spark the "ah ha" moment that gets more seniors out in the fresh air!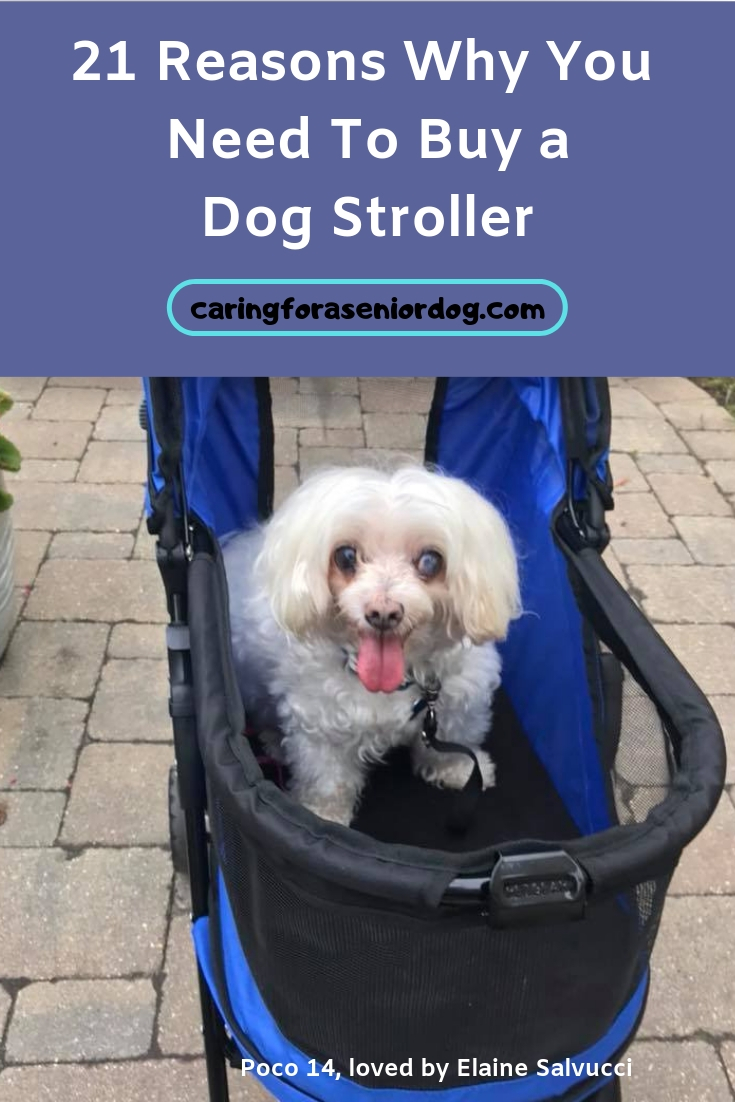 Disclosure: Some of the links in this article are affiliate links (Amazon Associate or other programs we participate in). As an affiliate, I earn a small commission from qualifying purchases.
Here are my 21 reasons why you need to buy a dog stroller
1. Senior dogs will no longer get left behind
Senior dogs, or "settled," as I recently saw them referred to, don't have to get left out when the rest of the family are off for a day of fun.
On weekends when the weather is nice, my husband and I like to go for a leisurely stroll along the beach or to a more remote location where I can let our dogs off the leash for a good run.
Before opening my mind to the use of strollers for dogs, this often meant that someone had to stay home because I didn't want to leave my senior dog alone.
This is especially true for those with a dog suffering from separation anxiety or dementia. (Or those that simply want an excuse so they don't have to go – I see you! I've done it too.)
Once I got the pet stroller, I loaded it up with all our supplies, stuck her in it and off we went. She got to come out with us and enjoy a few hours of sunshine.
There are even different stroller options to suit any adventure – like a dog jogging stroller with wheels better suited for moving down the street with little resistance or a dog wagon stroller that doubles as a breathable, shaded kennel on your next beach outing.
2. Injured dogs
Injured dogs may not be able to go for walks, but they still need fresh air.
Your top priority is to do what you can to ensure your dog heals properly. But boredom and frustration aren't healthy.
Ask your vet if it would be safe to take him out in the stroller for a change of scenery.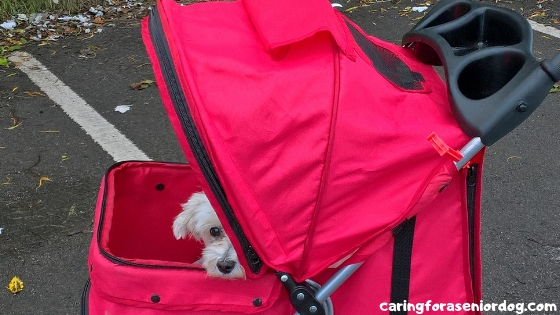 3. Recovering from surgery
A similar scenario to the one above but equally important to address is a dog recovering from illness or surgery.
Dogs get bored without physical exercise and mental stimulation, leading to behavior issues. This can also cause stress and anxiety in your dog.
Taking them out into the world, even if it's just in a stroller, is a help. All with your vet's approval, of course!
If you have a larger dog, you can purchase a specialized dog stroller for large dogs, providing plenty of space to rest comfortably and accommodate any braces or other medical gear during your outing.
4. Easier than a carrier
Carriers can be quite awkward or heavy to carry for the average person. This is an even greater struggle if you have physical limitations preventing you from lifting heavy objects.
Rather than trying to carry your dog, a stroller makes it easy to travel from point A to point B.
5. Longer outings with your dog
If your dog is not able to walk for as long as he used to, a stroller is a great option.
It is the perfect compromise for those times when you would like him along for a day out, but you know he (or she) won't have the stamina.
Let your dog walks as much as he wants or can, then let him hop in when he needs a break.
6. Visits to the vet
Do you live within walking distance of your vet? Would you, at times, like to be able to get that nice long walk in, but it's a bit out of range for your dog?
Get your dog, grab your stroller, put your sneakers on, and start walking.
Before we moved, I had a wonderful vet I loved so much that I would make the trek to our old hometown just to see him. Getting there by car was hellish, so public transport was the best and quickest way.
Whether you need to navigate a bus, a subway, or even just a long walk across town, a dog stroller will make it possible to head to the vet without even starting the car.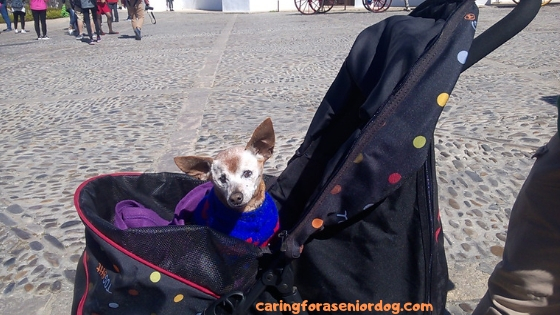 7. Events or large gatherings
Are you planning on attending a festival, air show, or other outdoor event? If so, a pet stroller is not only convenient, it may also be the best safety tool.
Even if your dog is able to cope in large, noisy crowds, there is a real risk of injury, no matter what size he is.
He could easily be stepped on or react and bite someone if frightened.
Small dogs are often overlooked or unnoticed, putting them at a higher risk of injury at these events. A dog stroller for small dogs will keep them safe and contained.
Your dog's stroller can also be a secure place to keep your belongings.
Unless your dog is wearing a harness, the commotion could cause him to slip out of his collar and run off.
Large crowds and festivals also mean plenty of spilled drinks, dropped fries, and other harmful foods on the ground. There is enough temptation for your dog to have a field day and get quite ill with pancreatitis, for example.
It's too risk, especially if he has dietary restrictions.
8. No more excuses not to exercise!
Walk at the pace you want until your dog is too tired, then treat him to a ride without you having to end your workout early.
I admit I am sometimes lazy when it comes to exercise. We all have our "off" days. Using a dog stroller eliminates the easy excuse that your dog is done for the day.
Plus, it allows you to pick up the pace of your walk or even go jogging without worrying about pushing your dog into an activity they aren't comfortable with.
Another exercise-related benefit of using a stroller is that it may offer some resistance to work your arms a little during your walk.
9. One slow dog/one fast dog, or one big dog/one small dog
For all of us who have more than one dog…. how often do you have dogs that walk at the same pace? I never do, that's for sure!
This scenario has "pet stroller" written all over it.
Let them walk together as long as they can. When one runs out of steam, let him recharge in the stroller without compromising your other dog's walk.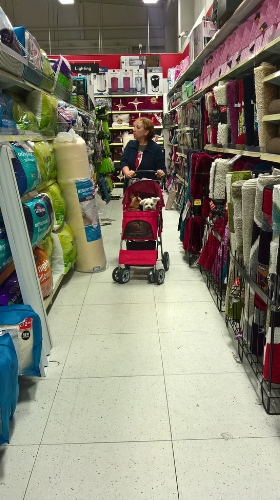 10. Access to "restricted" places
There are shops where dogs are welcome and others that will only allow you to bring a dog in if you carry him.
I don't know if you've tried it, but carrying a small dog while looking at clothes or trying on shoes without letting their feet touch the ground is no easy task.
By investing in a dog stroller, you are opening the door to bring your dog along with you when visiting these locations.
Of course, always pay attention to the signage and rules – there are many places where dogs aren't allowed even if they are riding in a stroller.
11. Charity fun run
Fun runs and charity events are often organized with the whole family in mind. Of course, that means including your dog (or cat if he or she is that laid back).
These events last several hours, and rather than rushing home because you left the dog alone or leaving him alone for an extended time, bring him along.
In the past, you may have hesitated because you knew crowds and noise would get to him. But now that you've discovered the many uses of the pet stroller, he can join in too!
Put the sunshade down and zip the mesh screen up for some quiet space, creating a mobile den for him!
12. For people who live in extremely congested areas
If you live right in the heart of a bustling city (picture London on a Saturday in the summer, or any day really, or the crazy busy streets of Manhattan), it can be challenging to walk your dog, particularly if you have a small one.
He can get hurt with so much pedestrian traffic, especially if people don't see him.
Given how wrapped up people get in themselves, it's not a difficult scenario to imagine. Often they have no clue what's going on around them.
Your dog may get so nervous that he develops anxiety and avoids going out altogether.
Of course, a harness sounds like an excellent idea in this type of environment. But a stroller may be an even better and more secure solution.
Use it until you get to the park or a nice quiet area, let him out to walk, and use it again when you reach the busy streets.
13. Traveling on a ferry or boat
Some dogs don't like the feel of the gangway or dock surface.
Short of dragging them (which you should never do), you either carry them or use a stroller to easily transport them on and off the ferry.
Keeping your dog confined in the stroller during the trip is also a safe thing to do. If it's a new experience, he may feel anxious or overwhelmed by the sights and sounds.
Keeping him in the stroller will make it a more pleasant voyage for everyone and give him a feeling of security.
14. Transporting foster puppies or kittens
If you foster puppies or kittens and are back and forth to the vet or shelter, you know how heavy a carrier can get.
Imagine how much easier it would be to wheel them around in a stroller.
Try using a large dog stroller or wider pen-style stroller to transport several puppies or kittens at the same time with ease. It can save you both time and energy!
15. Multi dog households
Of course, the stroller cannot and should not replace proper scheduled walks. Now that I've gotten that off my chest…
At times, when you're headed straight to the dog park, it can be a bit of a nightmare trying to get them there because they are all going in different directions.
Sticking one or all of them in a stroller and wheeling them to the park may come in handy.
I should add that some leash training, done with each dog individually, may be in order. Ideally, you should be able to walk your dogs nicely to the dog park, but who lives in an ideal world?
16. More quality time for you and your pup
Having the option of putting your dog in a stroller means you can bring him more places with you.
Locations that may not usually allow dogs may welcome a well-behaved one sitting quietly in a stroller. More outings together, more quality time together.
17. Take your dog to work day
Does your workplace have a "take your dog to work day?" Do you run your own business and make the rules?
Either way, having a stroller gives your dog a little den to rest in, and it's much easier than dragging beds and blankets with you.
Throw a blanket in the stroller for extra padding, and you have a ready-made rest area.
Using your dog stroller will also make it easy to keep your dog safely contained while you focus on the task at hand, allowing you to still be productive during work hours.
18. Use it while visiting friends and family
If you're visiting friends or family, especially if they have small children that are starting to annoy your dog, the stroller will serve as a nice little escape.
The same thing could be said for other dogs in the family that may sometimes be a little "too much" for your dog.
Avoid cutting family outings short by allowing your dog to walk as much as he can when you go out, then place him in the stroller to be wheeled the rest of the way.
19. Paw protection
Burning hot concrete around the pool – we've all experienced that pain! Imagine how your dog must feel walking on hot pavement.
What about salt on the sidewalks? Dogs living in colder climates like Canada face this struggle all winter.
Walking outdoors can cause a burning sensation on their paws from road salt.
Depending on the amount of snow on the ground and the type of stroller you buy, it may be a great solution. But stick to the cleared sidewalks and roadways to avoid getting stuck!
20. Evacuation in case of emergency
Whatever the emergency, if you find yourself in a situation where you must evacuate, putting your dog in a stroller may be the safest way to transport him.
This eliminates having to keep looking to ensure he's with you and hasn't gotten out of his collar because of the commotion.
Your stroller should have a clasp that hooks onto your dog's collar or harness for added security.
If your stroller has a mesh panel attached to the sunshade, lower it and zip it all the way around so it's secured to the stroller, and your dog cannot jump out if he gets anxious.
21. Shade from the sun
For those of us who have lived in tropical or semi-tropical climates, we know the rules about taking our dogs out early morning and later in the evening when it's "cooler."
Heatstroke is no laughing matter, and too much time spent outside in extreme temperatures can be dangerous.
Taking your dog out in a stroller to a shady location will allow him to get much-needed exercise but also get him out of the sun if it gets too much.
Conclusion: Should You Buy a Dog Stroller?
By now, I think you realize how much I love pet strollers and how much we have benefited from using one.
They are a great way to address mobility concerns in older dogs by allowing them to continue enjoying your family time, even if they can't "keep up" the way they once did.
You can also use a stroller as a safe, secure way to transport your dog in busy, public settings.
I do want to make one quick mention. It's always safer to keep a harness on your dog. when they are in the stroller, clip a leash onto the harness and hold it in your hand.
This way, if something does scare him or he doesn't want to ride anymore, he can't just jump out.
If you've been on the fence, I hope this list of reasons to buy a dog stroller has been an eye-opener and that you have seen just how beneficial one can be.