The best invention, as far as I'm concerned is the pet stroller.    
One of the best things I've done for Red, other than all the other "best" things I do for her, was to buy her a doggie stroller. I write this in the hopes others will see the benefits to their own dogs. 
How a stroller makes outings more enjoyable for us
Before I discovered dog strollers, or I should say before I decided to look into what they were all about, my husband and I would go for day outings, and literally carry Red with us. She weighs less than 10lbs, but after a few minutes it would feel more like 100lbs. Red of course can walk, but she's blind and older so walks very slowly, and short distances.
Things got so much easier once I bought a stroller. We've taken it on the bus, the train, walks around the neighbourhood…  
On the weekend (when it's nice out of course!), we like to take a nice long walk along the beach, sit on a bench, let our other dog Jack run around the park. I no longer have to carry Red, or constantly check my watch if we left her at home to make sure she's not alone for too long. She comes with us so it no longer matters how long we stay out.  
Who benefits from a doggie stroller?
You – no more guilt at leaving your dog behind because now you won't have to!
Senior dogs who can't walk as much as they used to. Use the stroller when they need to take a break.
Arthritic dogs lying in the stroller get to enjoy fresh air, a change of scenery, and a short walk if they can manage.
Dogs of any age recovering from surgery, illness or injury – even if they aren't allowed to walk at all, your vet may give you permission to take him out of the house for a bit in a stroller. Check with him/her first please!
Who else benefits?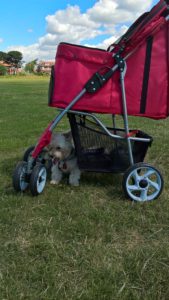 You'll notice my other dog Jack using Red's stroller as shade, on what was a very beautiful warm sunny day. A very handy use of it I might add, considering we were walking by the beach and there was no shade anywhere. Another fantastic use of an amazing invention.
Update— Since writing this, Jack suddenly became paralysed on Aug. 22/16, and is now recovering from spinal surgery. In order to prevent boredom, and make sure he's still able to socialise, I take him out twice a day in this stroller, for a walk around the neighbourhood. The mental stimulation it provides, will aid in his recovery.
If I haven't convinced you of the benefits of owning a stroller, how about 21 reasons to buy one?
Tips for navigating the world of doggie strollers
What size do you need?
Before you can choose a stroller, you need to think about the size dog you're buying it for. Strollers do come with dimensions on the label, so it would be helpful to measure your dog and compare. If the measurements are exact, or pretty close, the next size up would probably be a better fit.
You want your dog to be as comfortable as possible, with room to move around.  Too small and your dog will be squashed, too big and he could be sliding around.
If you are buying a stroller for a puppy, unless you want to buy more than one to accommodate her growing size, buy the size appropriate for her as a full grown dog, and add a bed or some blankets so she's not lost in there.
How much does your dog weigh?
Dog strollers have weight limits, so if you put a 30lb dog in a 20lb stroller, you risk damaging the stroller, and possibly injuring your dog when it collapses.
If your dog's weight is at the maximum of the weight limitation, look for the next size up.
What will you use it for?
The style and type of stroller you buy will depend on what you intend to use it for. Will you be walking around the neighbourhood? The local Park? Jogging? Hiking? Biking? Would you like a stroller that converts into a carrier, a bike trailer and a car seat?
A basic model wouldn't be appropriate for jogging on trails, and a super duper jogging stroller for rough terrain will likely be too cumbersome for light usage.
How many pets will use it at one time?
If you have two pets that will be using it at the same time, a single compartment stroller may be enough. I have a small basic stroller for Red, but when my other dog needs a rest after walking and running, there's plenty of room for him to hop in for a lift home.
If your dogs (or whatever pets you'll be transporting) would prefer their own space, there are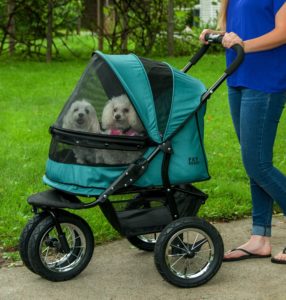 multi compartment options available. These strollers tend to be for small animals, because more than one compartment means each one must be on the smaller side, to prevent the stroller from being massive.
Terrain you will be travelling over
On what surfaces do you anticipate most of your stroller use will be made – pavement, grass, gravel, large stones, sand, hiking trail?
Because different styles have been created for different terrains, knowing where you will be using it will point you to the best stroller for your needs. For instance, a basic stroller with small wheels won't roll very smoothly on rough, rocky surfaces.
Styles/models/types
Collapsible models are handy for travelling, multi-purpose strollers can be converted into a pet carrier, bike trailer and car seat, 3 wheeled strollers are great for jogging and large wheels work well over rough terrain.
Features and options
There are many features and options available so consider them carefully, because they really are very handy.
Storage baskets; bottle holders; trays for treats, snacks and cell phones; wheel locks, collapsible, with a clip to keep it folded; ease of opening and closing; safety clip that attaches to a collar or harness; mesh panels to keep out bugs and provide lots of air circulation; sun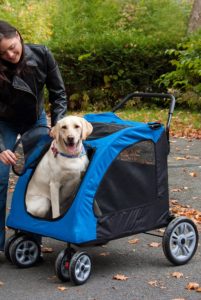 shade/canopy; comfortable handle; is the handle at the right height or is it adjustable…
Versatility
Would you like to be able to take your dog for a stroll in the park, and go jogging? One stroller may not be able to serve both those purposes. The best thing to do is find the jogging stroller first, since the basic one you would buy for a stroll in the park wouldn't be sturdy enough. See if it will serve all your needs, but if not, then you can find a pretty inexpensive one for your neighbourhood walks.
The more extra features one stroller has, the more use you will get out of it.
Consider your budget
A wide range of styles means a wide range of prices, so there should be one to suit your budget. You may be tempted to buy the least expensive one you see, which is your choice of course, but sometimes the cheapest item turns into quite an expense.
Paying even a little bit more may get you a pet stroller of significant better quality.
Your pet's behaviour
If you are concerned your pet may jump out of the stroller, make sure the one you are interested in has the safety clasp that hooks onto the collar or harness. There are also mesh covers attached to the sun shade that can be zipped around the frame of the stroller, to prevent any pet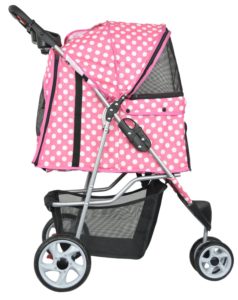 from jumping out. Having said that, a very determined, and very scared dog or cat can most likely get out.
I recommend you first try it in your house, then your backyard. If he's okay, try a short walk around the neighbourhood before you go too far afield.
For extra safety, put your dog (or cat) in a harness and leash and hold onto the leash when you're pushing the stroller. At least if something does happen you have a good hold on him to keep him safe.  
The pet stroller – conclusion
I bet you're surprised by all the things you need to think about before committing to a purchase! There is one thing I would like to mention, even though I know it is an obvious point to bring up.
Dogs still need to be dogs, so when looking for a pet stroller, please don't buy one for the sole purpose of showing him off. They need to walk, get exercise, have their paws touch the ground…
So you see, a pet stroller really is an essential for old dogs, as a matter of fact, Red's world would be much smaller without one.