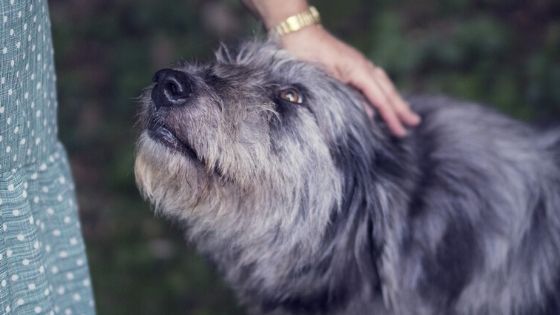 I know what a heartbreaking prospect saying goodbye to your dog will be, something we avoid thinking about as much as we possibly can. The thing is, as we watch our dogs age and develop health issues, it becomes harder and harder to prevent those thoughts from creeping in.
I'm not suggesting you start dwelling on that day, but I am urging you to find strength to give it some thought, at least when it comes to deciding whether or not you will be with him or her when it's time.
The moment we have to say goodbye is so heart wrenching, many pet parents aren't able to be in the room when it happens. No judging please and no feeling guilty. It doesn't mean they didn't love their dog completely or was less caring or responsible, it just means it was too hard for some people to bear. By the same token others couldn't imagine being anywhere else.
What would you do?
Perhaps you've already been faced with this decision so you know what you'll do. Maybe you weren't entirely sure you did the right thing so will do the opposite next time. Quite possibly you haven't had to say goodbye before and you're not sure what the "right" decision is. 
This is very important to understand – there is no "right" decision, only the one that you can handle in that moment.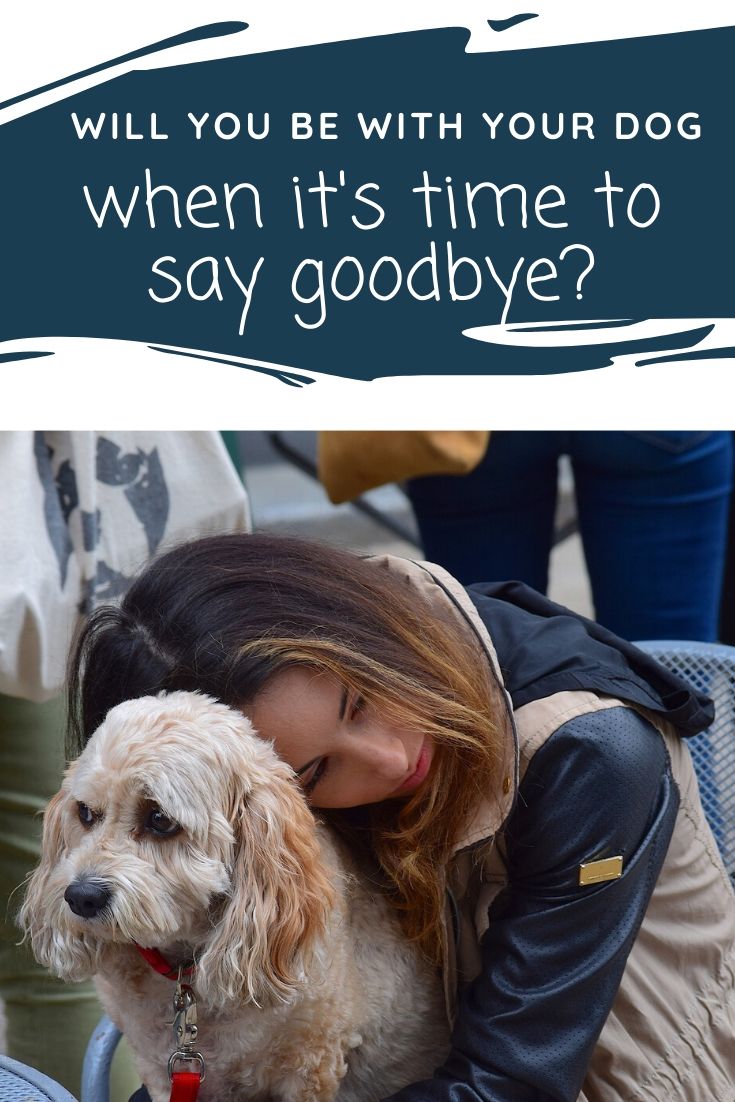 Having to think about the unthinkable
The reason why it's so important to give it some thought is because it's irreversible, and when you're in the middle of heartbreak it's hard to think clearly.
I will never forget the first time I had to say goodbye, it was my beloved cat Calypso. She wasn't eating so I took her to the vet. He did blood tests and quickly discovered her kidneys were failing, there was nothing he could do and it was time. I knew she had issues but it felt like she went downhill quite quickly so I was stunned…and in pieces. Not only because I loved her so much, but  because I had never faced anything like this before and had no idea what was going to happen. My vet was so amazing but there was "stuff" to take care off, and that stuff included being handed a form with big letters saying Euthanasia across the top and being asked to sign it. That's when I thought I would literally faint. Then the questions came – did I want her buried or cremated, ashes back or not, what kind of urn…
As I write this I realise it sounds like they were heartless but that was absolutely not the case. My vet couldn't have been more compassionate, but there were important questions that needed answering. I had never thought about this subject before, but I knew without hesitation being with her and comforting her was the only place for me.
I stay with every pet except I was not able to be with Bailey, but my husband was. I was okay with that because they were best buds and I know Bailey was happy being with him.  
When you're faced with having to make an immediate "yes or no", "stay or go" what do you do? I hope the following will help.
Why you might decide to stay
Feeling your dog is comforted by your presence, which in turn may give you comfort and peace

Wanting yours to be the last face your dog sees

The fear you might regret/feel guilty not having been there

Knowing how impossible it will be, but doing it anyway because you want to be there for your dog as you have been until now

The vet's office can be a very scary place with some unfamiliar people around, having you there can be a great source of comfort

Even if you "know" he's gone, sometimes not actually seeing it can leave you doubting whether it happened 

You want to rest easy knowing he passed quickly and painlessly
Why you might decide not to stay
You'd rather not remember your dog's final moments surrounding by strangers in a clinical setting

You want your last image to be of him alive in your home, garden, on his favourite bed… 

Concern your emotions will stress your dog

You may be scared of death, almost superstitious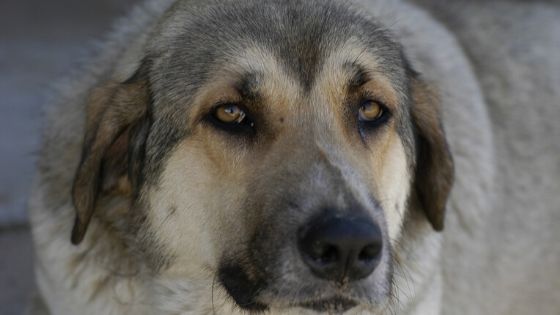 Another option
An alternative to your vet's clinic is having a vet come to your home. Your dog will be in a familiar environment, surrounded by everyone he loves who loves him. Perhaps this option is one you're more comfortable with.
Check with your veterinary practice to see if they offer this service or can recommend someone who does. Otherwise a search for "in home euthanasia" will give you options in your area. Lap of Love is one many of my FB group members have used, and spoken very highly of in terms of compassion and support.  
Who wants to be there
Something else to think about is who might like to be there – your children, other family members…Saying goodbye at home allows you more flexibility than a vet's office in terms of how many people you can accommodate. Some vet practices have private rooms specifically for saying goodbye, so check with yours in case you prefer this option to at home. 
Knowing what to expect
You've read the reasons why some people choose to stay, and why some choose not to. You've also seen there is another option to a vet's office. What about knowing what to expect? Being unfamiliar with the process frightens people (even though my vet was amazing it terrified me because I had no idea what to expect) and influences their decision whether to be with their dog or not. Have your vet explain what happens step by step and see if that helps you decide.
I will mention one thing – being asked for payment right then and there is not something anyone should expect to experience…yet I did and it made an already heartbreaking experience all the more horrific.
A terrible experience I don't want you to share
Sadly I'm no stranger to saying goodbye and it never gets easier, however nothing was more disgusting than when I had to say goodbye to my cat TT at an animal hospital in Florida. Although he had cancer for a few months he was doing well until he suddenly had what seemed like a massive stroke, so we rushed him to the hospital. We knew we were going to say goodbye and that nothing could be done. What we never expected was for a receptionist to come into the examination room to collect payment before they would put him down.
That tells you everything you need to know about the type of place it was, I don't care how well known they are.
I mention this because payment is something you need to be absolutely clear about. Your practice may know you well enough to let you leave without paying, respecting your grief, but they don't always tell you they will not send your pet for cremation (if that's what you decide) until payment is received. Yes that happened to me as well. I assumed because I had been going there for years and they allowed me to leave without paying (respecting my grief), I could pay when I picked up my cat's ashes (another cat not TT). When I hadn't heard from them in a couple of weeks I called and found out they had left my cat in a freezer the entire time. I went ballistic at the owner of the practice, crying and screaming on the phone.
They may not have wanted to say anything at the time out of respect, but a friendly phone call a couple of days later would have been the right thing to do. How are we expected to know their policies?
See why I want you to ask in advance?
Saying goodbye to your dog
A sad topic to be sure but an important one to think about. Whether you decide to stay or not is a decision only you can make, but I do hope this post will help.
If you feel comfortable sharing, did you stay? If you've never been through this before, have you given any thought to what you will do? Leave your comments below.